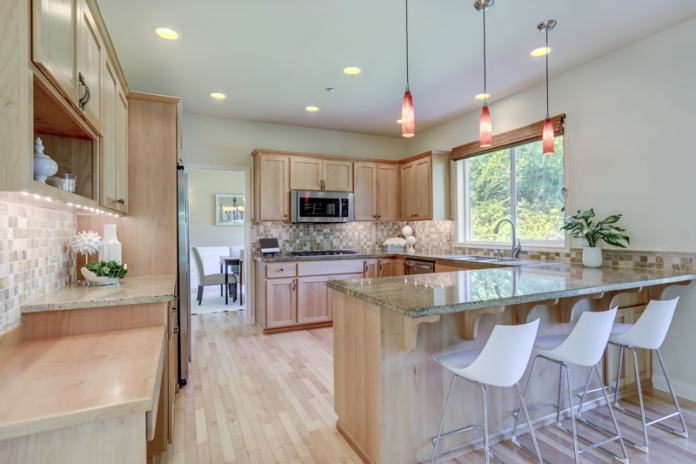 When it comes to remodeling a kitchen, everyone, you included, wants to go for décor materials that are on top of fashion. Chiefly for this reason, kitchen cabinet trends of the past seem to have no prominent place in the contemporary world of interior design.
But did you know that classic-styled décor materials can work well with modern fashion? In this article, we aim to establish this point using the case of maple kitchen cabinets, the most iconic natural wood cabinet variety.
If you have ever considered making maple cabinets a design feature of your pantry but got discouraged by the fact that they are out of fashion, continue reading.
Maple Kitchen Cabinets Demystified
Did you know that out of 10 homeowners who prefer natural wood cabinets in their kitchen, 9 consider maple kitchen cabinets the most ideal and worthy of their money and time? Well, among the most notable natural wood cabinets, varieties crafted from maple hardwood are the most outstanding not only in terms of beauty but also functionality.
Apart from their visible natural wood material feature, the features that distinguish maple cabinets include the following.
High-End Visual Aesthetics
Whether you go for painted or unpainted maple cabinets, your attention will be arrested by their simple but gorgeous aesthetic properties the moment you set your eyes on them. As far as their finishes are concerned, maple cabinet varieties mostly feature streamlined grain patterns that help them to instill an atmosphere of warmth in interiors where they are housed.
Besides their high-end visual properties, maple kitchen cabinets stand out from the rest based on their design multiplicity. These types of natural wood drawers feature different kinds of fashion trends, starting from vintage to post-modern trends. With the design versatility feature of these drawers, comes convenience in interior design.
Finding maple cabinets that perfectly match your kitchen's interior design aesthetics is to some extent the most simplest and fun affair, thanks to the fact that they feature all kinds of designs.
Durability is one pristine attribute that is difficult to take away from wood-based cabinets, maple kitchen cabinets included. Like prominent varieties of wood cabinets, for example, oak and hickory cabinets, maple cabinets are extremely strong. In this regard, they are outstandingly cheaper to maintain and very durable.
How to Make Maple Cabinets Stand Out in a Modern Kitchen
As we already mentioned, maple cabinets can match modern interior design aesthetics. To make them the defining attribute of a modern-style kitchen interior, you can;
Incorporate Other Wood Tones
You can incorporate maple kitchen cabinets with a variety of different natural wood finishes to make them look modern and outstanding. If you go for the honey-color finishes of oak or the dark-stained brown of mahogany, you will be surprised! The warmth that will come out from their perfect contrastive blend with the creamy white ambience of unpainted maple cabinets is enough to make your cookhouse feel luxurious.
Now that natural wood tones of all kinds are prominently featured in top-trending modern kitchen interior designs, incorporating wood tones with maple cabinets in a modern-style kitchen interior is arguably not a bad idea.
Install Cabinet Accessories
Another sure way to enliven the appearance of maple cabinets in a modern kitchen is by adding to them combinations of different accessories and accessorized components. Because they rhyme well with both traditional and modern interior design aesthetics, maple kitchen cabinets can look gorgeous regardless of whether you pair them with wood-based, metallic, or even plastic accessories.
All you may have to do when accessorizing them is to ensure the types of accessories you choose, align with other beautification elements on the cabinets, for example, color and layout as well as décor items and hardware in the kitchen where you have fixed them.
Outfit Maple Cabinets
Besides pairing maple kitchen cabinets with accessories and different wood tones, you can outfit them to make them seem in perfect alignment with modern-style interior design aesthetics. In outfitting maple cabinets, the most important thing you need to do is remove extra shelves, most of which may be making them look as expansive and traditional as the epic vintage-style maple cabinets.
According to interior designers, the art of changing the layout of traditional-style natural wood cabinets is a sure strategy for enlivening their appearance. If you must fit your old maple cabinets in your new modern-style kitchen, then why not try this sure strategy?
Paint or Stain Maple Cabinets
When in their generic natural wood shades that range from creamy white to light grey tones, old maple cabinets can look very unfit for the interior of modern-styled interiors. Therefore, if your maple cabinets are faded, painting or staining them can help to make them seem fit for a modern-style interior.
Thankfully, maple cabinets come with uniquely soft-grained finishes that make them the easiest types of cabinets to work with as far as the process of painting or staining cabinets is concerned. They can not only absorb but also retain any type of paint to look ultra-modern and gorgeous.
Mix Maple Cabinets with Colors
Cabinets crafted from maple hardwood have a neutral demeanor that matches a range of colors, from neutral tones like black, cream, white, and green to more conspicuous shades, for example, red, yellow, and blue.
For this neutral appearance to stand out magnificently and seem strikingly modern, interior designers recommend that maple kitchen cabinets be merged with bolder colors mostly in terms of accentual features, kitchen hardware, and cabinet accessories.
Will Maple Kitchen Cabinets Soon Go Out of Style
Even though modern-style cabinetry designs are currently trending at the top, traditional-style cupboards are still in high demand. Besides, natural wood cabinet varieties are presently back in fashion and are bound to trend amazingly, thanks to the fact that modern homeowners are attracted to different things about them. In this respect, it is unthoughtful to assume that maple kitchen cabinets will soon go out of fashion.
Final Thoughts
There's arguably no better time to make maple cabinets a design feature of your modern-style kitchen than now. Besides the fact that they work well with modern interior design aesthetics, maple kitchen cabinets are beneficial in multiple aspects, from practicability to durability, and ease of access.