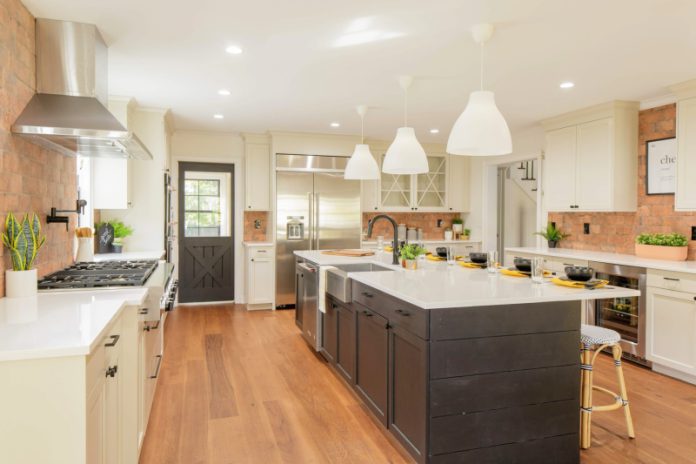 You probably know that the kitchen is the busiest room in the house, while layout and design are critical for a kitchen that is both functional and attractive to the eye. In this article, we take an in-depth look at the basics of effective kitchen design, with the aim of helping you find the perfect balance with your new kitchen.
Balance – It can be difficult to pinpoint exactly what makes a kitchen design unbalanced; it might be too many colours or more items on one side of the room; safe to say that you will know if your kitchen isn't balanced. For best results, consult with one of the leading interior designers in Sydney and let the professionals plan the layout and design.
Symmetry – A well-designed kitchen is symmetrical, with a balance on both sides of the room. A good way to do this is to imagine your kitchen as a sheet of A4 paper with a line folded down the centre, with items mirrored on both sides. When planning the layout, start in the middle and work your way out, which should give you symmetry.
Create a focal point – This might be a copper canopy over the cooker, or a breakfast bar, a feature that instantly draws the eye, then you can design the space around this central feature. Here are a few tips for styling modern cabinets.
Scale & proportion – Of course, everything should be in proportion; a high ceiling allows you to include larger appliances that are in balance with the room size. The larger the space, the more you can do in terms of layout; consulting with a leading Sydney interior designer is the best way to ensure your layout works. Floor and wall tiles should be sized in proportion; smaller rooms need smaller tiles.
The kitchen work triangle – Ask any seasoned interior designer about the kitchen triangle and they can instantly tell you this involves 3 major stations, namely the sink, the work surfaces and the cooking focal point. If these stations are close together, you have functionality; most designers start with the work triangle as the central point of focus.
Counter worktops – Each worktop should be a minimum of 15"x 30" and you should have at least two and no more than four, preferably with a double sink. Marble or granite is ideal for worktops, which come in stunning finishes.
Rounded edges – You definitely don't want sharp edges in the kitchen, rather smooth, rounded edges make the room a much safer place, especially if you have young kids. You could go for handleless cabinets to create a stunning seamless look, start with a Google Image search for unique kitchen designs, which might help you gain some inspiration.
If you would like the benefits of a professional design, talk to one of Sydney's leading interior designers and see what they can do to transform your kitchen. A kitchen renovation is likely to boost the value of your home and as far as home improvement projects go, this is one of the most popular.