Roohome.com – Smart and modern interior are the best criteria for you in designing apartment to be awesome and amazing. If you have difficulty in selecting a proper concept for your apartment design, try to choose the interior itself. Interior and concept cannot be separated because both of them are needed by brilliant amazing. One of the brilliant designers below is also using smart and modern interior in creating the design. Are you curious? Here we go!
Smart and Modern Interior in Bedroom Area
Let's start from the bedroom area. In this room, Kristina Bilynets is not confused in positioning the bedstead along with its ornaments. Having a small size of the bedroom does not make the designer got flurry to make it minimalist but still modern. From this picture, she divides into two different frames in order to make you know the difference is. the first frame shows workspace inside of this bedroom. How come? Kristina Bilynets uses a flexible box which facilitates you to save bedstead inside of the box.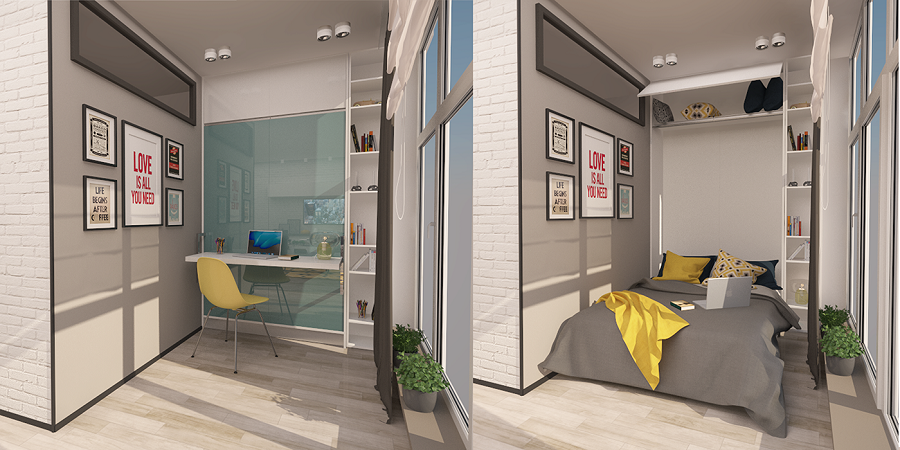 Smart and Modern Interior in Kitchen Area
Move to the kitchen where usually used for cooking or baking. In this area, the designer chooses a turquoise color for the kitchen set. Yet, This is not only an ordinary kitchen set, but also smart kitchen set which has a refrigerator, oven, and cabinets all in one. In front of it, there is a wooden kitchen table which has sink and kitchen stove. What do you think about smart and modern interior this one? It is amazing, right?


Smart and Modern Interior in Living room Area
After looking a whole room in the kitchen area, now it is time for you to look how the living room are is. Kristina Bilynets seems interested with a smart interior, that is why she uses the flexible box again for a sofa. She knows if a small space does not need many types of furniture around of it. To make it roomy, the designer puts flexible sofa againts another sofa. She also divides this picture into two different frames with the same reason like the previous one. Take a look how she combines bright color with a dark color for the curtain. She also puts a colorful rug under the coffee table.

Smart and Modern Interior in Wardrobe Area
If you have seen how the bedroom appearance before, now it is time for you to take a look how to put your fancy dress and clothes inside of the wardrobe. In the first frame, you will be surprised because it looks like a wall with turquoise painted. Yet, actually, it is a smart wardrobe which is designed for small space inside of the bedroom. The real wardrobe itself can be seen in the second frame. The size of this wardrobe is quite large so make you feel easy in putting dress and clothes. Besides that, a yellow armchair is also positioned in this room.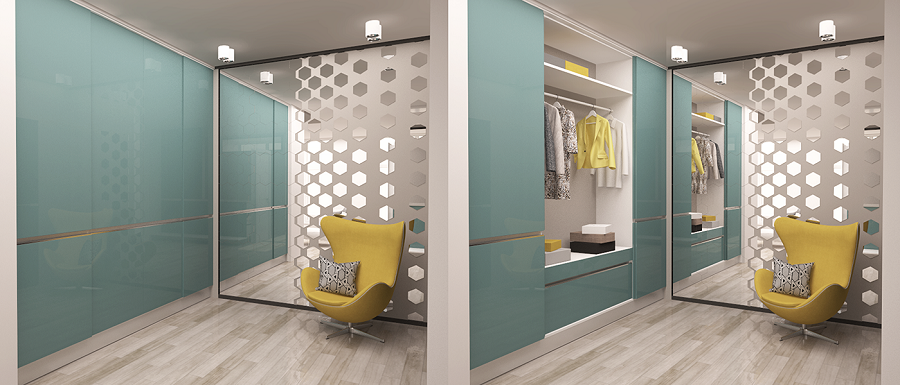 After looking all of these smart and modern interior, you will feel interested and happy because there is no difficulty in creating your own apartment design. Try to use this concept and choose smart interior as well. If you want to see other designs, just visit and check here. Have a nice day!