Roohome.com – Modern apartment design can solve your problem in creating your dreaming apartment. The modern itself refers to the designer's ability in arranging a good position for the furniture in order not to make all over the apartment becomes archaic and antiquated. You do not need to be worried because the application of black and white colors of this design below are perfect. Do not waste your time, let's take a look this modern apartment design below!
Modern Apartment Design with Contemporary Black and White Interior by Lera Katasonova
Lera Katasonova shows you her best skill in designing an ordinary apartment becomes luxurious and gorgeous. This is a wide apartment which has many rooms in it. Yet, the designer is able to divide some rooms into a specific room. First of all, the designer tries to apply black and white color for all over the rooms, for examples the living room. The designer combines black and white on the wall until to the interior. Two huge black couches are placed along with a huge black bookshelf behind of it. There are not really many stuff in the living room. Interestingly, the designer creates some square sculptures on the ceiling.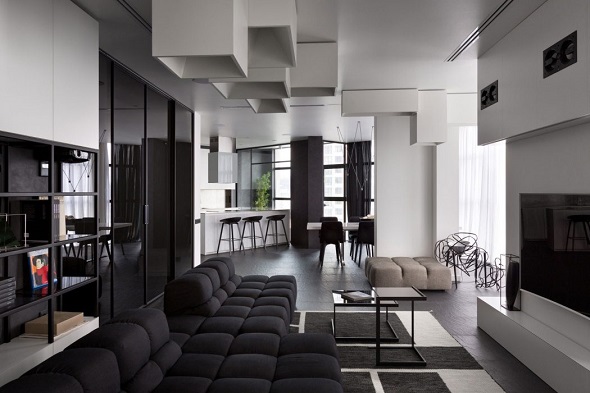 Modern Kitchen and Dining Room Design with Artistic Decor Inside of It
Take a look the another space of this modern apartment design, there are two different spaces, kitchen and dining room. For the kitchen itself, the designer chooses white color for all over the kitchen set. There is a glass wall right beside the kitchen. Therefore you can see a natural view from outside while cooking something. A white color is used by Lera Katasonova in order to make the kitchen brighter and cleaner.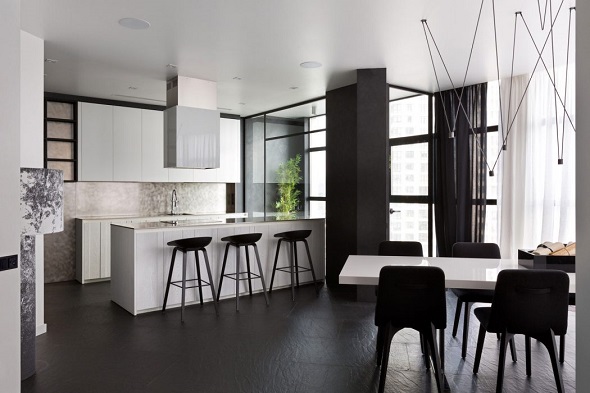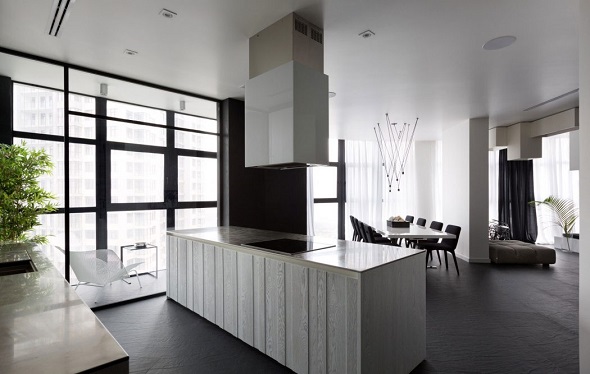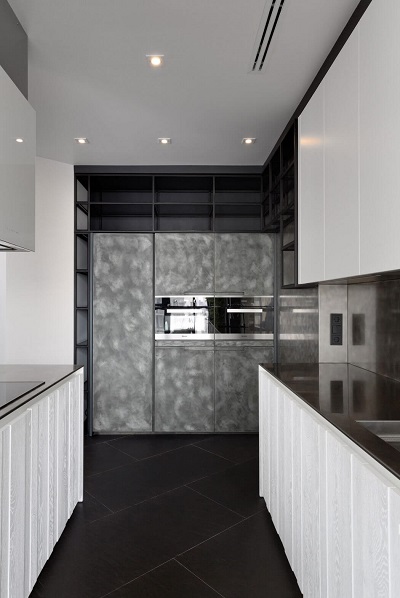 The dining room itself is chosen by the designer with a combination of a white dining table and black dining chairs. The designer also adds the triangle shapes of pendant lights above the dining table. Although the view is fulfilled with artistic vibe but the designer keeps placing greenery around of the area in order to create the dining room more livable.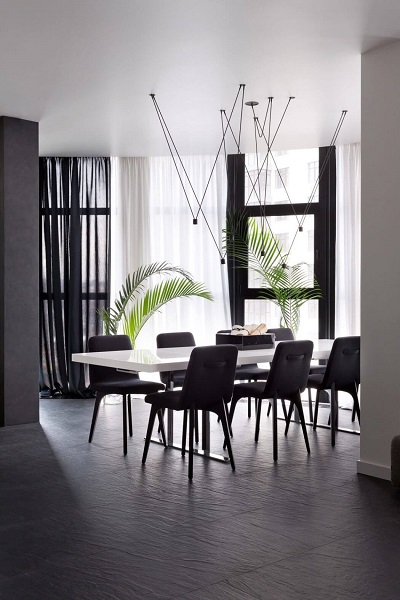 Modern Bedroom Design Produces A Good Atmosphere For Relaxation
Here is the main bedroom which is more dominated with black color. A simple black bedstead is placing in the center of this bedroom. The designer uses modern apartment furniture inside this bedroom such as a glass wardrobe. Lera Katasonova is brilliant in choosing the best interior to be combined with black color. Across the wardrobe, there is a white armchair which is one of modern apartment decor by Lera Katasonova.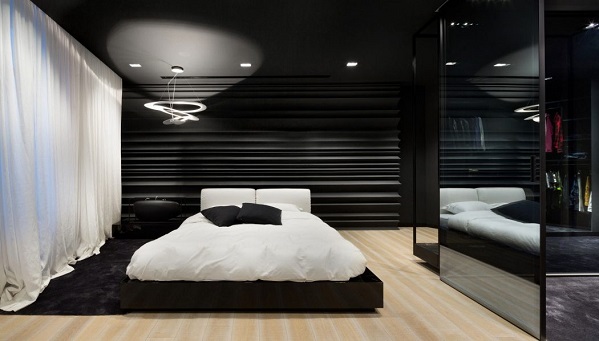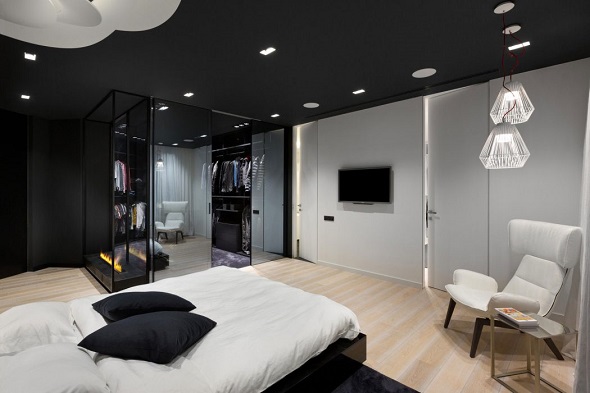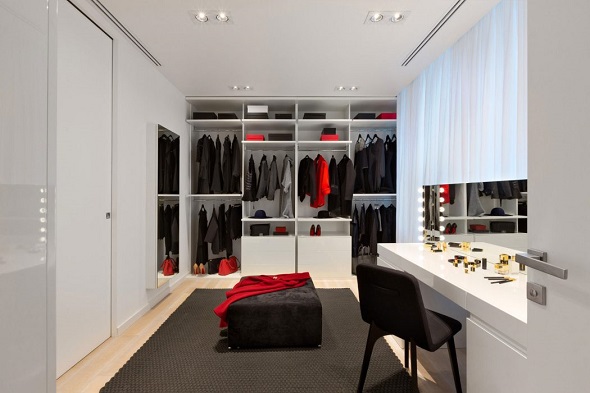 Modern Bathroom Interior Which Inspires You
The designer has many brilliant ideas to make your bathroom more luxurious and gorgeous. For this design below, the designer chooses a large square shape of a bathtub. The bathtub is utilized in order to fill the space inside of this bathroom. Although this is a bathroom, you also should decorate it with modern furniture in beautifying your own bathroom. Well, do you like this modern apartment design so far?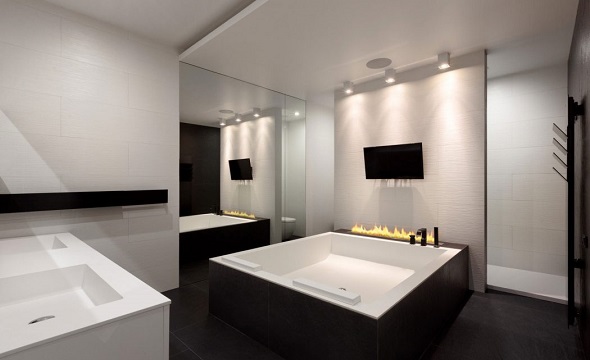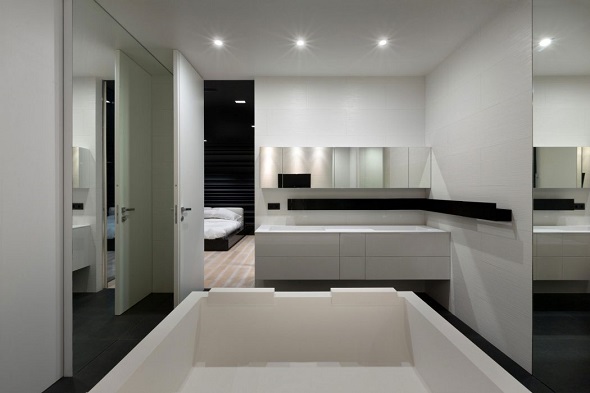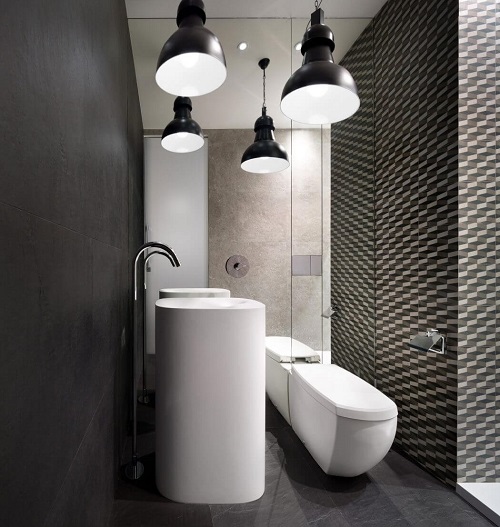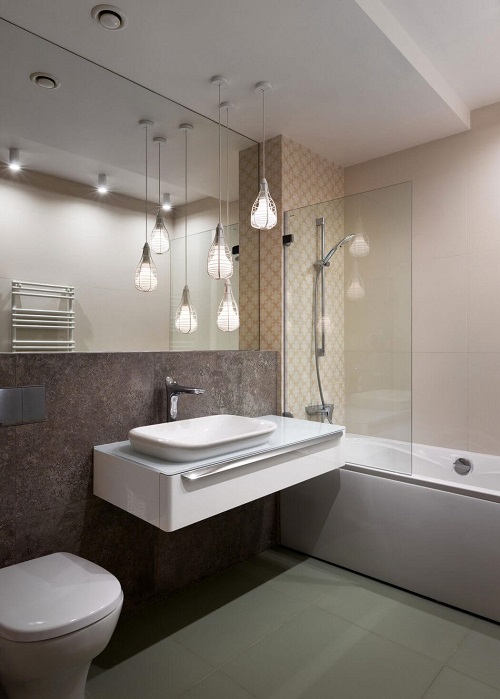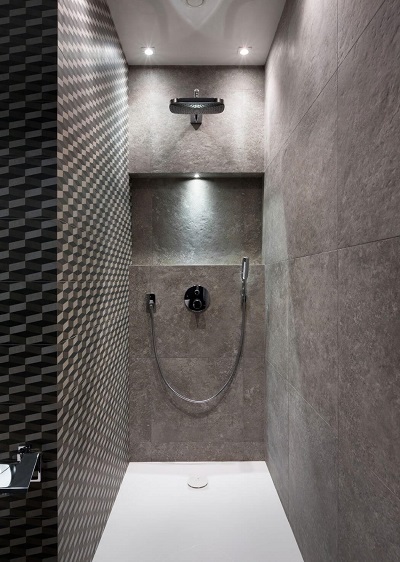 Do not be hesitate in choosing modern apartment design by Lera Katasonova to be your reference. This is your turn to create your own apartment becomes modern and luxurious. If you want to see other designs, just visit and check here. Have a nice day!