Roohome.com – Nowadays, people are looking for a modern apartment design which has created interiors in it. Luckily, you are in the right way! This is a modern design of an apartment which is combined with smart storages in it. You do not need to be worried about having some storages in your small apartment. This design is suitable for you who have a small apartment in the middle of an urban environment. Besides that, you will get an inspiration through this amazing apartment design. Here you go!
Modern Apartment Design Combined Smart Storages by Alexandra Tamburini
Let us introduce you a brilliant interior designer who wants to show her one of the amazing masterpieces, she is Alexandra Tamburini. The designer creates an ordinary apartment becomes a modern apartment appearance by using a contemporary theme in it. The designer utilizes smart storages which are helpful for making your apartment more fashionable and stylish. First of all, Alexandra Tamburini uses a bright white color into all over the room. The aim of the use of this bright color in order to create the room wider and cleaner. Besides that, you can utilize some windows who can support a natural sunlight into your apartment.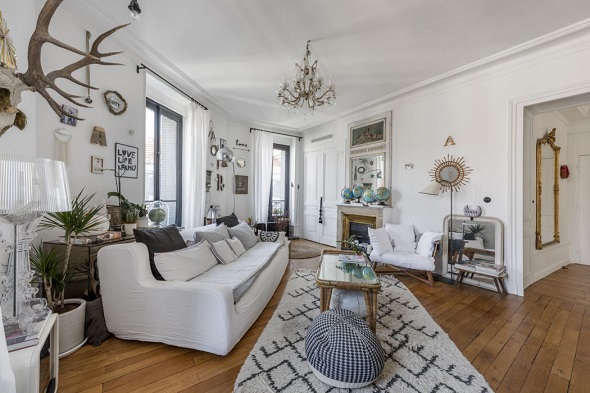 Beforehand, the designer decorates the entry room with classic ornaments. The use of an original wooden floor is the best choice of Alexandra Tamburini. The entry room has a long corridor without placing any cabinets or interiors around of it. Move to the living room you will spot a big storage space which is used as a bookshelf by the designer. A classic interior of fireplace also been created by the designer. You can place classic interiors such as a luxurious crystal chandelier, a modern couch, and so on. Do not hesitate because of the designer will give you small apartment design ideas by looking this design below.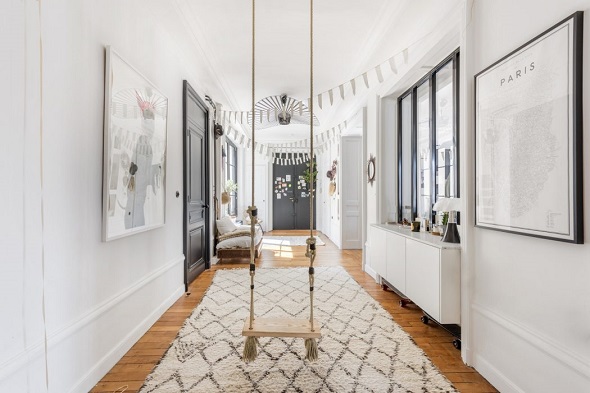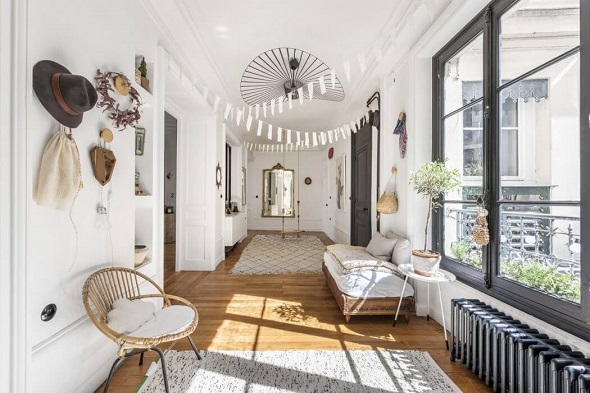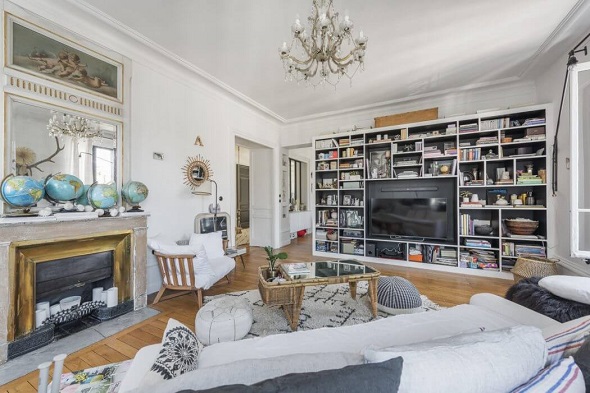 Modern Kitchen and Dining Room Design Beautified with Creative Interior and Decorating
The designer does not only create the living room but also pours her brilliant ideas into the kitchen and dining room. The designer uses a creative interior and decorating to make an apartment design interior becomes stylish. The kitchen is decorated with black and white colors. Inside the kitchen, the designer keeps creating some creative shelves to utilize a free storage. This kitchen decorating looks so classy that makes you want to spend a time to cook.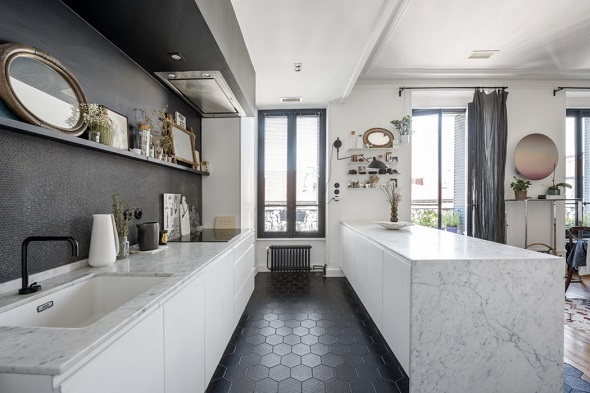 Move to the dining room which is decorated with a huge display cabinet. For the dining room itself, Alexandra Tamburini with black and white accents. The designer is brilliant by combining the colors of kitchen and dining room becomes perfect and classy. Try this modern apartment design and modern kitchen and dining room as well.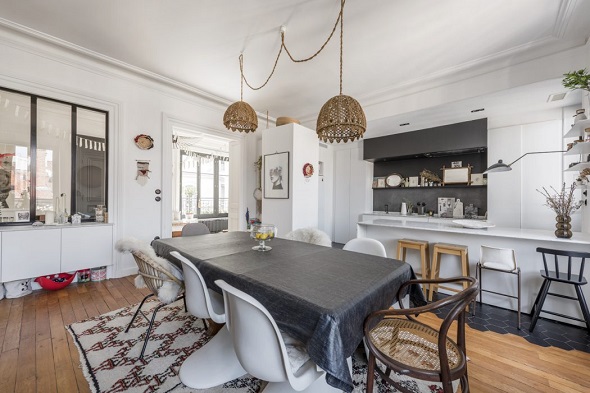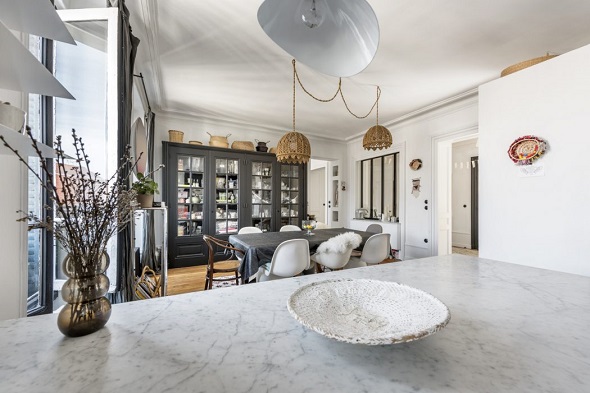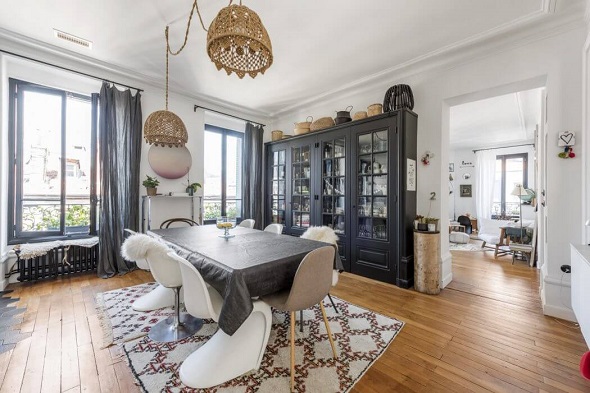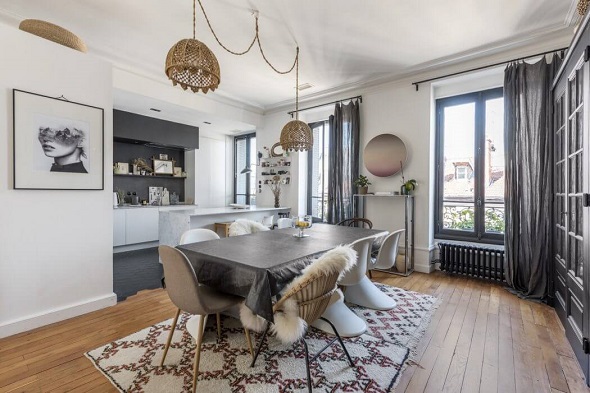 Modern Bedroom Design with Sensuous Open Bathroom
Having a room that only contains items for the bedroom might be too mainstream. If you want to make the atmosphere of the room look different, you can apply the open bathroom in your room. For now, many designers apply open bathroom design for rooms.
In implementing the open bathroom in the bedroom, the main item that must be used is the walk-in bath. Pampering yourself while enjoying the atmosphere of the room is the best idea, especially if the walk-in baths is placed next to the window. So what are you waiting for?
Modern Bedroom Design with Multifunctional Storages Brings Coziness To You
The last design is showing you a modern bedroom design which is decorated with multifunctional storages. The design is inspiring you because of the designer creates a free storage by using a big bookshelf behind the bedstead. The free storage becomes multifunctional storages. Besides that, the bedroom is painted with a bright white color and an original wooden accent.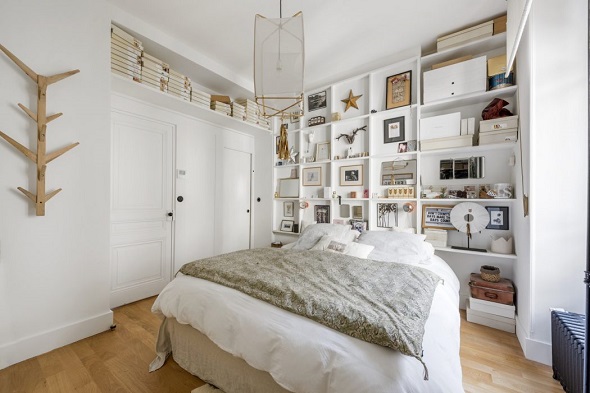 Are you interested in this modern apartment design ideas? What are you waiting for? Just grab your chance now. If you want to see other designs, just visit and check here. Have a nice day!