Roohome.com – If you have a spacious apartment, this luxurious interior design apartment will help you to beautify it perfectly. The design has two main points, a contemporary interior and a modern design 2016 that suitable to luxurious ideas. You will get a new thing by looking this design below. The designer shows you how to create a luxurious appearance of an apartment becomes fancy and stylish. You want to see the design, aren't you? So, grab your chance now!
Luxurious Interior Design Apartment Beautified A Spacious Apartment Becomes Fancy And Gorgeous by Inhouse Brand Architects
This is a spacious apartment who has a wide room in it. The designer, Inhouse Brand Architects, make it becomes an open floor space in order to make the room wider and brighter. This spacious living room is dominated with blue accents. You can see the couches and pillow patterns.  By placing a white artistic coffee table, the living room looks luxurious enough. The designer utilizes a wide window right across the living room position. Inhouse Brand Architects applies a modern apartment design in this luxurious concept. Interestingly, there are four big pillars around the living room that make it more pretentious.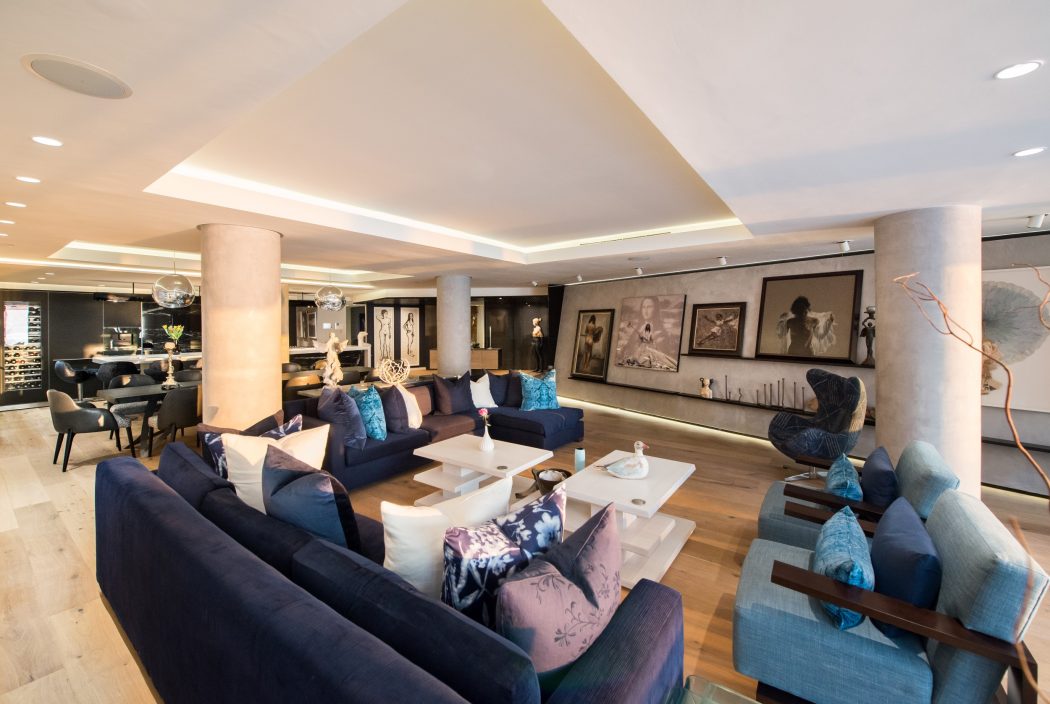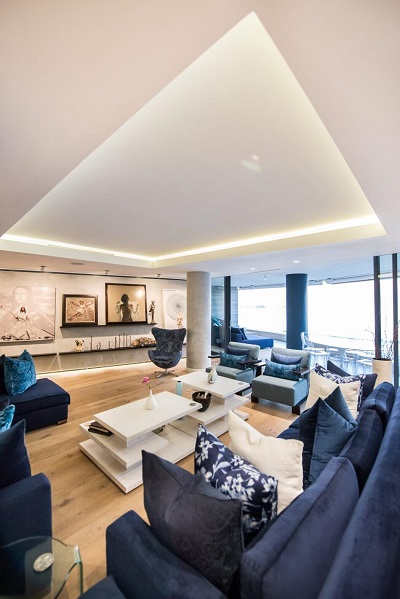 Luxurious Kitchen And Dining Room Decorated With Artistic Ideas
Move to the dining room which is located right opposite the living room. The designer decorates the dining room clearly fancy and luxurious. The designer chooses a long-shaped dining table along with many dining chairs as the set. A glass chandelier is hung up on the ceiling right above the dining table. The designer chooses black tones for the dining table set as dark as the kitchen set.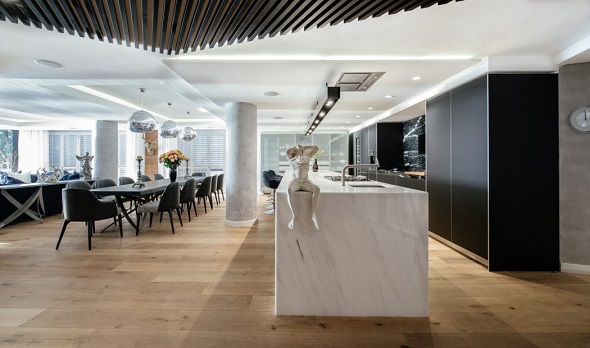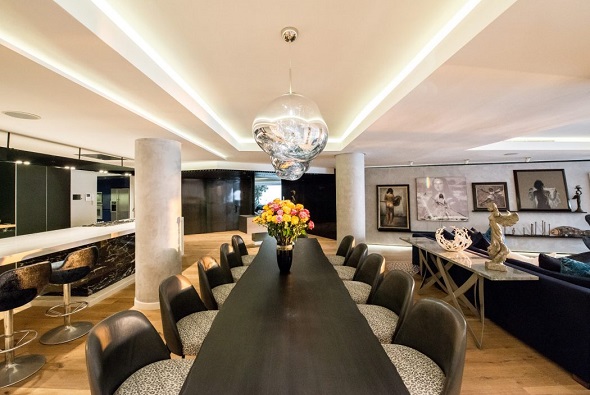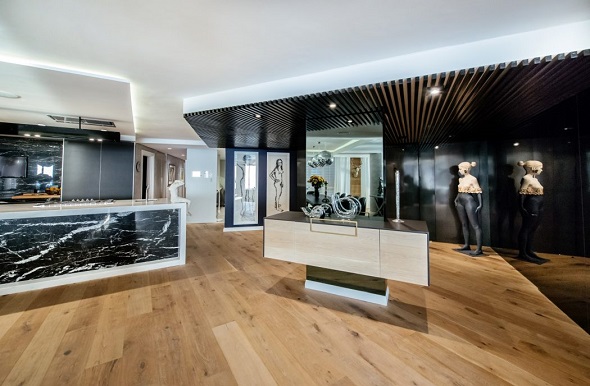 For the kitchen, The designer decorates it with black marbles and gray stainless steel. The kitchen set is totally dominated with black marbles such as kitchen table, kitchen sink, and the kitchen interior. According to the designer, marble is the best material to make your kitchen appearance becomes luxurious and fancy. Inhouse Brand Architects adds some artistic values, for examples some unique portrayals around the kitchen and dining table. Inhouse Brand Architects gives you some apartment design ideas from the living room and now the kitchen and dining room. These ideas are coming from luxurious interior design apartment which is created by Inhouse Brand Architects.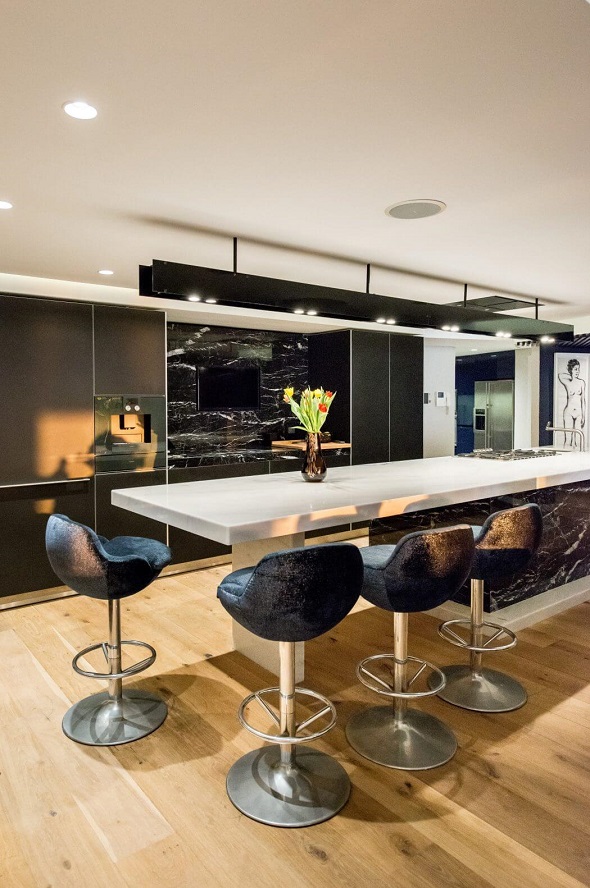 Luxurious Interior Design Apartment Can be Applied To A Modest Home Theater And Bathroom
There is a modest home theater that decorated with luxurious interiors in it. The designer wants to utilize some spaces which can be used usefully because of having a spacious apartment. Therefore, the designer decorates it as luxurious as other rooms. Meanwhile, the bathroom is decorated with a white marble texture. The bathroom looks cleaner because of a white marble on the wall and the washing stand.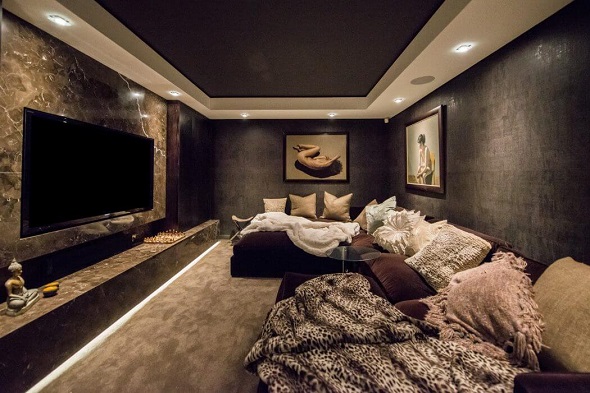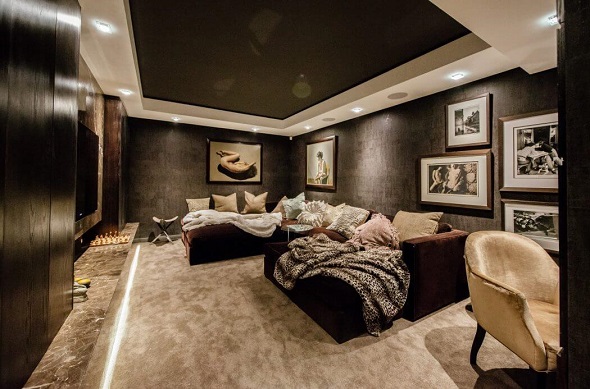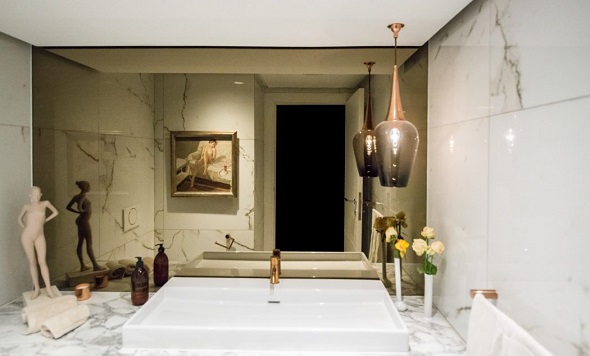 After taking a look this luxurious interior design apartment, you will get a huge urge to create a new one by applying this idea to your apartment. This design has inspired you well. If you want to see other designs, just visit and check here. Have a nice day!