Technological advancement has already infiltrated almost every industry you can think of— and that includes home and interior design.
When designing homes, you'll have a limited number of options based on your budget and time. However, with good home design software, you can have visualizations of your design ideas in a matter of minutes, providing you with more choices to consider and play with, flexibility, and utmost convenience.
Home Design Software: What Is It And How Does It Work?
Home design software is primarily used to help homeowners create a realistic picture of their home during the conceptualization process. This virtual tool can be used by or in lieu of an architect and/or an interior designer. It can show you everything from how your bathroom would look after remodeling or how suitable that vintage-style sofa might be for your bedroom.
Home design software allows users to create a whole house or room layout using simple drawing tools. They can place windows, doors, and interior décor in order to create realistic 3D visualizations of any space.
Different home design programs have different key features and variations in how they work. However, all of them lead to a single goal: to help you see the outcome of your home construction project.
Benefits Of Home Design Software
These are some of the advantages of using home design software:
1. Visualization
Perhaps the most important benefit of investing in home design software is that it can provide visualization on your computer or phone, showing you all the furnishing and design possibilities. And with the help of innovations such as augmented reality (AR) and artificial intelligence (AI), home design software will allow you to make realistic changes to your space virtually.
So if you're having doubts about having a red kitchen cabinet installed, you won't need to rely on your imagination. You simply use the design software and paint your simulated kitchen cabinet to have a pretty good idea of what to expect. This gives you flexibility in choosing home décor elements, from furniture to paint.
2. Accuracy
With home design software, it's easier to achieve accurate measurements, make changes, and establish minute details.
Using the right tools, you can fix minor issues, zoom in or out, or add intricate décor you may not have thought of before. This makes the resulting plans more credible than photos or drawn designs. You can perceive the feel of a space and become more aware of important details through the high-resolution digital projects you'll be able to make.
In addition, home design software can help take out the guesswork of measuring and designing, since it often comes equipped with the logistical guidelines and the tools needed to bring your creations to life.
3. Saves Money And Time
Reliable home design software isn't free. However, the value it offers can exceed what you pay for it.
Imagine this: you see a nice sofa set at the department store. Thinking it will look good and fit in your small apartment, you buy it and have it delivered to your home. Unfortunately, you don't get the chance to see how it looks like inside your unit because it ends up being too big for the front door. So you're stuck with something you can't use and the company won't take back at even half the price, not to mention the delivery cost and the hassle of preparing your apartment for the new furniture.
That situation may seem unbelievable, but such things happen more than you'd expect. Meanwhile, if you invest in quality home design software, you can determine whether the sofa set is a good match for your home prior to purchasing it, saving yourself a lot of time, money, and effort.
4. Library Of Updated And Modern Designs
Most programs for 3D home design feature an integrated and collaborative catalog of furnishing and various interior design elements such as windows, doors, and floors ready to be dragged and dropped onto your virtual room layout.
This way, you can get updated on and inspired by new interior and home design ideas, follow current design trends, and easily adapt to sustainable and innovative designing. It allows you to come up with up-to-date and modern concepts as well.
5. Consultation
If you're using cloud-based home design tools, then it's pretty easy to get a second opinion on your designs. For instance, a vacation home caretaker tasked with redecorating will need to share their plans with the owner and ask for their opinion, especially if the owner is currently abroad. Also, if you end up working with a professional interior designer, interior design software can allow for visual and transparent communication between you and the designer.
Modern home design software of today even makes it possible for several designers to work and collaborate on the same project, which could help speed things up. Each expert you share your design with can provide suggestions and ideas you never thought of. This streamlines the designing process, making a difference in terms of the design bottom line, which wouldn't be possible with traditional offline methods.
Using Home Design Software Vs. Hiring A Designer Or Architect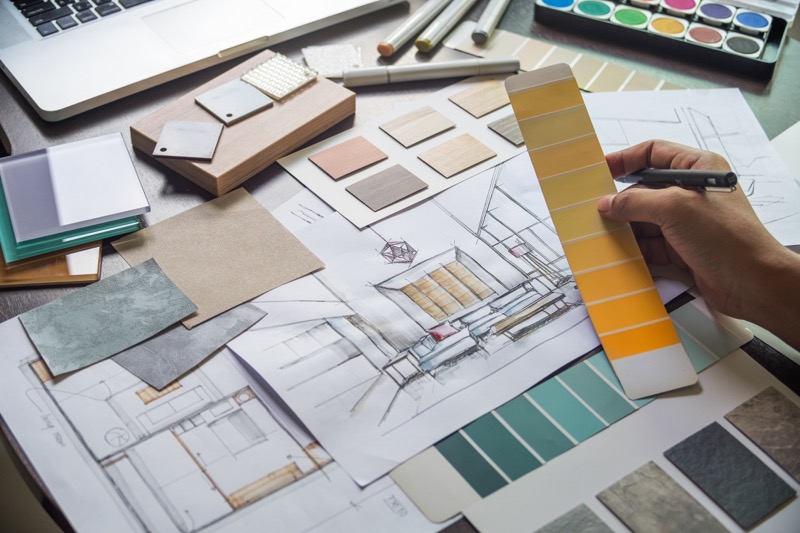 Home design software helps you in visualizing your remodeling projects, renovations, and interior design changes on a digital platform. It saves you thousands of dollars and a lot of effort and time by letting you adjust certain elements without touching a paintbrush or a hammer.
It does, however, lack the personal experience, touch, and wisdom that a designer or an architect can bring to the table. With that said, designers and architects are needed if you're having a major remodeling project or constructing and designing your home from scratch.
Home design software is a great option for DIY-suitable small projects if you're indecisive, or you want to try out a few pieces of furniture from the store before committing to anything.
Most of the time, though, people choose to invest in both a professional designer and/or architect and home design software, especially for larger home projects.
Conclusion
As you can see, with the right tool by your side, any task can become much simpler. And in terms of home construction and improvement, home design software can help you become more creative and frugal and end up with more impressive and satisfying results.