Roohome.com – Nowadays, people are interested in having a contemporary attic apartment design. The design itself can be combined with modern interior features, though. Because of the main concept is a contemporary look, therefore the designer combines it with modern features in it. Besides that, you can learn how to decorate a modest attic apartment becomes stylish and contemporaneous. It is your turn to decorate your own attic apartment by following this design. Here there are!
Contemporary Attic Apartment Combined With Modern Interior Features by Cuns Studio Designs
Do not waste your attic apartment without any decorations in it. If you are confused how to bear it, follow this design which is created by Cuns Studio Designs. The designer conjures a simple attic apartment becomes stunning and gorgeous. Cuns Studio Designs decorate the main room of this attic apartment with modern interior features around it. Talking about a modern interior for apartment, modern wooden accents can be utilized as well. Like this room, modern wooden accents have beautified the room pretty well. The designer creates a wooden square shaped in the middle of the living room. Along with it, brick stone wall textures are being dominated in this living room. The combination between brick stone wall textures and wooden accents are the best ideas for you to be applied.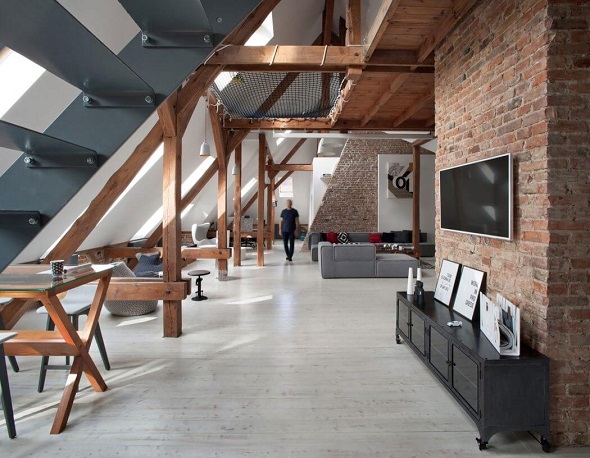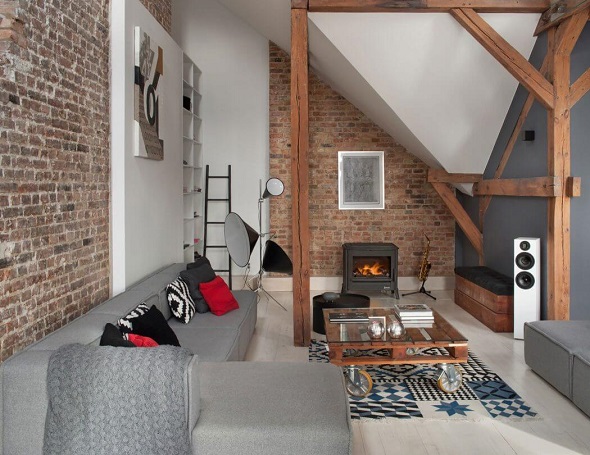 Do not forget to take a look the interior features in the living room. Cuns Studio Designs place two soft gray couches along with a wooden glazed coffee table as the set. Gray is a neutral color, therefore it is suitable to be paired with other modern colors. The designer also creates white display shelves simplistically. Be smart in decorating your own attic apartment because it can generate good benefits for you. For examples, the designer utilizes some empty spaces to be placed as a relaxation place. The place is positioned across the living room that below a dormer window. To make it stylish and fashionable, you can place a modern furniture as modern as the interior.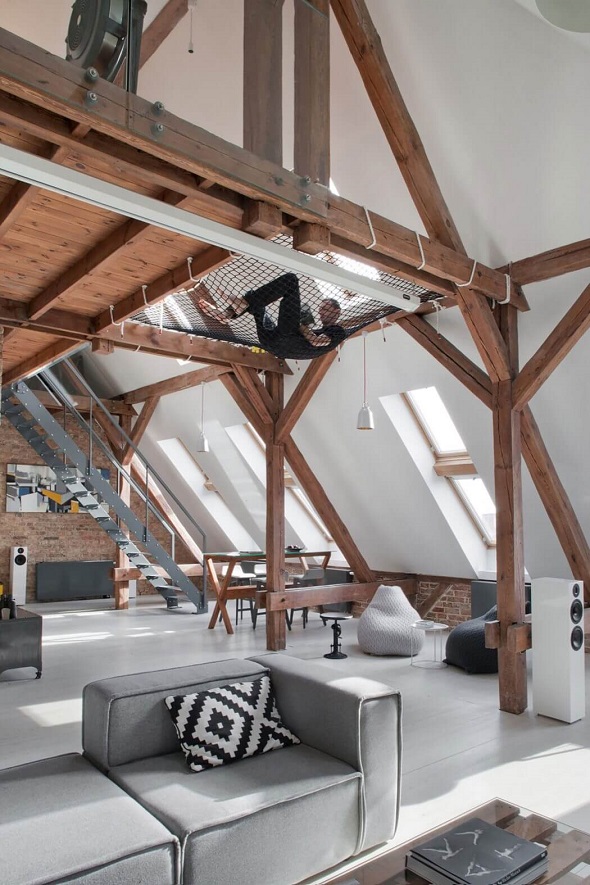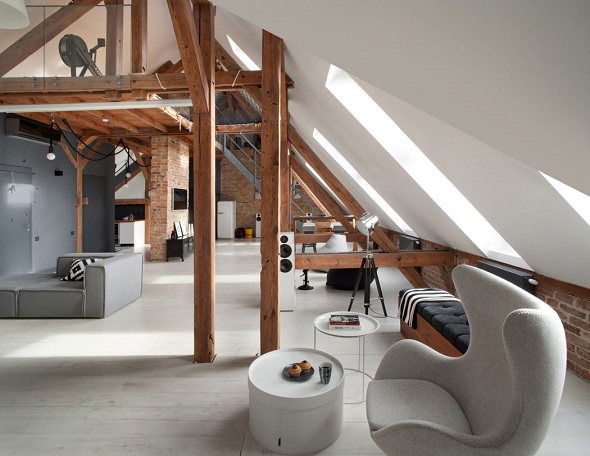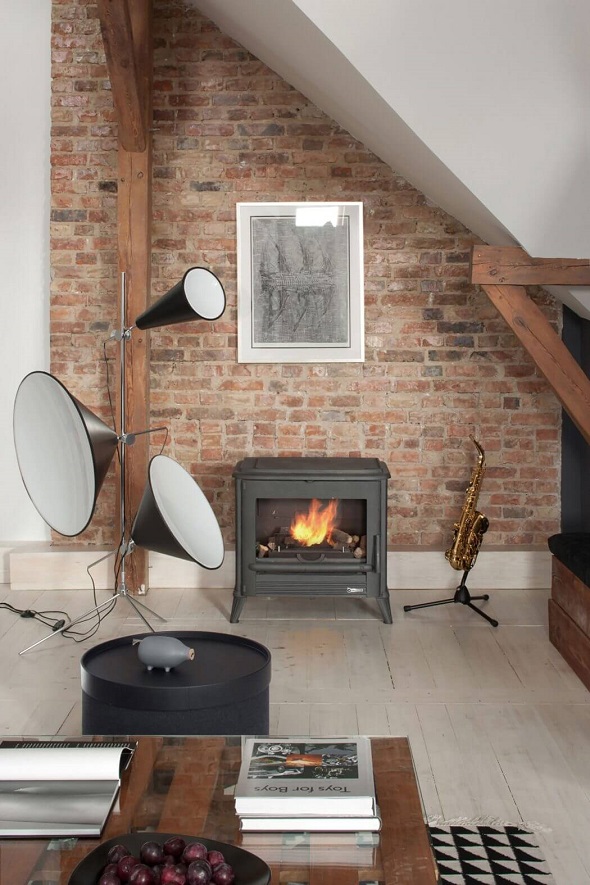 Be Smart Utilizing Contemporary Interior With Monochrome Accents That Will Bring Aesthetic Value
Move to the kitchen which is decorated with monochrome accents in it. This another creative idea of Cuns Studio Designs in producing a good contemporary attic apartment design. Although the wooden still can be spotted but you can combine contemporary interior features with monochrome accents. Besides that, the designer chooses a simple kitchen set in order to minimize the area as well. Meanwhile, the dining table is decorated with a glass rectangle coffee table shaped. For your information, in minimizing a simple attic apartment, you must be smart about finding a good furniture for you to be used. You can follow this idea well.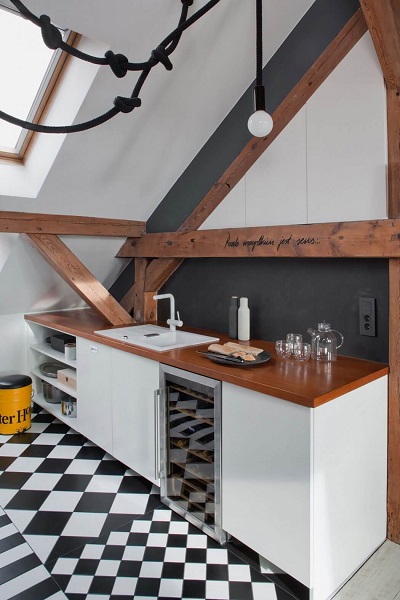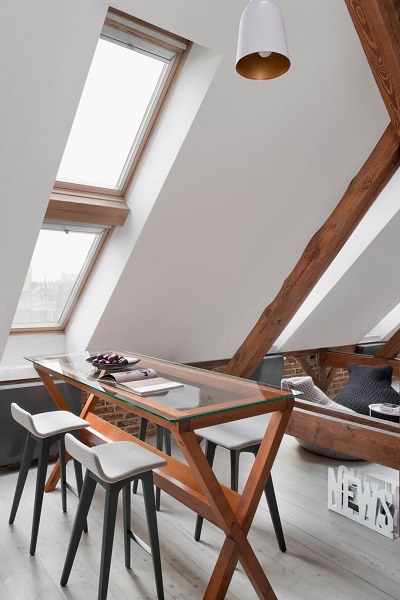 Next to the bedroom and bathroom, shades of monochrome still can be seen. For the bedroom, the designer does not place any ornaments. The designer only divides the room into two different spaces. The first space is a bedroom while the second one is a bathroom. You might be fascinated but do not worry, a modern interior apartment design still can be spotted in this area as well.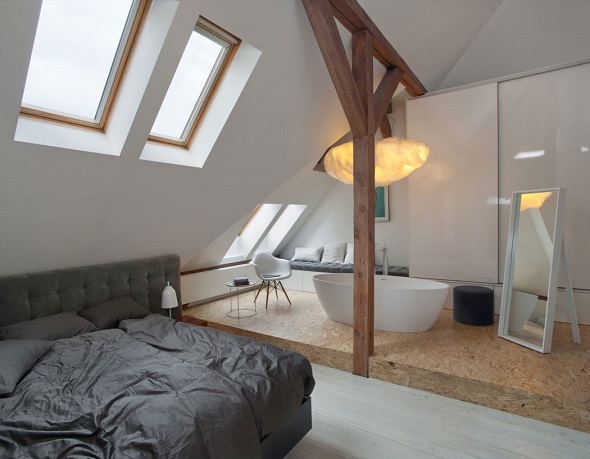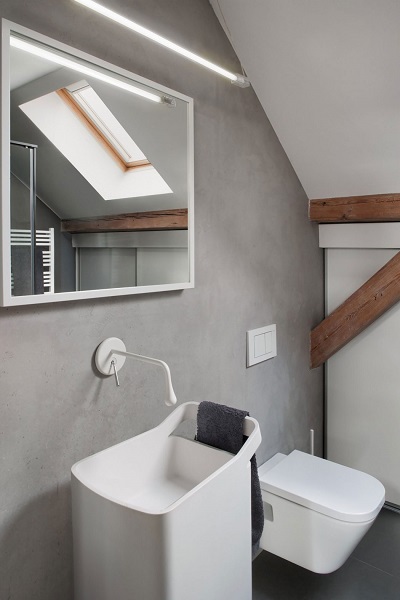 Grab this chance if you do not want to miss this contemporary attic apartment design. If you want to see other apartment design ideas and tips, just visit and check here. Have a nice day!