Roohome.com – Are you looking for a good design for your apartment? This is your answer. An amazing interior designer has designed the best apartment design ideas in order to beautify your apartment. By applying these decoration ideas, your apartment will be decorated with contemporary interior and features. The designer never forgets to give you some tips to arrange and decorate your own apartment based on your preference. Do not waste your time, take a look the design below. Here there are!
Decorating Apartment With Contemporary Interior And Features Ideas Designed by Detali Design
Let us introduce you some kinds of contemporary items which are used by Detali Design in decorating this modern apartment. The first one is the interior around the living room which is beautified with vivid brick stone wall textures and modern wooden accents. The combination between brick stone wall textures and modern wooden accents will bring a warm sensation in your living room. Meanwhile, the decorations mostly are interior features. You can spot simple white hexagonal shelves combined with an artistic picture near the shelves. To generate modern appearance, you can add contemporaneous couches and a single arm chair. You can utilize a dormer window in order to produce a natural sunlight from outside to enlighten your living room at noon.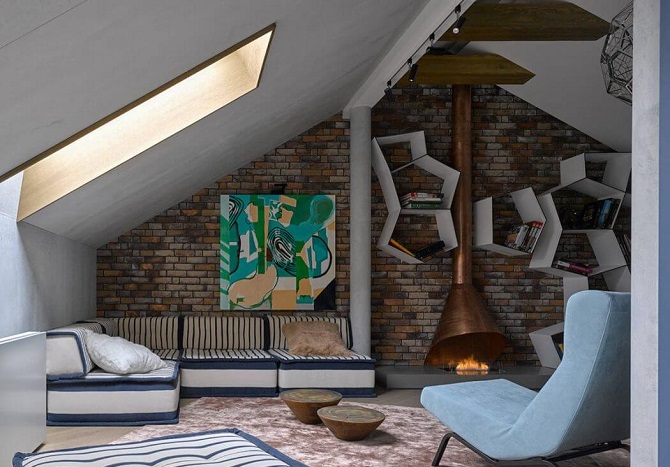 If you have a modest apartment, do not worry. You can apply some apartment design ideas here with modern apartment design ideas and tips as well. Having a modest apartment will make you more creative than other because you know how to utilize the limit space properly. Detali Design shows how to decorate and arrange a modest kitchen along with a dining table near the living room. The second contemporary interior and features items that the designer uses is a simple rounded dining table. The aim of using this simple rounded dining table in order to minimize the space between living room to the kitchen. Meanwhile, the kitchen looks brighter and cleaner because of the sunlight from outside through two dormer windows. This is a good idea to make your modest kitchen looks wider and brighter. Do not let your kitchen dark because it can make your kitchen looks narrow and crowded.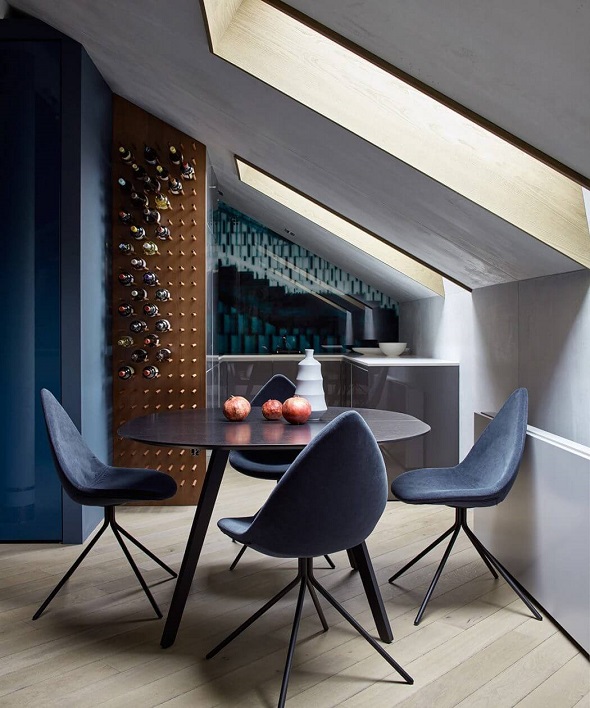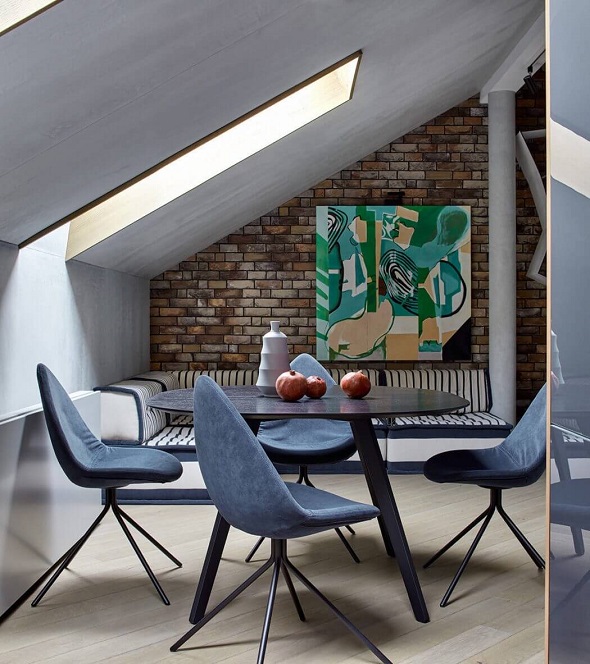 Perfect Combination Between Modern Interior And Simple Decoration Brings Coziness Into Bedroom
Detali Design creates a modest bedroom becomes stunning and enchanting by combining modern interior and simple decoration. In this bedroom, the designer applies another contemporary interior item such as green interior accents. Uniquely, the designer does not add many green accents in order to compensate with the simple decoration. You can see two green pillows on a simple white bedstead. While near the bedstead there are two-floor reading lamps which are painted with green color. To make it match each other, the designer adds a simple cupboard with green floral patterns. The bedroom looks warm and cozy because of the wooden floor and wooden wall textures which are chosen by Detali Design. Here, other tips for you to arrange your bedstead properly. You can place the bedstead against the wall so you can feel the natural breeze from outside through the wooden windows.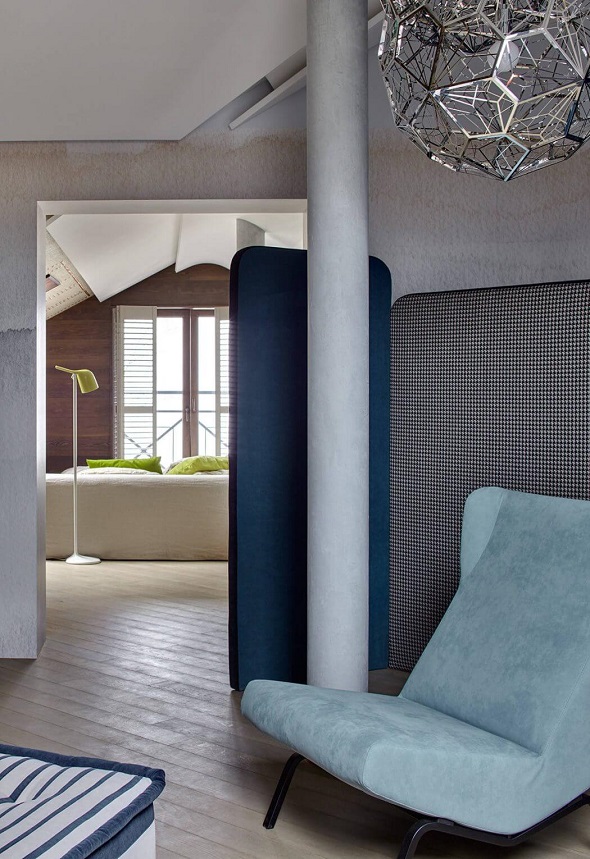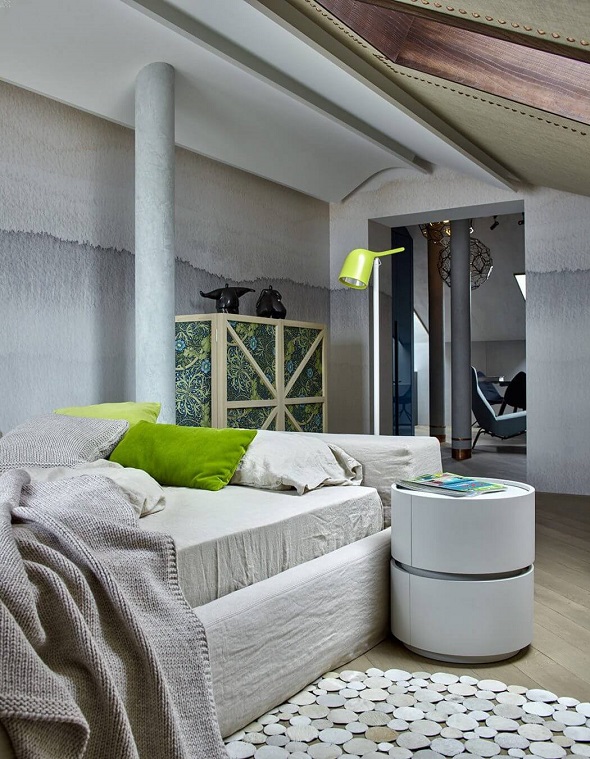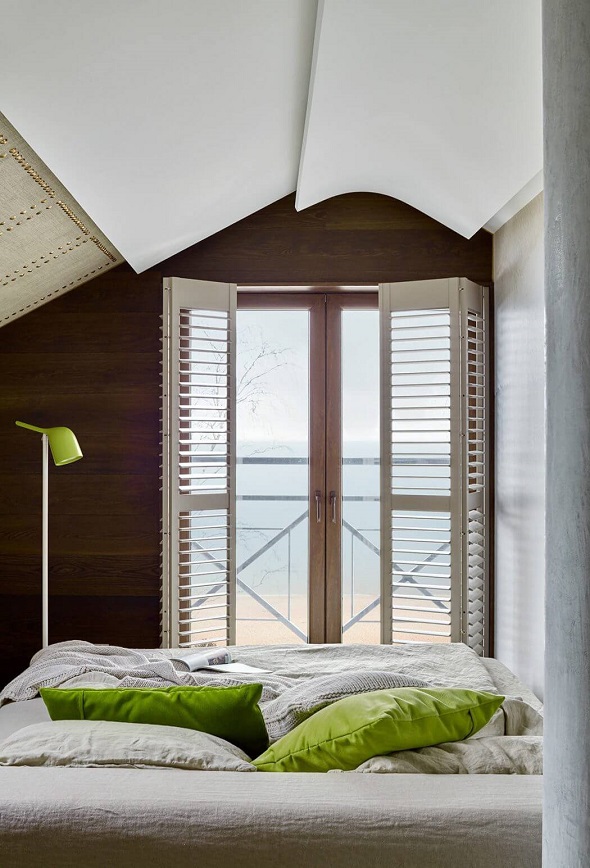 Are you ready to apply apartment design ideas which are designed by Detali Design? Do not waste your time to create your own apartment becomes stunning and extraordinary. If you want to see other apartment design ideas and tips, just visit and check here. Have a nice day!