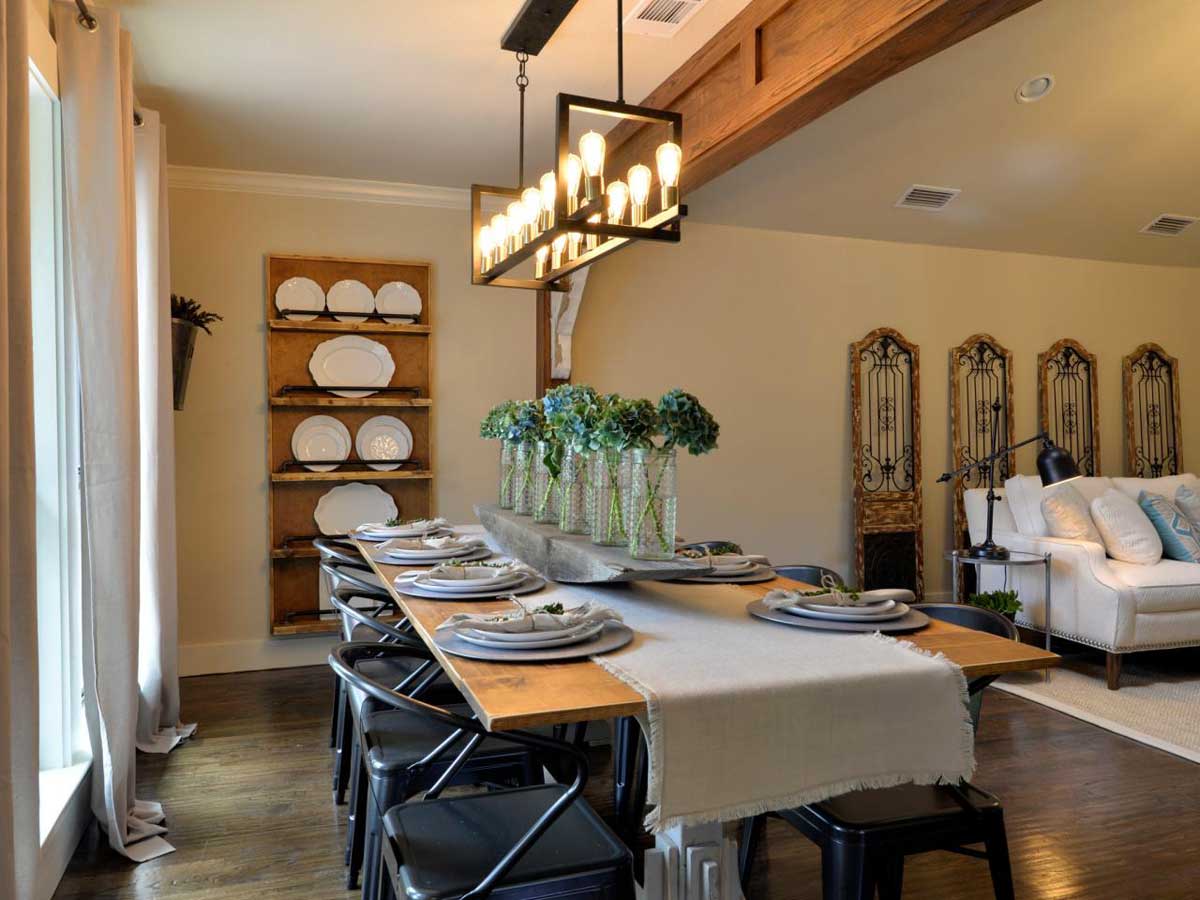 Dining Room is one of the most important elements of a house. This room is the other room beside the living room where we can gather and communicate with our family while enjoying the delicious foods that made by our wife or mother. Surely, every people would love to have a good dining room. But, rather than you spend a lot of money to buy lots of decoration which has a very expensive price, better you check out the DIY living room decoration below.
Wooden Glass Hanger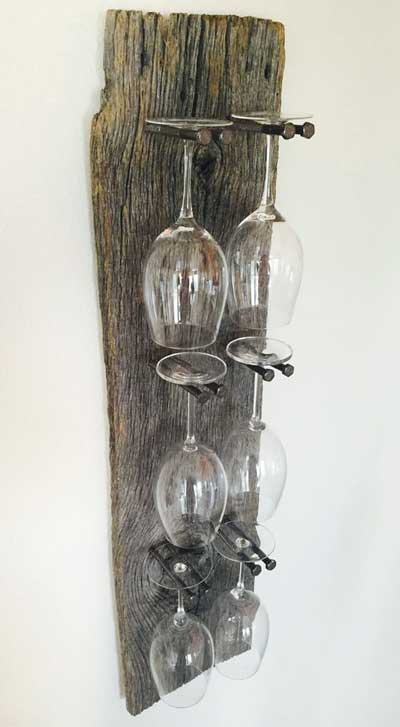 The first dining room decoration that you can make yourself is the wooden glass hanger. This is a wall decoration and it will not only make your dining room looks good but also really useful because we can hang the glasses on it. Surely, we can make it ourselves as it only uses less material such as wooden plank and some old bolts as the glass hanger.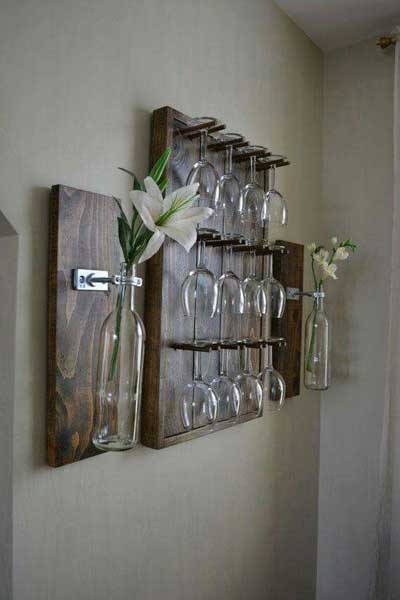 Try to find a wooden plank which still in a good condition as it will last longer. Then, make two holes side by side by using the drilling machine to install the bolts. Voila, the wooden glass hanger is ready to use and decorate your dining room.
Note: Remember that it can only be used for the glasses which has a leg like on the picture above.
Ladder Shelf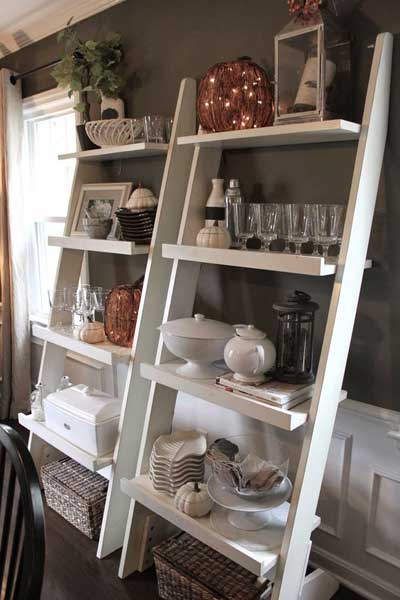 The next one is a ladder shelf which can be used to put anything such as plates, glasses, and the other eating utensils. Rather than buying a kitchen set or rack that looks usual and common, making a shelf which has a ladder form like that is a very good idea, is not it? It can make our dining room decorated very well and make it looks different than any other dining room out there.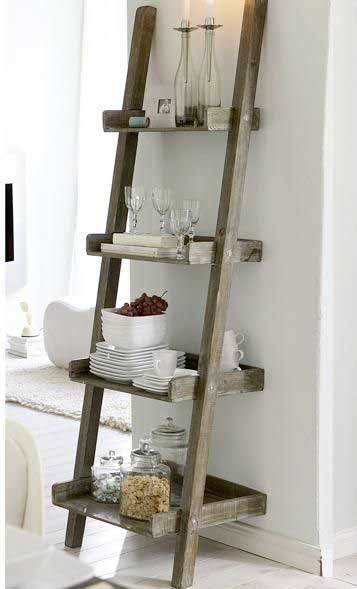 It is easy to make this thing as you just need some boards as the place to put your stuff and a pair of wood bars as its legs. Cut the board into several different sizes like the picture above where the board at the bottom has the widest size and the rest become smaller and smaller until the top. Then, unite all those part by using the bolts. But, you need to hole it first by using the drilling machine before you install the bolts. The last, do the painting to make it looks more attractive.
Note: Make sure to puree the wood surface first before unifying the whole parts. It is important to make its surface smooth so that we are not scratched by the sharp surface.
Plate Rack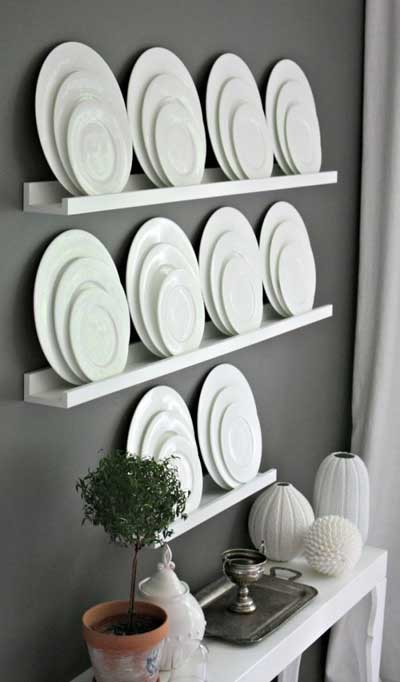 If you have a lot of ceramic plates and confuse where to keep it, you can make a plate rack like this one. This plate rack decoration surely will make your dining room looks beautiful and classy at once. And a neat impression can also be felt with this decoration. The plates in various sizes are neatly arranged where it will give us convenience when we want to use the plate.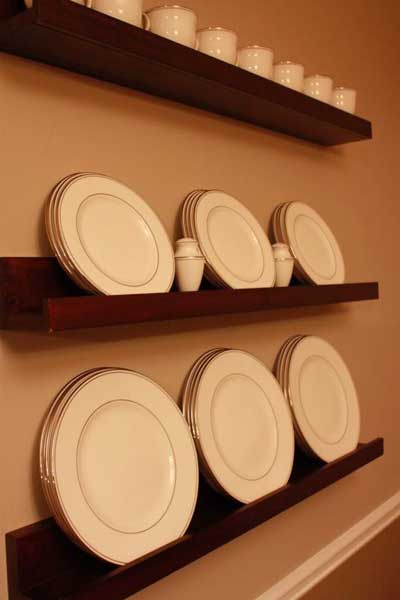 In order to have a decoration like this, you can simply make it yourself. Just prepare three or more longboards in a small size like the example that we have given and make it as you like. If the boards are ready, gives it a color and then, you just need to install the rack on your dining room wall and put your plates on it.
Note: Make sure that you have installed the rack correctly. If you do not, it will be easily dislodged and of course, your beautiful plates will be broken.
Dining Table Centerpiece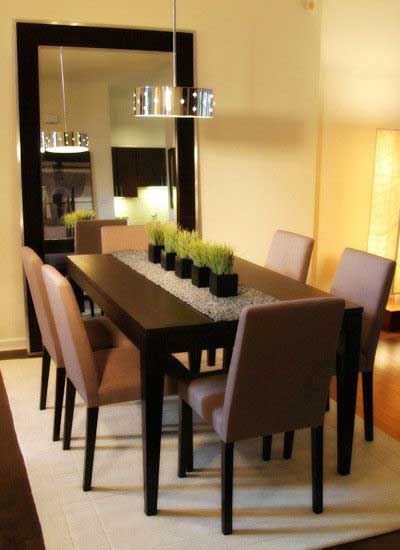 A centerpiece in the middle of the dining table will absolutely make your dining room looks beautiful. Moreover, it will create a very nice display of the dining room. There are a lot of dining table centerpiece that can be used such as candlelight, greenery, and much more. This decoration will make us enjoy our dinner together with our whole family.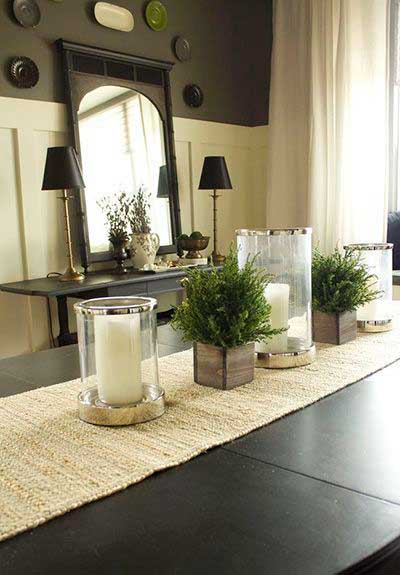 Look at the two example pictures above, it looks very nice and makes the dining room become more comfortable. The use of greenery as the centerpiece will bring a cool impression whilst the candlelight will give a romantic impression.
Note: Be careful in choosing a dining table centerpiece. Make sure that you choose the one that is suitable for your dining room design. If it does not suit well, the centerpiece will give no impression at all.
Closing
Those are the DIY dining room decorations that we can share for today. Hopefully, it can give you a lot of inspirations in decorating your dining room. If we can make the decorations ourselves why we need to buy it.