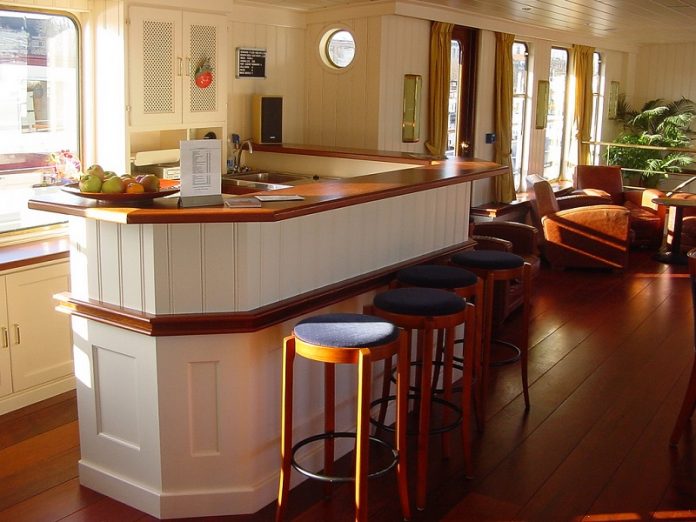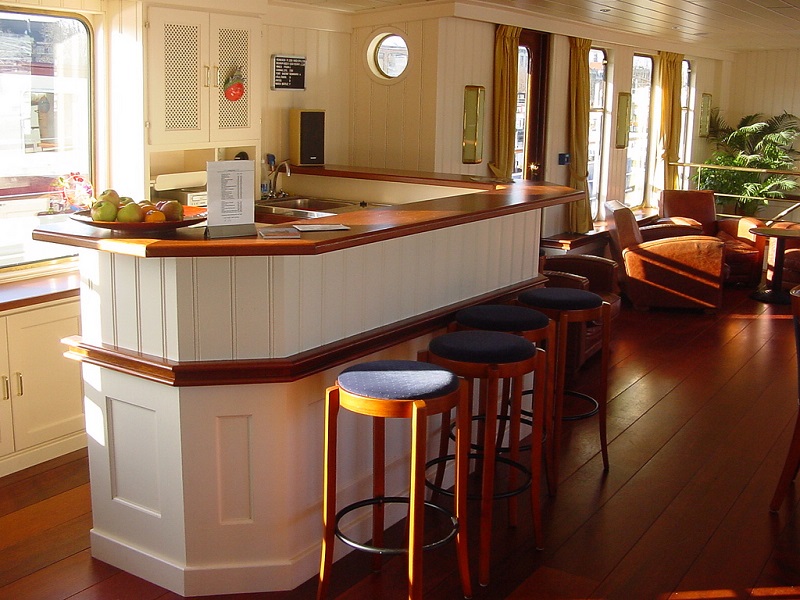 Having a home bar certainly lends an air of class and sophistication to your interior design. More than that, it provides a perfect space for entertaining. If you're someone who loves to host social events, a home bar is almost a mandatory touch. Hire a professionally trained bartender to tend it and impress your guests with a wide array of cocktail offerings.
Not only does it provide a place to test your mixology skills, but it serves as a gathering space. When equipped with a TV, a home bar becomes the perfect spot for viewing parties and watching sporting events. It's also an ideal spot for discussing business and hosting professional gatherings.
Having a home bar requires more than just a couple of bar stools and a case of beer, however. The décor should be both elegant and inviting, exuding luxury while also maintaining an air of amiability. We'll walk you through some décor must-haves for the most memorable at-home bar.
#1) Free-Standing Counter & Bar Stools
A free-standing bar counter is ideal for those that don't have an existing built-in bar. This portable bar top can be placed anywhere in your home, and many even come with the trademark wraparound foot railing. Purchase one in a dark wood finish for the most authentic look and feel.
Your bar should have a warm quality about it, which is best achieved through woods such as cherry, oak, or mahogany. Complimented by a gold-trimmed bar top and foot railing, the authenticity is maximized.
Complement the warm aesthetic of the bar itself with some upholstered bar stools featuring velvet seat cushions and a leather finishing. When paired together, the wood and leather aptly elicits memories of the old-fashioned bars that gave way to a cocktail of the same name.
#2) Bar Cart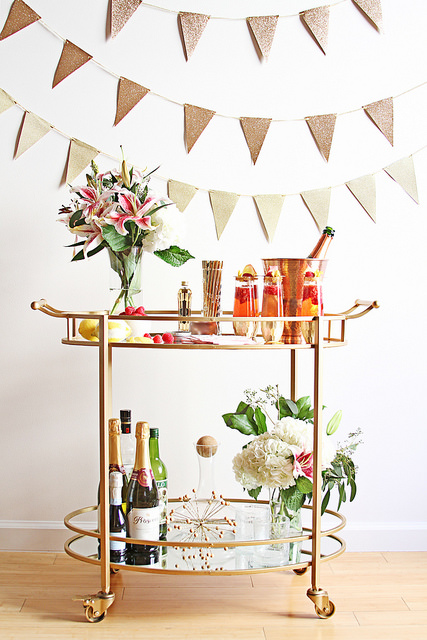 Keeping a small bar cart beside the bar itself is perfect for when guests want a drink, without the formality of sitting at the bar top. Adorn your bar cart with an ornate serving tray, topped with a variety of crystal decanters featuring your favorite liquors.
Keep a couple of crystal highball glasses alongside your decanters, and accessorize the bar cart with a small succulent, antique snack bowl, or handcrafted coasters.
#3) Pub Table
Furnish your home bar area with a pub table for when the occasion calls for more than bar seating. The pub table should match the remainder of your bar's décor. Much like the bar cart, it can be adorned with a serving tray and decanter set to emphasize your bar area's welcoming vibe.
Keep your bar cart near the pub table for easy access to refills and refreshments.
#4) Accents & Decorations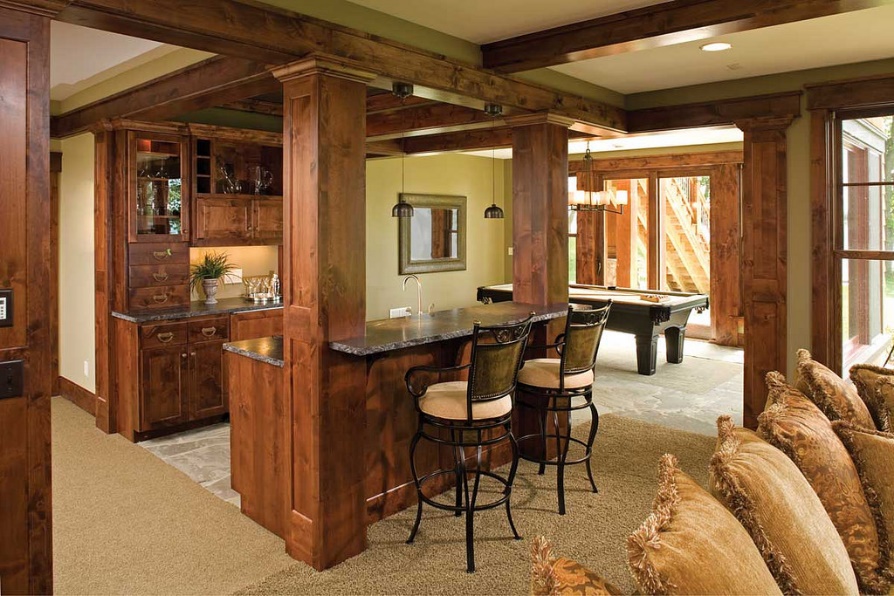 The finishing touches are what make your home bar the gathering spot that it is.  As is customary in bars, you might want to put a long horizontal mirror along the back. This trend dates back to the Old West, when bar proprietors believed that distressed patrons that caught a glimpse of their reflection would be encouraged to ease up and relax.
Decorative wine racks also make a homey touch. One idea is to set up hanging wine racks along the back of the bar as a backdrop.  Place any of your glassware on display also, ensuring that you always have three different kinds of glasses in stock: tall, short, and stemmed.
Some hanging pendant lights with Edison bulbs and bronze casing will add to the warmth of the bar area, while also evoking the contemporary industrial look.
Lastly, make sure to adorn your bar area with some personal touches. Souvenirs, handcrafted dishware, and other such additions emphasize the cozy and congenial atmosphere of a bar. With the right furnishings and surroundings, your home bar will become a place where you not only make cocktails but memories as well.