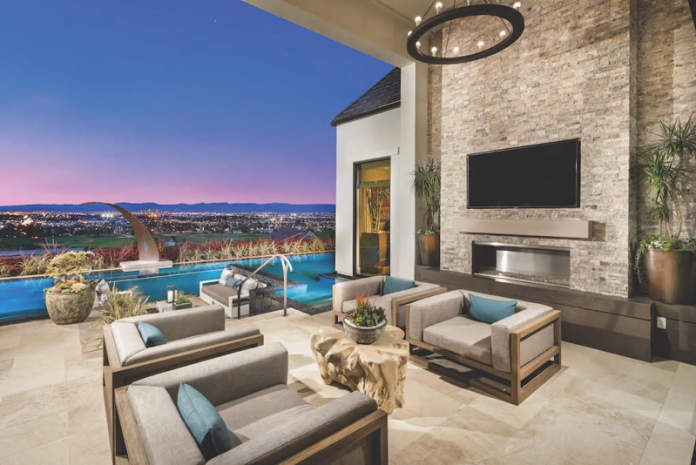 Once upon a time, luxury was defined by the gilded halls of a mansion, the shimmer of a chandelier, or the plushness of a living room couch. But as the world evolves, so does our definition of opulence.
Today, luxury extends beyond the four walls of our homes, spilling into our outdoor spaces. Welcome to the age where your backyard isn't just a yard; it's a statement.
Al Fresco Dining Reimagined
The phrase "dining out" takes on an entirely new meaning in the world of modern luxury. Forget the simple BBQ grills of yesteryears; today's high-end homes boast outdoor kitchens that rival five-star restaurants, complemented by modern outdoor furnishings that set the stage for an unmatched dining experience.
Think built-in grills, pizza ovens, wine chillers, and opulent dining sets that elevate the ambiance. With the right modern outdoor furnishings, every meal becomes an event, a culinary celebration under the open sky.
Resort-Style Pools & Spas
Why travel to a luxury resort when you can recreate one in your backyard? Modern luxury homes are stepping up their game with pools that are more than just water bodies.
Infinity edges that merge with the horizon, swim-up bars that serve your favorite cocktail, and hidden grottos for that touch of mystery. And when the sun sets, imagine sinking into a heated spa, champagne in hand, stars overhead. Pure bliss!
Ambient Lighting
Lighting has always been integral to setting the mood, and the outdoors is no exception. But we're not talking about mere garden lamps.
The modern luxury yard dazzles with LED systems that change hues, fire pits that dance with flames, and lanterns that cast mesmerizing shadows. It's not just lighting; it's an experience.
Luxury Lounging
Remember the times when outdoor spaces were an afterthought, adorned with simple plastic chairs and tables? Those days are long gone. Today, we're witnessing the rise of the outdoor living room, a paradigm shift in luxury lounging.
No longer just a space, it's an experience. Plush sofas that rival indoor counterparts beckon you to sink in, while weather-resistant rugs underfoot add a touch of warmth and sophistication. But it's not just about aesthetics; it's about functionality too. Imagine hosting a movie night beneath the stars, equipped with state-of-the-art sound systems and projectors that bring the cinema right to your backyard.
These modern amenities, combined with tastefully curated decor, have transformed outdoor areas into extensions of our living rooms.
Private Retreats
In our chaotic lives, the need for a slice of peace is paramount. Modern luxury homes understand this, carving out niches of tranquility.
Zen gardens with perfectly raked sand, fountains that murmur softly, and meditation pods that shut out the world. It's not just a garden; it's a sanctuary.
Smart Technology
Luxury in today's age is as much about convenience as it is about aesthetics. Enter the world of smart outdoor technology.
Imagine voice-activated lights, sprinklers that sense the moisture in the soil, or security systems that ensure your oasis remains undisturbed. It's the age of having the world—or at least your backyard—at your fingertips.
Sustainable Luxury
Opulence in today's world has taken on a deeper meaning, one that doesn't come at the planet's expense. The epitome of modern luxury homes seamlessly blends indulgence with eco-conscious decisions.
Imagine drawing power from solar panels, conserving precious water with advanced rainwater harvesting systems equipped with efficient rainwater tanks, and furnishing spaces with eco-friendly materials that don't just look good but feel right.
These homes stand as a testament to the fact that the pinnacle of luxury is not just about surrounding oneself with the finest things, but also ensuring that the planet remains fine for generations to come.
Personalized Entertainment Zones
Everyone has a passion, a hobby that makes their heart sing. Modern luxury homes are tapping into this, offering personalized entertainment zones.
Be it a custom-built basketball court, a mini-golf green, or even an amphitheater for the artist in you; luxury is about tailoring spaces to your heartbeat.
The Future of Outdoor Affluence
As the boundaries between indoor and outdoor living continue to fade, one thing becomes clear: luxury is no longer confined. It's expansive, inclusive, and above all, personal. It's about crafting spaces that don't just shout opulence but also whisper individuality.
So, as you sip your coffee and gaze out of your window, ask yourself: Is it time to redefine luxury in your life? T