Roohome.com – Do you want to renovate your kitchen into a modern and sleek design? Open kitchen shelving ideas will make the design being perfect with the decoration inside. Even your gallery designed with a simple design, you might use your creativity to arrange it to make it looks outstanding. Variety of beautiful kitchen designs become more attractive if you are smart to design the gallery with elongated shelves. Then, other materials such brick walls and complements black-tiled are suitable for the wall feature design. The right shelving design also creates the best kitchen interior at home. Here, you might see a variety of open kitchen shelves inspiration and most popular kitchen design also.
Open Kitchen Shelves Ideas for Modern Kitchen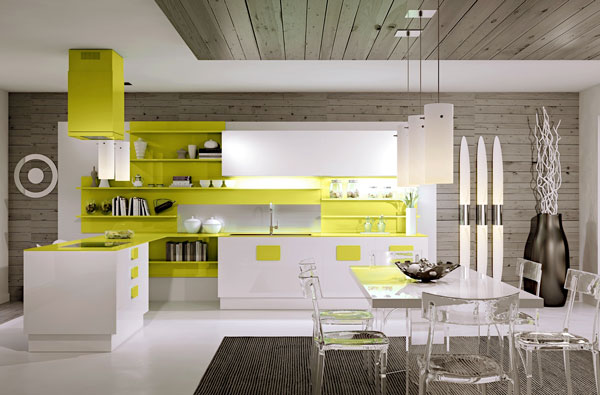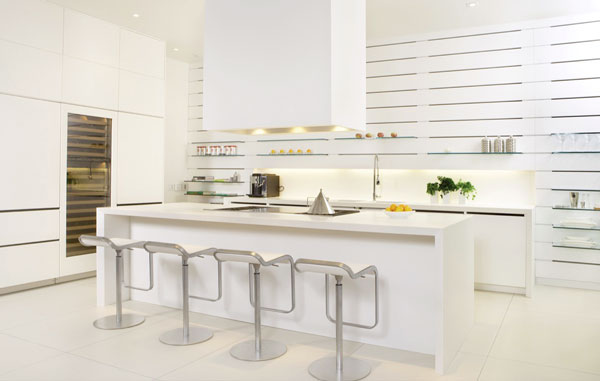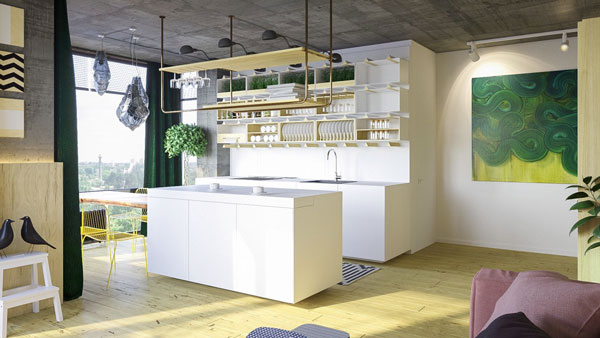 Using an open shelving might introduce a new surface to the kitchen design itself. A wooden is the main material that used to make shelve. Your gallery looks sleek if you apply this one on the kitchen wall. Do you want to know how to design your kitchen with shelves? Here the details!
How to Design Your Modern Kitchen with Open Shelves?
It will make your stuff or kitchen utensils arranged neatly. To bring out a modern impression, it is possible if you add the ornament which shows a modernity around the space. Modern kitchen with open shelves visible more trendy rather than your kitchen only using a cabinetry. Your gallery does not look monotonous if you apply with. Then, a white color for the main color in this kitchen is matching with a bright color that used for the kitchen shelve, both will present a perfect design. If you do not want to combine with other colors, you might apply one color to support the design.
Open Shelving Makes Your Scandinavian Kitchen Design Looks Gorgeous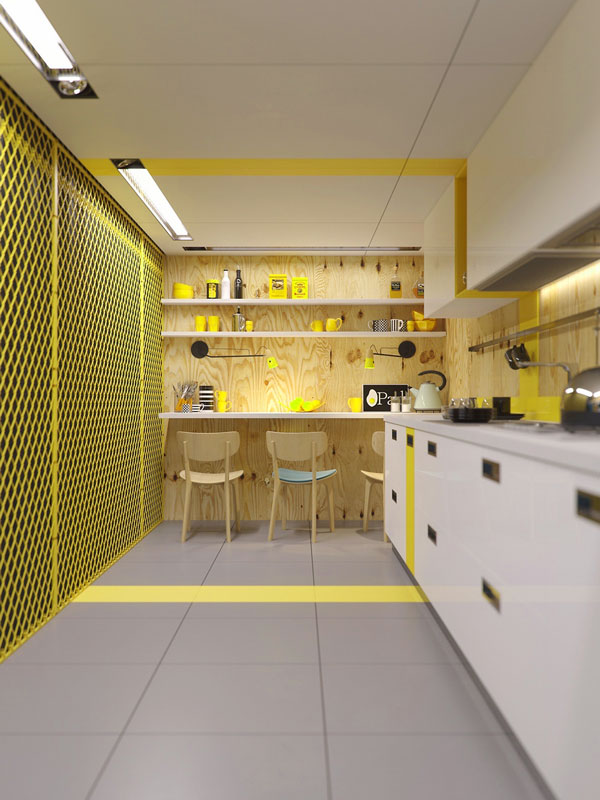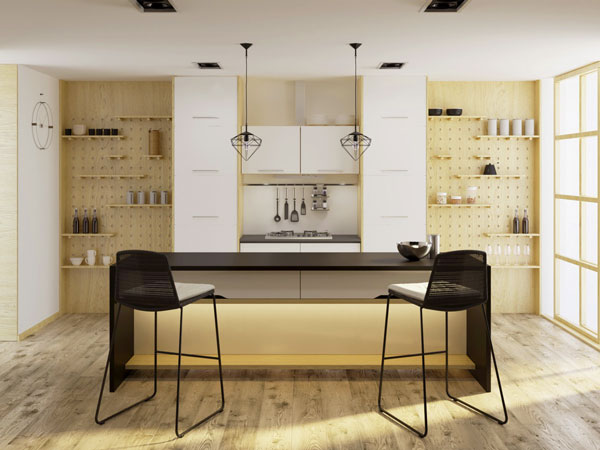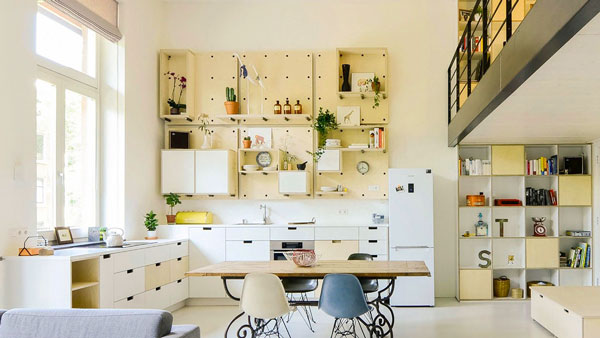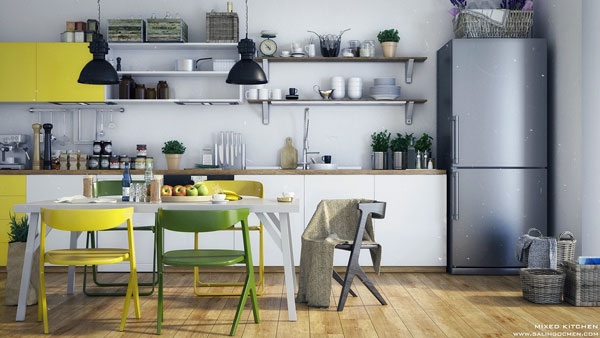 In other hands, there is a Scandinavian design which applies with open kitchen shelves inspiration also. The design is identical with a wooden decor, but to make it interesting, you might combine with a creative design to renovate your kitchen.
Scandinavian Kitchen with Creative Open Shelving Ideas
Make your gallery with a Scandinavian design more attractive by combining with your creativity. When you see those pictures above, it looks different than usual design. Why? Because the designer chooses a good material selection start from a wooden, shelve's design and the arrangement. From those 3 Scandinavian kitchen designs above, each open shelving uses a different style. A wooden has a different surface such soft, light, and plain. Then, the designer starts to design the shelve with a line design, combine with a drilled holes and six cubbies design. So, the open kitchen shelving in your kitchen looks stunning.
Classy Kitchen Completed with Elongated Open Kitchen Shelves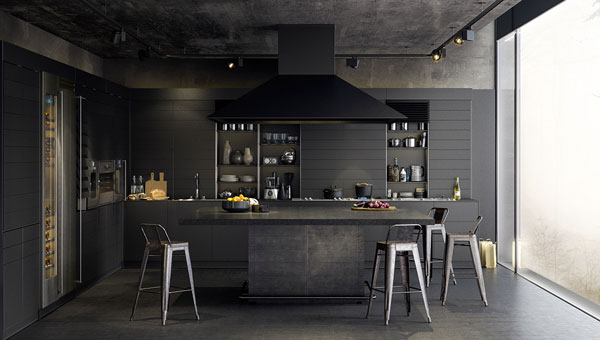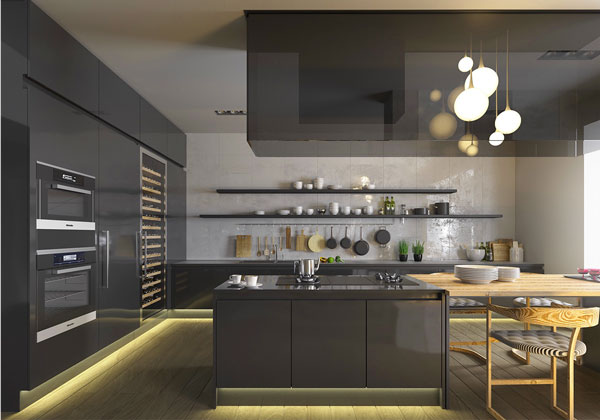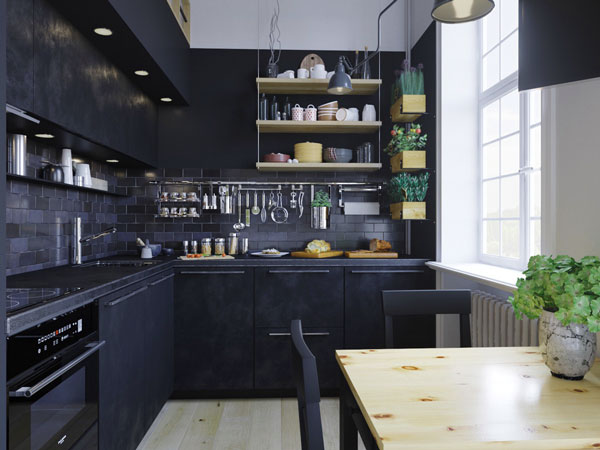 Then, if you like something dark and dramatic but present a bit classic nuance, a classy kitchen with black color shade is the right option which very compatible to make your home perfect. The designer also uses elongated open kitchen shelves to design the kitchen.
Dark Classy Kitchen Design with Elongated Kitchen Shelves
Besides those designs above, there is a kitchen shelve inspiration which applies with elongated style. Although the design looks common when you applying this to the classy kitchen here, it will be more fitted. With elongated shelve design, you can put a jar, plants decor, small furnishing, especially your kitchen utensils to make it more practical. So, the open kitchen shelving ideas very useful for completing your beautiful kitchen design that would make the design sleek and neat. Then, which designs you like?