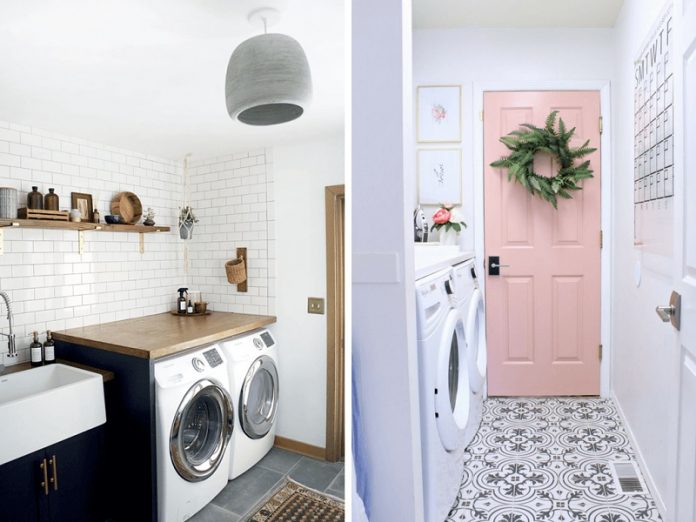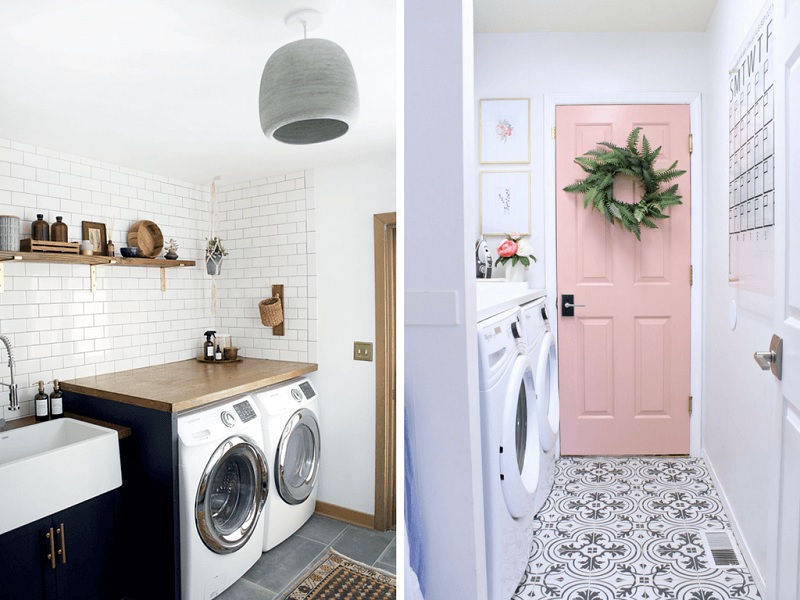 Having a laundry room in your home is a luxury. But what if the laundry room is small and cramped up? How will you organize all your washing products in this narrow space? This is one of the major problems faced by homeowners with a small laundry room.
The best way to organize a small laundry room is to make the maximum use of the available space. Thus, you may not be able to hang your favorite wall hanging or a cool picture in your laundry room. But you will have enough space to store all your day to day laundry essentials.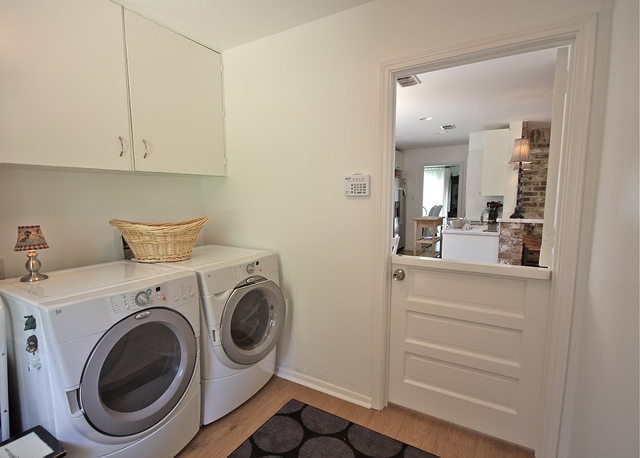 Here are a few interesting ways to organize the space so that you can store all your essential items inside the room.
Go for countertops: Being a small room, your laundry area may not have enough space to store the washing products. Instead of placing the products above the washing machine, you can provide a countertop on top of the machine. This will not only provide enough space to store your washing products but also offers a neat and clean look to the room.
If you have a separate washer and dryer, then the countertop can cover both the units. In such cases, the countertop can also double up as a folding unit.
Go for open shelving: Every laundry room will have some space above the washing machine. Make use of this empty space and add one or two open shelves above the washing machine depending on your requirements. If there is no free space, then you can consider placing a few corner shelves.
Open shelves provide a more spacious look to the room, and the room will not feel cramped up. You can even provide a few hooks on the edge of the shelf and hang a curtain to add to the aesthetic look of the room.
Add cabinets: If the idea of open-shelving does not appeal to you, then you can go for closed cabinets above the washing machine. These cabinets help in efficiently sorting your washing products and organizing them properly.
But remember to paint the cabinets in a white shade so that it creates the illusion of space. You can also attach a rod below the cabinet for hanging hangers and small clothes. Alternatively, you can hang a cloth liner below the cabinet and pin small items like socks, cloth napkin or tie.
Attach hanging baskets: Instead of shelves and cabinets, you can even place hanging baskets or wire storage rack above the washing machine to store your laundry essentials. If there is no provision to hang the basket, you can consider hanging the basket behind the door.
Depending on the type of basket used, you can place light or heavy objects inside it. There are also baskets that come with hooks at the bottom. These hooks can be used to hang socks, tie or lingerie for drying.
Use a wall-mounted ironing board: Normal ironing board occupies a lot of space, and it is practically impossible to place it in small laundry rooms. Instead, you can use a wall mounted ironing board that can be placed against the side wall when not in use. Such boards are neat and compact and do not occupy any floor space.
Use a wall-mounted folding unit: A wall-mounted ironing board can double up as a folding unit as well. If not, you can install a separate folding unit where you can easily fold all your washed cloth. The folding unit itself should be foldable so that you can place it against the wall when not in use.
Hang a drying rack: For a small laundry room, every inch of space is precious. Why not make the best use of ceiling as well? Buy a drying rack and hang it from the ceiling. This rack can be used to air dry the clothes after machine drying. It can also be used to hang clothes after ironing.
Use storage containers/baskets: Storage containers or baskets can be used to store small items that are misplaced easily like hanging clips, tie pin and handcuffs. Place colorful containers for each item like one container for clips and another for pins and cuffs.
Attach hooks behind the door: The space behind the laundry door is usually a neglected area. Fix a few hooks behind the door and use it to hang laundry basket or hangers. The hooks can also be used to hang small and easily misplaced items like a tie.
Use a slim rolling cart: If you have space between the washer and the dryer, then you can place a slim rolling cart in between. This cart can be used to store detergent and other laundry essentials and can be pulled out as and when required.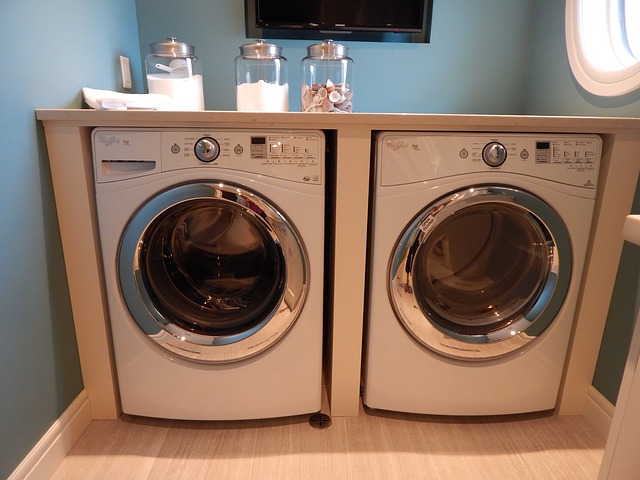 One of the biggest problems faced while organizing a small laundry room is losing small items. Sometimes it falls behind or on the sides of the washing machine and will be completely forgotten. To prevent this, place a laundry guard on top of the machine. This not only prevents small items from falling but also provides a very organized look to your laundry room.