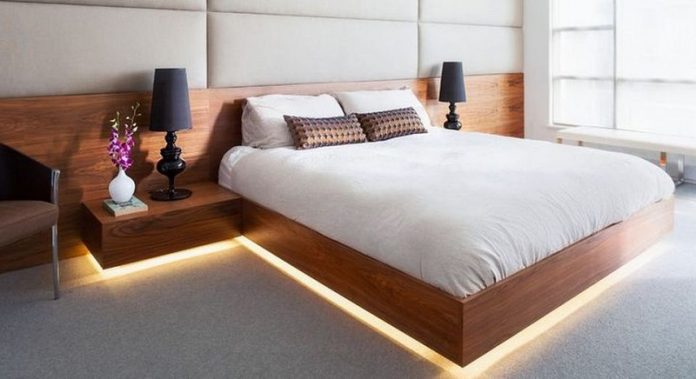 A good bed makes you look forward to bedtime. An uncomfortable bed spoils your sleep, stresses you night-long and interrupts your activities during the day. Considering we spend a third of our lives sleeping, your bed should be cozy, welcoming and big enough for you.
If you are thinking of upgrading your bed, there are multiple bed sizes to choose from. Learn everything about beds sizes before you decide which size to buy.
Single/Twin Bed
Single beds and twin beds refer to the same thing.  They are beds designed for people with space issues, kid bedrooms or military dorms. The beds measure 39 inches in length and 75 inches long. Two single beds laid next to each other equal the size of a king-size bed.
If you are on a budget and can sleep comfortably on a single bed, there is probably no need for a larger bed. Twin beds cost less than half of what queen-size and king-size beds cost. The average price is $100 for a wooden bed and $180 for an upholstered bed.
Many twin beds feature simple designs although it's not uncommon to find elegantly designed single beds. Single beds are also the preferred sizes for building bunk beds. So, if you have teenagers in your house, start finding deals for these kinds of beds.
Twin XL Beds
Twin XL beds measure 39 inches in length and 80 inches long. In essence, they are similar to twin beds but are five inches longer. They are best suited for tall people or teenagers you believe will outgrow regular singles.
Like singles, twin XL beds come in a variety of designs. A platform bed consists of a frame that supports your mattress without a spring box. These beds are closer to the ground, tend to be upholstered and stylish.
Double/Full Beds
Double beds are surprisingly not twice as large as singles. In fact, they are only 14 inches bigger in length. Their height is similar to that of a single bed at 75 inches. However, those extra inches can make a big difference in sleeping comfortably.
Because full beds are sized between twin beds and queen beds, most people overlook them. It can also be confusing to buy a double bed. So, who needs these beds? Someone who lives in a studio apartment or a small bedroom will love a full bed. The beds are bigger than twin beds yet not as expensive as queen beds.
If your teenagers also think twin beds are too small to sleep comfortably, you may also consider upgrading to a double bed. A simple full bed costs less than $120, the same price as a twin bed. If you want a better-styled bed, upholstered faux leather beds cost no more than $260.
Queen Bed
Queen beds come in three popular sizes. The standard queen bed measures 60 inches wide and 80 inches long. An Olympic queen bed is 66 inches wide and 80 inches long. California queen beds are longer at 84 inches but have the same width measurements as standard queen beds.
Like most other beds, the depth of a queen bed varies.  They can fit standard 9-inch mattresses or accommodate up to 18 inches of depth. Learn about the most popular beds online at https://www.bestreviews.guide/beds before worrying about mattress depth measurements. Cue—most popular beds accommodate different kinds of mattresses.
Back to queen beds. There is no shortage of design varieties when purchasing these kinds of beds. They aren't cheap but come in an exhaustive number of styles. From classic metal beds to upholstered designs, beds with trundles and bunk beds, there is a bed for your exact budget.
King Size Beds
King size beds are excellent for couples. They measure 76 inches wide and 80 inches long, meaning each person has about 38 inches of length. By comparison, queen size beds measure 60 inches, leaving each person to sleep around 30 inches of length.
While the 80-length of a king bed is big enough for tall people, California king beds are 4 inches longer. However, they are also 4 inches leaner, bringing their overall dimensions to 72 inches wide and 84 inches long.
As the largest kinds of beds in stores, king size beds command a lot of space in your bedroom. If you have space issues, this is not the bed to buy. Only go for a king bed when you are certain it's the kind of bed you need.
The average king bed costs $400 although this could go up to $2000 for state of the art beds. You will easily find an elegant, bed with drawers and other features with a $500 budget. The more the features usually the costlier the bed.
Cribs
Cribs are beds for kids. The standard crib is 27 inches wide and 52 inches long. Crib designs vary depending on whether you want a movable bed or one with removable parts. High-end cribs tend to be upholstered with real leather and may feature drawers for storing baby products.
Bed Accessories
The size of bed you purchase determines the types of duvets and sheets you purchase. Queen and king bed mattresses and sheets are expensive. Accessories for Twin and full beds are more available, cheaper and come in multiple designs.
When buying a bed, make sure its dimensions equal the standard measurements for that bed. Some twin beds, for instance, are 41 inches instead of 39 inches wide, making it harder to find sheets for them. Don't worry too much though. If you can't find accessories with the exact measurements as your bed, buy slightly bigger sheets or duvets.
To Conclude
Buying a bed can be confusing due to the many bed sizes out there. If you are single and live in a small apartment, a twin bed or a full bed will probably suit your needs well. If you are tall, a twin XL is the bed for you. Couples with big bedrooms should prefer queen or king size beds. However, these beds vary widely in prices. Shop around to find the best beds.