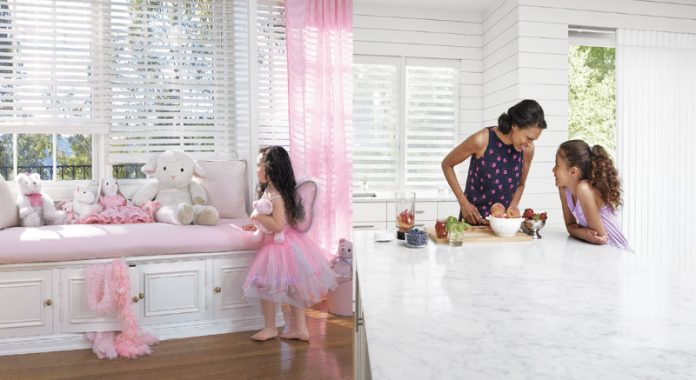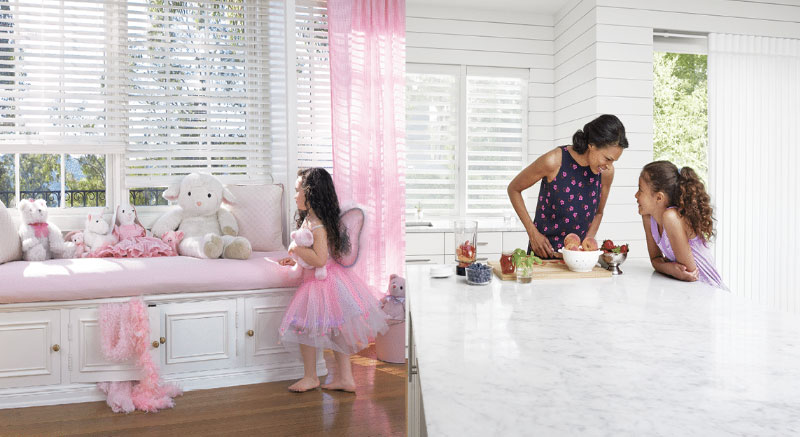 How to Childproof Windows in Your Home
Accidents that involve children are one of the most common accidents that happen very often at home. Learning how to childproof your windows can keep your kids safe.
Top 5 Tips to Have Child Safe Window Treatments
Window treatments with cords are listed as one of the top five hidden hazards in homes. There are a huge number of child safety products on the market to help keep your little ones safe from drawer and door locks to soft table corners. However, most people don't think about their window treatments being a health hazard to their curious children and they pose a strangling hazard. You can follow a few simple steps to making all of your window treatments safe.
Check Your Current Window Treatments
If your current window treatments have long, dangling cords to operate them, you can install some safety measures. You should also look for fraying materials that a child can put in their mouth and choke on. If you have continuous loop window covering cords they should be permanently anchored to the floor or wall so there is not enough slack for a child to be caught in them. These are also called a P-clip to anchor the bottom of the loop to the floor or wall. If you have window coverings with a free hanging cord for operation, you should install cord cleats to wrap the excess cord around and keep them high on the wall so they are out of reach for children.
Cordless Roller Shades
Cordless roller shades give you clean lines without a messy dangling cord, a modern appearance and child safety too. Custom roller shades can be mounted inside or outside the window frame for the exact look you crave. To lift the roller shades you simply grasp the bottom rail and life it up and to lower it, you grasp the bottom rail and pull it downward. You can also open or close them partially if you want to. This type of window treatment is versatile in light control as you can choose the thickness to let filtered light in a room or choose a blackout option to darken a room. Cordless roller shades look great when you pair them with drapery panels in your windows.
Cordless Blinds
You have several choices of cordless blinds from which to choose. You may choose wood blinds for a beautiful and timeless classic window covering. You can choose from a variety of colors to match your decor or have them stained to virtually any color you choose. Faux wood blinds have the same classic appearance but at a lower price point and they work well in humid areas, such as a kitchen or bathroom. Aluminum blinds may have 1/2 inch 1 inch or 2 inch vanes. When you choose custom made cordless blinds you can choose any color, type and texture of fabric to apply to the vanes for a distinct and fashionable window covering. These also operate by simply lifting the bottom rail to raise them or lowering it to shut them with no dangerous cords.
Plantation Shutters
Indoor plantation shutters are a true sign of elegance in a home. You can choose hardwood, composite wood or polyvinyl for damp or humid conditions and they will not warp because they are waterproof. You also have choices in the manner that plantation shutters open and close. They may open in the center and swing outward to both sides of the window or you can choose to have four panels installed horizontally that open like a bi-fold door does. In addition, they are child proof with no cords whatsoever on them.
Motorized Window Treatments
Are you a modern forward thinking parent? Do you love technology? If so, then motorized window treatments are a product that you will simply fall in love with. You can operate them with the touch of a button on a wall switch, a remote control or from any smart phone. You can also program them to open and close independently of each other at any times you choose. Alternatively, you may decide that you want them all to open at daybreak and close at nightfall for privacy. The beauty of these technologically advanced window coverings is that you are in full control of their function, even when you are away from home. This option has no type of cords or wands for a child safety product. You can even add your motorized window treatments to your smart home and control your entire house digitally including the windows, lighting, privacy, TV, thermostat and so much more.
Other Considerations in Child Safety with Windows
The best idea is to educate your children when they are small about window hazards and don't let them play near the windows, especially if a window is open. Screens don't keep toddlers in but they only keep bugs out and if a child accidentally falls against a screen, they will like knock it out of the window and fall outside. Playing near windows can also be expensive when a misguided hard toy hits the pane of glass and breaks it.
It's best not to place a baby bed or pack and play near a window to safeguard your children. Also, keep furniture away from windows as children are very curious and can climb on the furniture and then fall into the window. It's recommended to install child proof locks on all of your windows or stops so they can only open to a certain point that is not wide enough for a child to fall out.
You have several options in covering your windows, making them functional, beautiful, stylish and child safe for your little ones all at once.