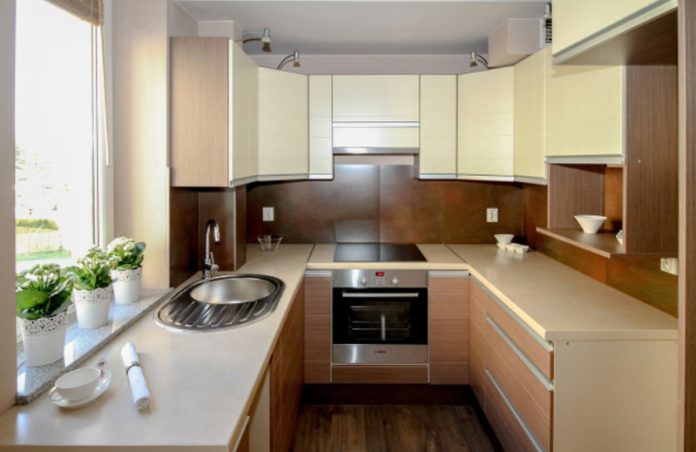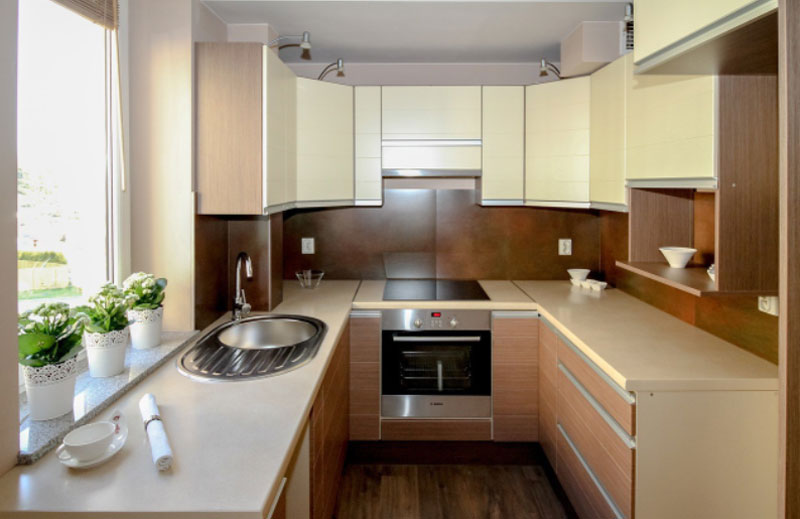 The design of kitchen facades affects not only the beauty of the kitchen but also the life of the furniture used. To make a choice, you need to study the manufacturing techniques of solid, bent and paneled facades, compare them with each other and determine which option suits you best. Best modern white kitchen cabinets online are a great recommendation for your kitchen furniture.
Features of integral facades
This category includes facades made of solid wood and solid panels. The first option is quite rare and will cost a lot. Just imagine how difficult it is to find material for the manufacture of a solid door 45-90 cm wide and about 2 cm thick! Therefore, furniture for kitchens made of MDF or chipboard sheets lined with veneer is more common on the market. Also, facades can be painted, varnished, laminated, and lined with other materials (for example, plastic).
MDF boards are the best material for the manufacture of kitchen facades. The cheapest coating option is lamination. More expensive work involves painting with enamel or a mixture of paint and varnish. The lacquer coating of kitchen furniture is glossy, matte, color or transparent, so you can choose the suitable option for solving your own interior tasks.
Features of the manufacture of bent (radius) facades
This is multilayer plywood or MDF sheets, which are given the desired shape in several ways:
The material takes on a curved shape during the manufacturing process of MDF sheets
Several even sheets of eco-veneer are folded and glued after complete drying, a rounded cloth for furniture production is obtained. Curved lines look beautiful on the end elements of the extreme lockers. From them, you can create a composition without corners, which can become a highlight of the interior of the kitchen. Manufacturers offer kitchen sets with surface lines curved in and out. There are also exclusive cabinets with complex curved surfaces. Curved facades do not have to be solid at all. Models of cabinets with rounded lines of the door and frame look spectacular.
A box with a "window": features of paneled types of facades
In the process of manufacturing such products, a panel is inserted into a rectangular frame, then parts of the frame are joined by various methods:
Spike groove (swallowtail technology)
At right angles
At an angle of 45 degrees
As planks, cut MDF sheets or boards are used. A frame is a great way to combine several materials in one piece of furniture. This option is suitable for kitchen sets in any style.
PLANNING AND BUYING A KITCHEN – HELP, AND TIPS
A feature of planning a new kitchen is a long-term perspective, during which there is a pondering of the acquisition of new kitchen furniture and equipment. In addition, when buying a kitchen, you should think not only about today but also about the future. At the same time, high quality occupies a special place, since high-quality kitchen appliances of well-known brands, as a rule, have a longer service life, and their manufacturers provide good service and warranty service for their products
Quality kitchen furniture
In kitchen appliances, high quality is the most important criterion. And for the kitchen furniture itself, the high quality of materials and components remains a decisive condition for the impeccable functionality of all moving parts and surfaces.
Ergonomics of kitchen furniture
Since the kitchen is the place where a lot of everyday work is done, when planning it, one should not underestimate the ergonomics of kitchen furniture. And the work surface is extremely important in this aspect. The installation height of the kitchen worktop must necessarily correspond to the growth of the inhabitants of the apartment or house. It should be installed at such a height as to completely eliminate the need to bend over during kitchen work. The main principle is that all work in the kitchen should be done without stress. At the same time, a new electric oven or microwave, as the most commonly used kitchen devices, if possible, should also be placed in kitchen furniture so that they do not have to bend over or stand on tiptoe. As for the refrigerator,
Kitchen appliances
As for kitchen appliances, you should not buy particularly outdated or very rare models. This is due to the fact that for rare models, difficulties may arise when it becomes necessary to carry out repairs, and sometimes even the need for a complete replacement of a failed device. Specialists recommend contacting specialized companies for planning and designing kitchens, which, along with the optimal kitchen design, will select high-quality built-in kitchen equipment, for which a full guarantee and appropriate service will be provided.
Kitchen surface structure
The surfaces of kitchen furniture are subjected to particularly severe stresses. As a result of the vapors that occur during cooking, fatty films are formed that cover the entire kitchen furniture. Therefore, the kitchen should be chosen one that would be easy to clean and was as less susceptible to all kinds of pollution and temperatures. In any case, smooth surfaces are easier to clean from dirt and deposits than porous materials or structured facades of kitchen cabinets.
Rational kitchen planning
In no other room in the dwelling is so much functionality concentrated as in the kitchen. When planning a new kitchen, a sufficient number of electrical outlets and connections, as well as connections for water and gas, should be provided here. If the existing connections (electricity and water) are not enough for a new kitchen, they should be equipped before the new kitchen furniture is delivered to you. If you do not have such experience, do not do it yourself, but invite specialists, such as electricians and plumbing.
In all other respects, kitchen planning is entirely a matter of taste. But it should be remembered that the kitchen samples exhibited in stores and design studios are sets that have yet to be adjusted and adjusted to the actual conditions of the kitchen. Therefore, it should be borne in mind that often the kitchen furniture already installed by the buyer looks somewhat different than in the showroom.
HOW TO DESIGN A KITCHEN: THE MOST CREATIVE IDEAS
Kitchen lighting
To create coziness and a peaceful sense of calm in the interior of the kitchen, you need to adhere to the creative ideas of experienced designers. Creating comfort in the kitchen, it is important to correctly prioritize the lighting of the room. Well-chosen chandeliers, forged lamps with adjustable height and lampshades, designed with floral motifs, should be located low above the dining table. The dining and working area should also be properly and brightly lit. Both spotlight and backlight can be used.
Textiles in the interior
A feature of the interior in the kitchen is an abundance of diverse napkins, curtains, tablecloths, towels, potholders and chair covers made of natural fabrics. The patterns used on the "rough" textiles, wallpaper and ceramic tiles in the form of small flowers, cages, and meadow plants are harmoniously combined in a cozy kitchen interior. Bright and handmade rugs look appropriate and harmonious.
Conclusion
You can decorate the kitchen interior with the trendiest accessories suitable for this style direction. These include wicker baskets with lavender or fruit, colorful, vibrant, poultry figurines, antique vases, and painted plates. A wall free of kitchen furniture can be decorated with paintings with beautiful still lives, a large clock, and mirrors. It is possible to add completeness to the kitchen interior and place accents with the help of forged figurines and original accessories.