Choosing a small studio apartment as your living place is a good choice. If you do not need many rooms inside your apartment, you might need some references how to design it. By searching the references, it will help you to find the best design and ideas easier. Here is one of the best references for you to redecorate your own apartment by applying one of best design ideas of a small studio apartment. There will be brilliant tips for you too! Let's take a look.
Contemporary Small Studio Apartment Design
The first idea which will make you fall in love is the way contemporary design create it. Applying contemporary design will not make your apartment become old fashion. This is because of a combination of modern and classic look. Contemporary design tends to use a modern color tone in order to match the furniture and decoration.
Furniture Arrangement
The best furniture for contemporary design must be simple and not easily boring. Besides that, selecting a perfect color must be considered as well. A neutral color is suitable for contemporary design. You may see from the first picture which uses black and white color furniture. Meanwhile, from the second picture until the last picture, there is a combination of bright color and light grey color. The furniture also matches the spacious size of the apartment. In the second picture, there is a mini bar as a divider between kitchen and living room. It's creative, right? The third picture also uses simple furniture in order not to make the room to be narrow. It is quite different with the fourth picture that uses a dining table as a divider. And the last picture, there is a mini wooden dining table which is suitable to be applied in a modest space. Having a small studio apartment does not mean complicating you to divide one room to another room. Those tips will help you re-arrange your apartment better.
Decoration
In the first picture and the second picture, there is a glass decoration material which is replacing door inside your apartment and as a coffee table. Do not forget to apply any ornaments on it. A glass decoration material will bring a modern look into your apartment. In the third, fourth, and fifth picture use Scandinavian decoration. For your information, the Scandinavian decoration will be suitable for contemporary design due to its decoration looks classic and modern at once.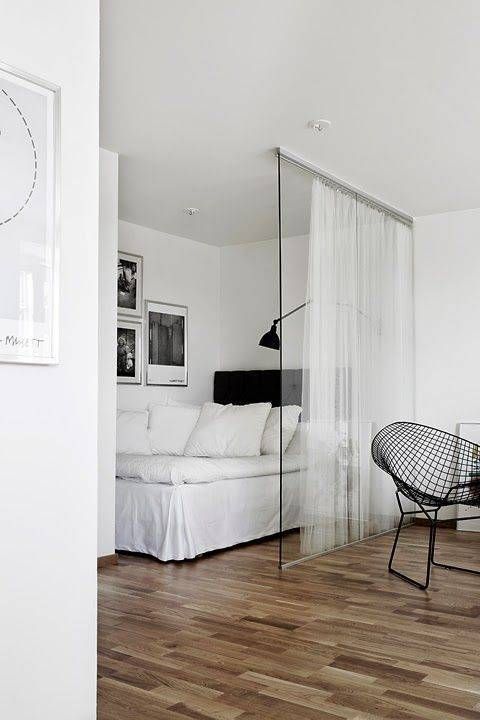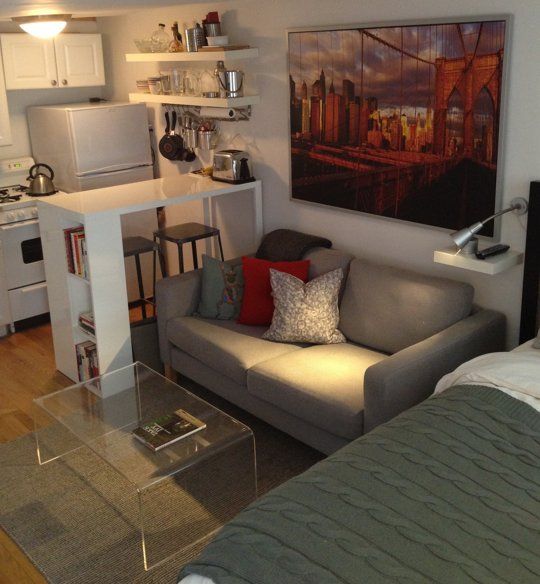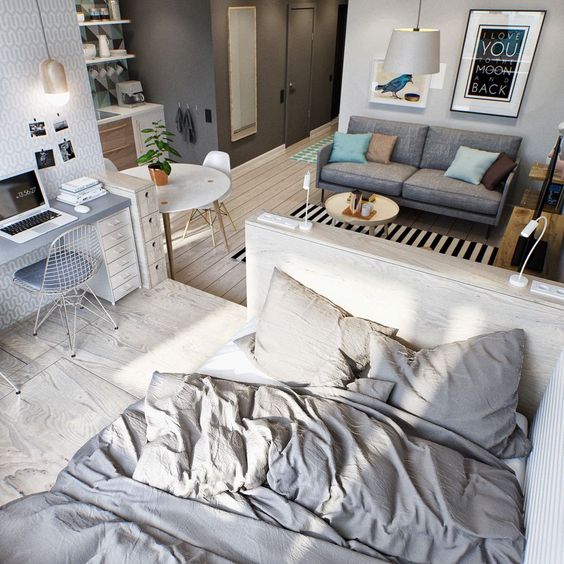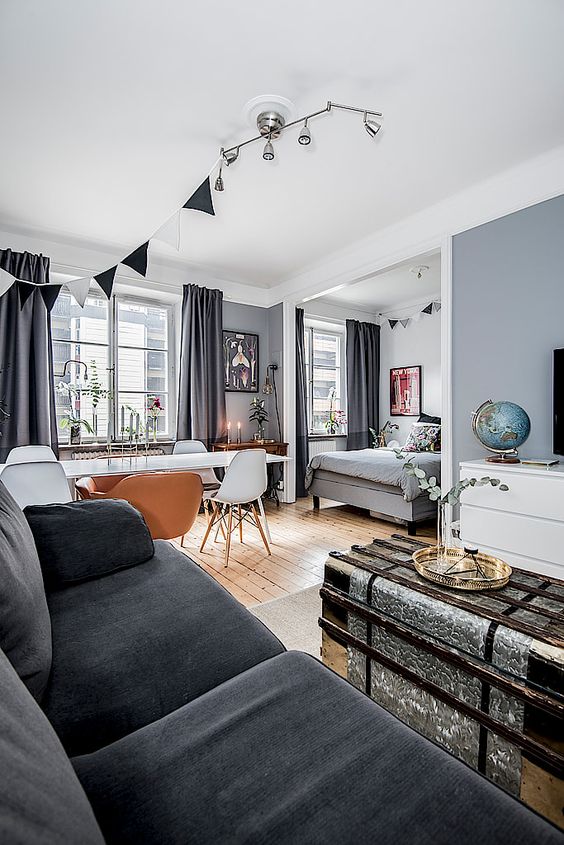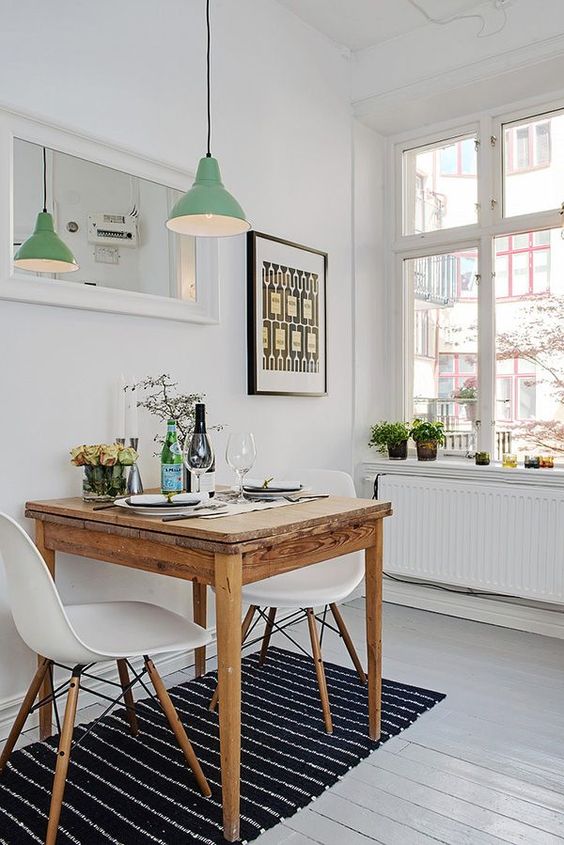 Small Studio Apartment Design For Men
The second idea is designing a small studio apartment for men. Most of the men tend to choose to live in a small studio apartment type rather than living in a luxurious apartment. They prefer simple to luxurious. So, here the best design ideas for a small studio apartment definitely for men.
Furniture Arrangement
If you are a man, you will find a simple furniture for your apartment, won't you? You can take a glance at the first picture which uses a manly blue navy couch combined with a black and white stripe rug. Interestingly, there is a unique coffee table which is made of a flexible material under its table legs. Next, in the second picture uses a combination of grey and white color furniture such as a couch and a single work desk and chair. As an addition, you are able to create your own work desk without eating out of space too much such as in the second picture. In the third and fourth picture tend to use dark color furniture. For your information, if there is a big window inside your apartment, it will be nice if you place the furniture near it. Meanwhile, in the last picture uses light brown color furniture. This is suitable for you who are fond of the classic stuff.
Decoration
Choosing a decoration for men is easy actually. There is a good combination between a glass material with black trellis inside the apartment in the first picture. Hanging out two covered lamps using black trellis will bring manly look inside your apartment. Do not forget to hang out some pictures on the wall in order to support its look. The second picture, there is a white floral wallpaper yet it will not damage the manly look because of a simple bookshelf near the bedside. The third picture looks lively because of there are some greeneries which can be placed in the corner of near the window. This decoration is the same thing which goes to the fourth picture. And here is the last picture which decorates the room using a sense of light brown such as a chest rug pattern below the coffee table, a simple brown couch, and light brown curtains.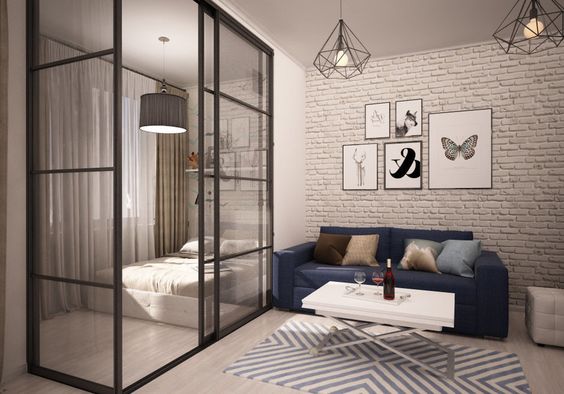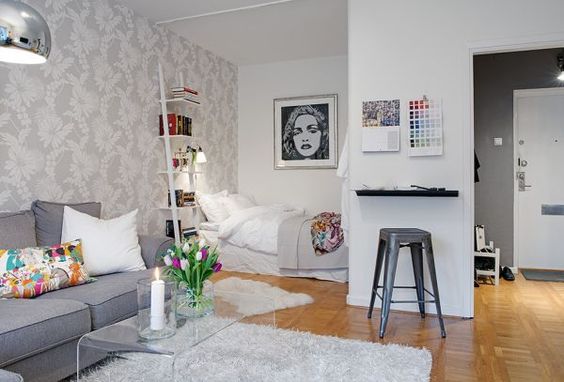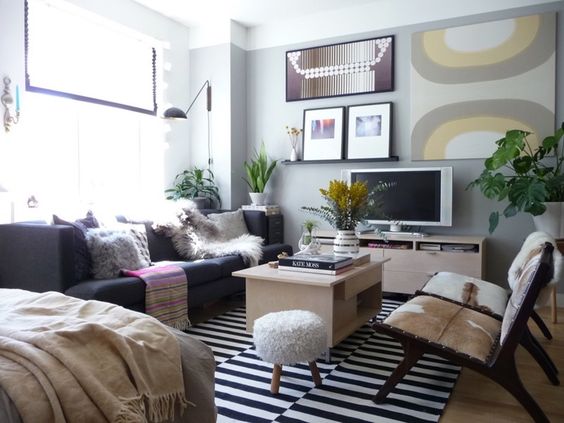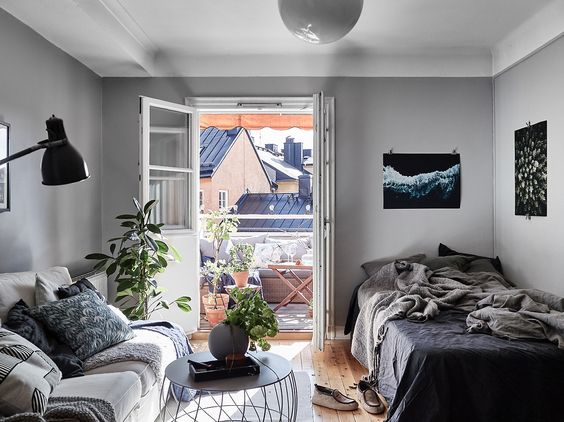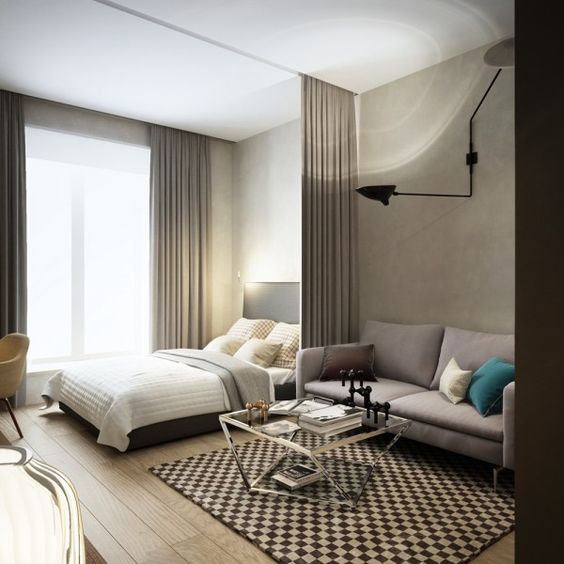 Final Words
Congratulation, you have got some brilliant tips of decorating a small studio apartment from these best design ideas. Now, you have another reference to redecorate your own apartment whether contemporary design or men design. Do not waste your time to start redecorating your living place from now. Happy trying!