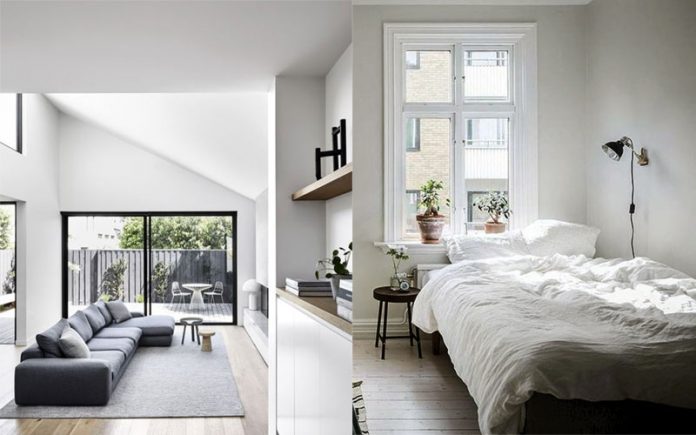 roohome.com – Home is the main purpose of resting after feeling tired with all-day activities. Having a comfortable place to stay as a resting place is everyone's desire. However, comfort is not enough. Everyone wants a comfortable and attractive place to live.
It will be very easy to make a home comfortable and attractive if you have a big house. You can use a variety of items that you want and add a variety of displays to make the house look attractive. But what about small residences?
A small place to stay will feel stuffy and uncomfortable if you choose the wrong design and placing things. However, that does not mean you can not make it a comfortable place to rest. For you who has a small residential and wants to make it as comfortable as possible, here we have provided Tips and Trick Decorating Small Residential Becomes Comfortable and Attractive. So, let's check it out!
Natural Light to Light Up the Room
A small room will feel stuffy and uncomfortable if it looks dark. Therefore, to make the minimalist room comfortable and attractive, a tip that you can follow is to use natural light as lighting the room.
Some research says that the sun in the morning can make us much more relaxed, not stressed, and healthy. So, natural lighting not only makes the home comfortable and attractive, but it can also affect our health. In addition, exposure to sunlight in the morning can make our mood go up so that we will be happy in doing all-day activities.
To make the room look bright with natural lighting, you can use a large number of windows or a few large windows. The glass door can also be an option for you who want to double the function of the door.
Making Air in a Fresh Room by Using Ventilation
The air will certainly affect the comfort of all rooms, including minimalist rooms. Therefore, making the air in a room feel fresh is a must thing to do. Not only for comfort, but musty air will also affect body health.
So, the next tip in decorating small residential to be comfortable and attractive is to use ventilation. Ventilation will make the air in the room rotate so that the air will become healthy. It is recommended to open ventilation in the morning. The morning air is very healthy and fresh, it will be good if this air can enter the house.
Use Bright Colors
A small house will certainly have a small room too. And as explained above, a small room will feel uncomfortable and unattractive if it looks dark. And the thing we have to do is make it look bright.
Besides using the windows, a tip to make a small house comfortable and attractive is to use bright colors in the room. Usually, white is the color that many people use to make the room look bright. In addition, the white color will make a small room will appear larger. Natural light entering through the window will bounce off the wall and make the room look brighter and feel comfortable.
Presenting a Mirror in the Room
If the mirror is usually only used for mirroring, but this time the mirror function is duplicated as an item to decorate the room. Making a mirror as a display is a really great tip. Displays are needed to sweeten the room so the room does not look stiff. In addition, the mirror can make the room look bigger and brighter. Lots of benefits gained from using this item. So what are you waiting for?
Get Rid of Unnecessary Items
Due to the small and narrow space, the use of unnecessary items will only make the room uncomfortable and unattractive, because Leaving items that are not used anymore can make the room look scattered and dirty. So, the last tip for making a place to stay attractive and comfortable is to get rid of items that are no longer needed.
By using items that are only needed to make the room look simple and clean. It would be very suitable for you who are very lazy to clean and clean the house. This is because a simple room will be easy to clean.