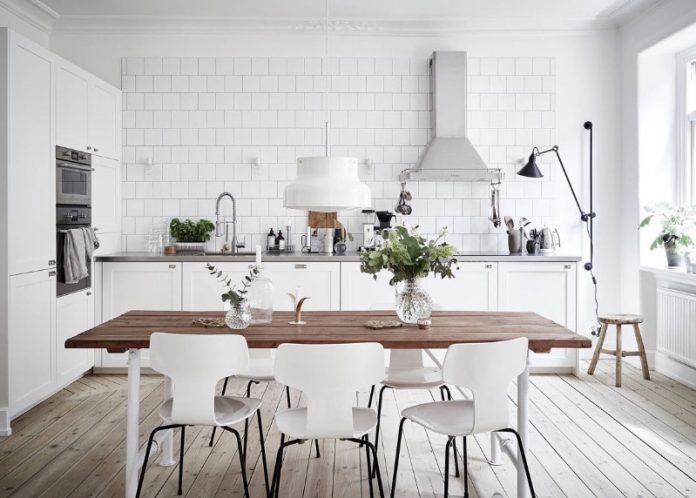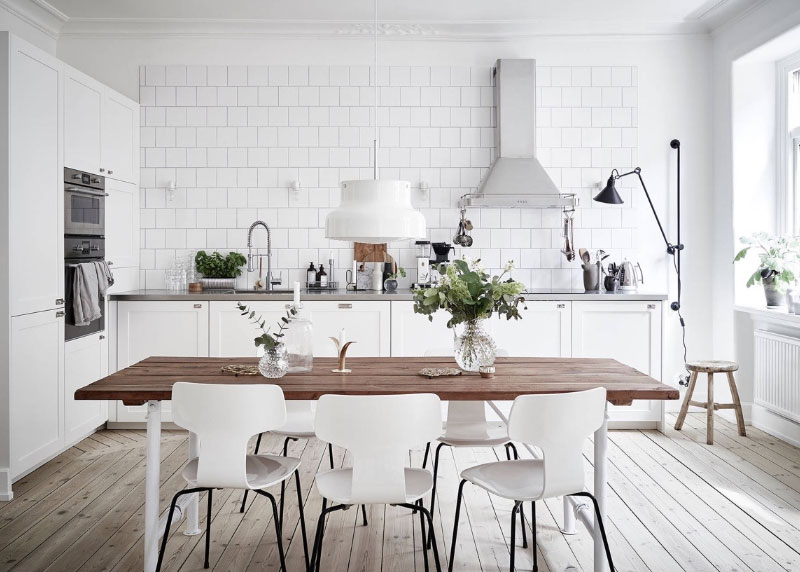 roohome.com – Who doesn't want to have an attractive and simple kitchen? Indeed, one of the things that makes a kitchen look attractive is by applying an interior design that we like, such as Scandinavian Design. In this modern era, many people are more interested in simple designs for their kitchens. And Scandinavian is a design that can be an attractive but simple kitchen.
Scandinavian is a design that is almost desirable for all people. This style can be applied to the entire room, such as the living room, bedroom, bathroom, and even the kitchen. The simple colors make the atmosphere of the room comfortable.
For those of you who want to apply the Scandinavian Design to the kitchen, here we have provided Attractive and Simple Scandinavian Design Ideas that can be your references. So, let's check it out!
Scandinavian Kitchen Design with A Mini Table Bar
For you who have a minimalist kitchen, of course, the use of goods must also be minimized. This is because the kitchen is not getting narrower. So you can only use the items needed.
Usually, people will eliminate the dining table in the kitchen. Though this is a very important item in the kitchen. With this, you can enjoy time with your family when you cook and more. So, Scandinavian kitchen design with a mini table bar is a great idea to applying for the minimalize kitchen.
To make the Scandinavian kitchen look attractive, you can use a one-tone mini table bar with a kitchen floor. To create a sweet and bright appearance, Scandinavian uses wood elements with bright colors. This you can apply to the floor and mini table bar in your kitchen
In addition to bright colors like white and beige, one of Scandinavian's distinctive features is using black on some parts to make the appearance a little classy but still simple. So, the colors used in Scandinavian designs are neutral colors (white, black, and beige).
So, for those of you who are interested in giving a black touch to Scandinavian-style kitchens, you can apply it to the mini table bar in your kitchen.
Scandinavian Kitchen Design with Hanging Lamps
Bringing light to the kitchen is mandatory. This is so that the kitchen still shines at night. However, you can use this to make your Scandinavian-style kitchen look more attractive. Scandinavian kitchen design with hanging lamps is an idea you can apply to.
Besides using neutral colors, Scandinavian also uses natural elements such as wood, iron, and aluminum. So, in using a hanging lamp for Scandinavian-style kitchen, use a hanging lamp made of iron.
Scandinavian Kitchen Design with Rug Ideas
It feels less if the Scandinavian design is not presented rug. Therefore, Scandinavian kitchen design with the rug is a great idea. Creating an attractive room is not only fixed on what is in front, such as walls, tables, and others, but also the whole room, such as the floor of one of them. The rug can be used to decorate the floor in the kitchen so that the kitchen floor becomes attractive.