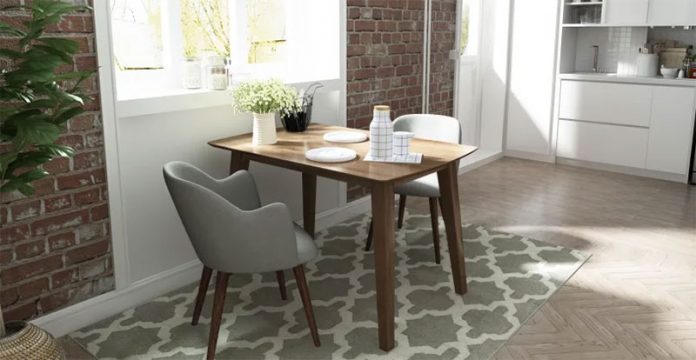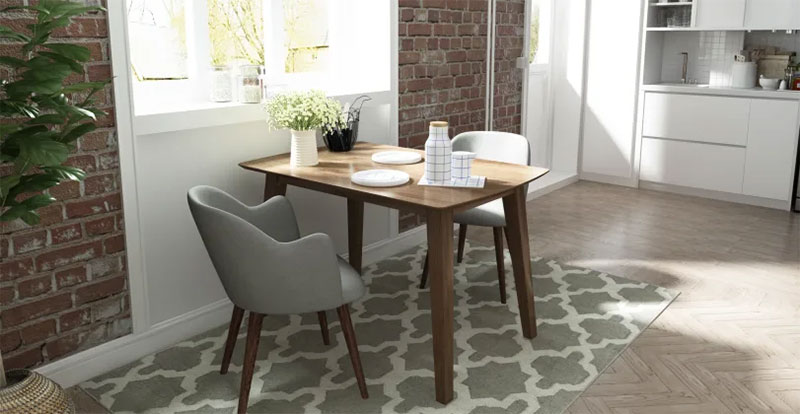 Roohome.com – In making the room look beautiful and attractive, the decoration is very much needed. Each room certainly has a different decoration. You can decorate the room in your house as attractive as possible. However, for a minimalist room, you need to know more about how to decor properly.
So here for you who want to make the small dining room look attractive, here are Easy Decors That You Can Apply to Beautify The Small Dining Room.
Beautiful Small Dining Room Table with Simple Plants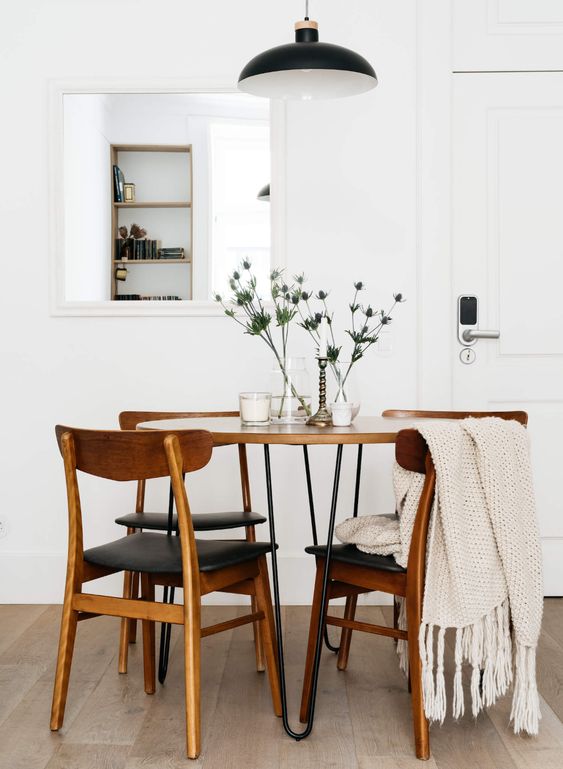 Using small furniture that is highly recommended for a minimalist room, including the dining room. The use of a small dining table accompanied by a minimalist bench makes a narrow room not feel cramped. However, if just laying down the tables and benches without the slightest touch of decoration will make the dining room look stiff and not beautiful.
Placing a simple plant on a table can eliminate the impression of stiffness in this room. You can also use vases with a beautiful shape and appearance to beautify your dining room. The presence of greenery in the dining room makes this place look fresh. The green color of the plants makes you relax.
Beautify The Dining Room Wall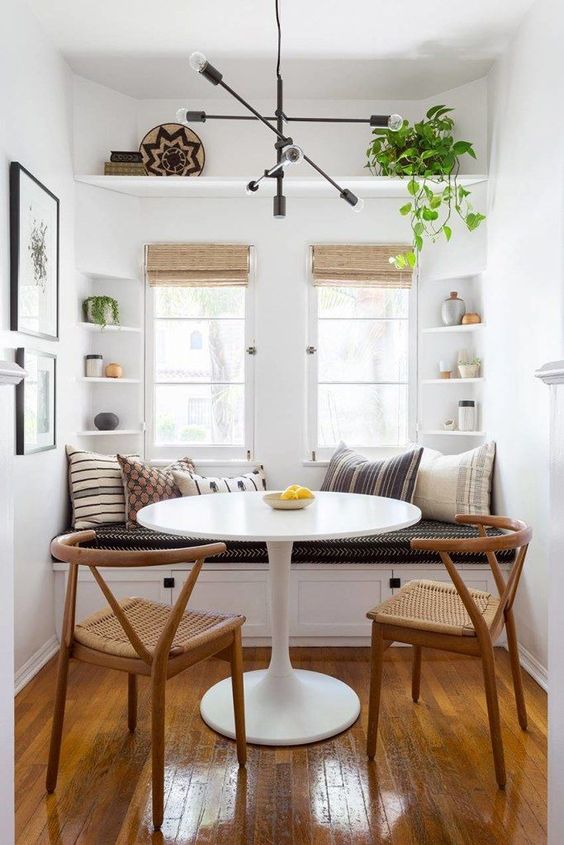 It's really not possible to add some beautiful items to a small dining room because this will only make the room feel more cramped. Therefore, decorating the walls can be used as an alternative to beautifying the room without worrying about taking up a lot of space.
Some wall displays such as painting or photos will make this small dining room look beautiful and artsy. The floating shelf can also be used to make space in this small room. Here, you can place interesting items, such as plants, antique plates, beautiful mini ceramic jars, etc.
Interesting-Looked Dining Room with Bench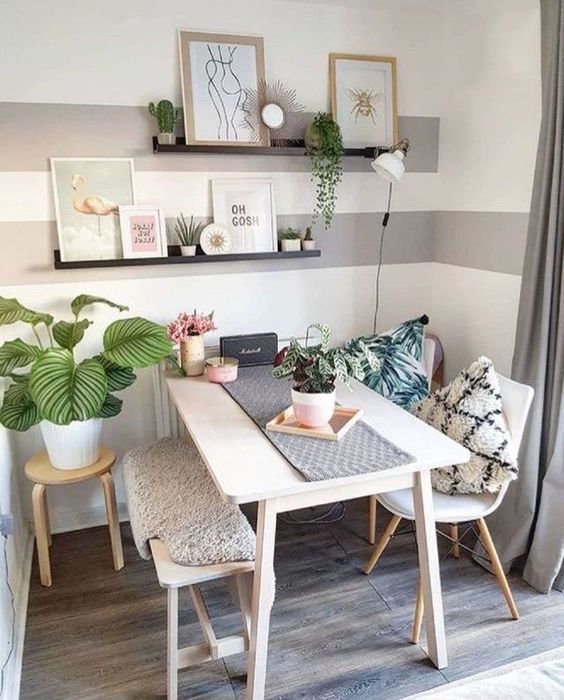 It feels like the mainstream if you use the same chair in the dining room. If you want to give a different look to your small room and make it more interesting, you can use a bench to one side of the table. Putting the rug on the bench gives the impression of a warm and comfortable room. You can also place some cushions with beautiful colors in the dining room chairs.
Simple Pendant Sweetens Your Small Dining Room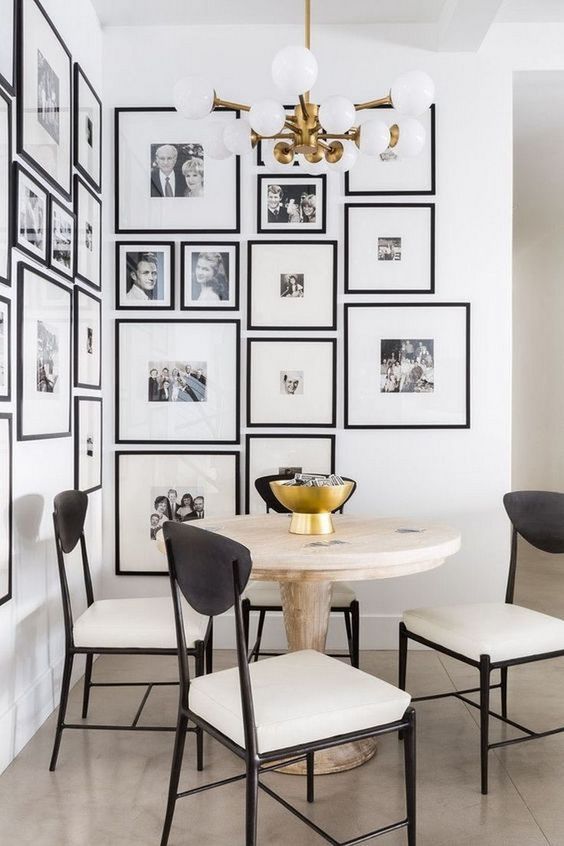 Never forget to give your room lighting because this is a very important thing. You can also use this to make your dining room look beautiful. You can apply a simple pendant in this room. Simple gold pendant in black and white dining room gives a different and more attractive appearance. With this, the dining room looks beautiful and classy.
Carpet to Make It Look Perfectly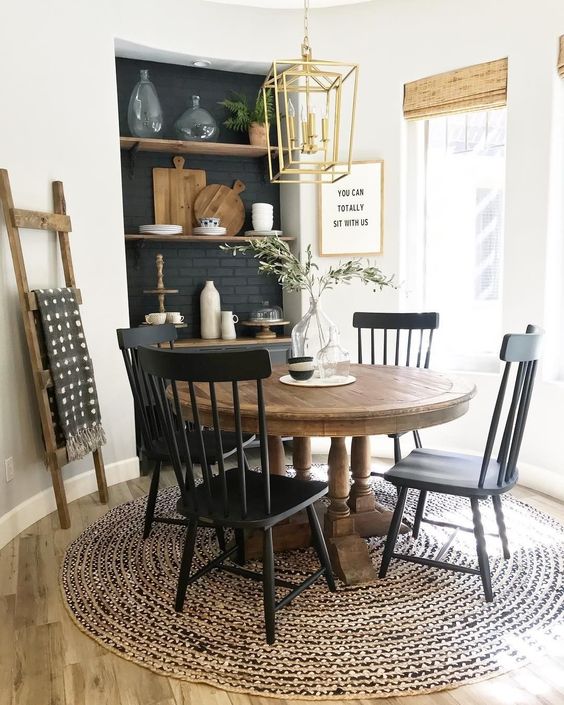 In making the room look attractive, the wall is not the only media for decoration. The floor can also be used as a medium for decoration so that the room looks beautiful.
Putting carpet in the dining room not only makes the room look beautiful, but the carpet gives a broad illusion so the room won't feel cramped. With this, your small dining room will look perfect.