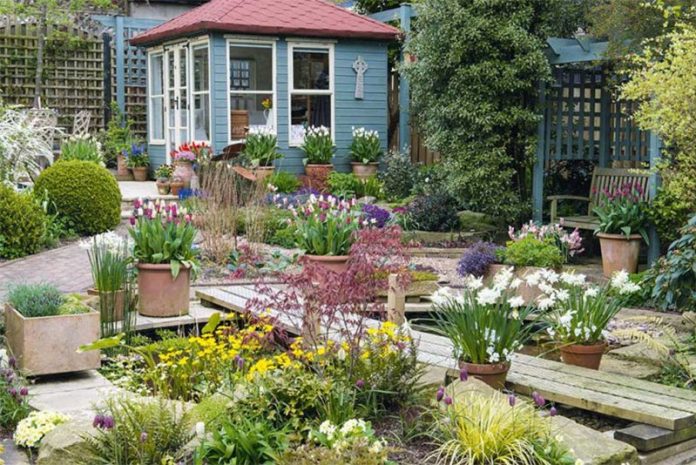 A garden can provide a relaxing oasis away from the hustle and bustle of the home. Breathing in the fresh air and enjoying a beautiful backdrop could ultimately lower your stress levels, which can support good mental and physical health.
However, designing a dream outdoor area can feel the opposite of easy. If you're stuck for ideas and in need of inspiration, here are three astounding garden transformations that could encourage you to overhaul your exterior.
1. A Family-Friendly Space
William and Sarah Murch from Doncaster, England, are self-confessed gardening and wildlife lovers, who wanted to create a family-friendly space they could enjoy all year long. Keen swimmers, they made it their mission to create a garden that allowed their family of seven to play in the sunshine and enjoy a swim.
To transform their 11-acre space into an idyllic garden, they spent two years creating an exterior design to complement the whole clan's needs. Five acres of the property was also dedicated to a 300 square metre pool that's 2.75m deep.
A smart decking area also enabled the happy couple to make the most of their beautiful view, as they could enjoy a picturesque backdrop when enjoying the evening sun. Plus, they created a mini beach and informal seating to allow their children to relax and have fun. Click here to view the transformation.
2. Stunning Outdoor Rooms
George and Susan Kinsella spent five years remodelling their 1940s home in Chicago. Once the transformation was complete, they turned their attention toward their rather challenging garden.
For instance, it featured a worn wooden deck that dominated 50% of the space, which was preventing Susan from incorporating her dream features, such as a koi pond, dining area, lounge space, and a spot for their kids to play.
Despite being limited by a 33-by-57-foot space, the couple managed to make their exterior vision a reality. They created stunning outdoor rooms within their garden by sectioning off areas with gates, arbours, floral blooms, planters, and sheltering trees.
What's more, they incorporated water features throughout the garden to distinguish various areas, such as water fountains. Plus, the soothing sound drowned out the noise of urban life. It's this reason why many people often choose to install stunning ponds in their garden. However, it imperative to use high-quality garden pond supplies to ensure it runs efficiently throughout the seasons. Call Rocklin garden and tree care services to help you in having a stunning garden at home.
3. Maximising a Small Garden
Mike Eagleton, a Denver landscaper, has made a career of turning unloved spaces into spacious, beautiful gardens. He also used his skills to transform his own mini yard, which was 50 by 120 feet. For instance, he added perennial beds, an outdoor dining room, a secluded lounging terrace, and a potting shed. He also added much-needed privacy with shaded trees, so both he and his family could relax outdoors. View the transformation here.
If you're struggling with a small garden, zoning problems, or family-friendly ideas, the above stories could inspire you to tweak or change your outdoor space.