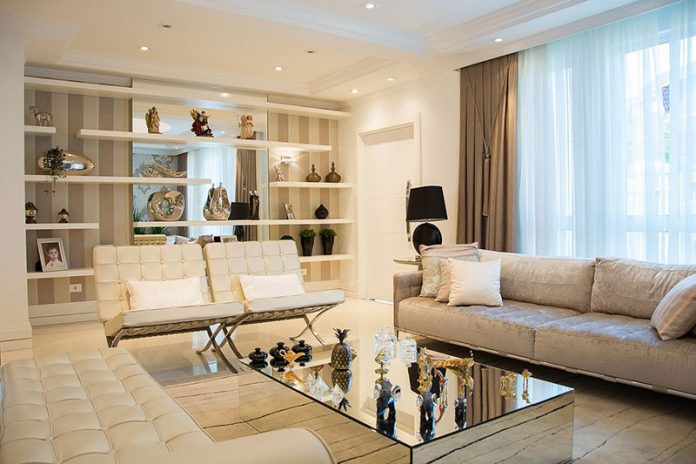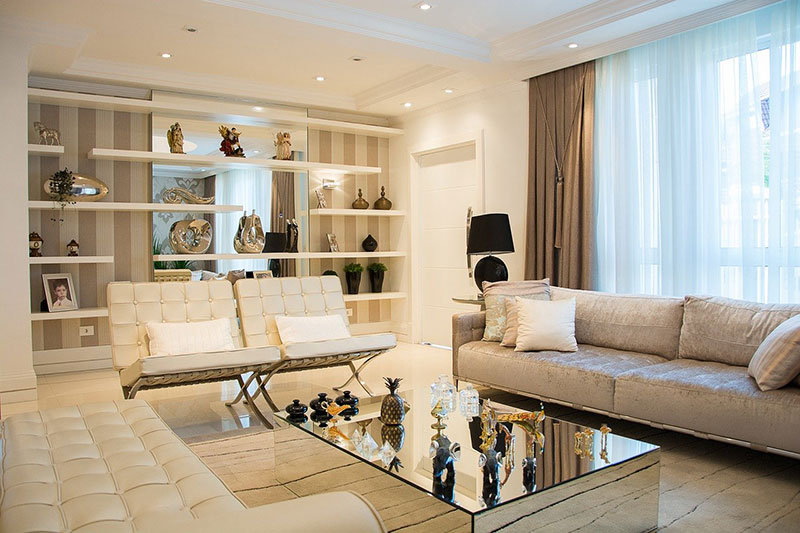 It's estimated that potential buyers spend almost twice as much time viewing your living room than any other room. And interestingly, the same pattern of behaviour is repeated in all types of home regardless of size. How you present your living room reflects your enthusiasm as a homeowner and is a crucial factor in securing a buyer's interest.
Why Living Rooms are Important
Kitchens are practical workspaces and bedrooms are private areas, but your living room is where you entertain visitors. It's also where you spend quality time with your family. As the most public room in your home, its style and condition indicates how much pride you generally take in your home. If your living room appears dilapidated and cluttered, it gives the impression that you have little interest in ensuring the property is well-maintained. An elegant living room creates a cosy, welcoming atmosphere that instantly makes potential buyers feel relaxed. Some vendors even commission a home stager to ensure their living room is seen at its best advantage. Alternatively, there are several steps you can take to sell house fast.
Colour Scheme
Your personal taste might favour vivid crimson and emerald green walls, but a bold colour scheme could prove so distracting that your potential buyers won't be able to remember anything else. Many home stagers are confident that you'll achieve a quicker sale if you take the time to redecorate with light, elegant neutrals such as grey or beige. Alternatively, choose cream with just a hint of colour in a pastel shade to tone with your soft furnishings.
Flooring
Although you're hoping to leave behind your threadbare, old-fashioned carpet, it could be a wise investment to replace it with inexpensive flooring in a neutral colour. If potential buyers realise how out of date your old carpet is, they'll wonder how much effort you have put into maintaining the rest of the house. If you have wooden flooring, make it appear cosier by adding a rug with a luxurious pile.
Upholstery
The same logic applies to worn out settees and chairs. Stylists would advise replacing them with simple, upholstered seating units to create an illusion of modernity. Another helpful trick is to buy items of furniture with small proportions to give the impression of your living room being spacious. Where possible, arrange a couple of chairs and a coffee table in a cosy corner to make the room seem inviting. If the expense of new furniture is beyond your budget, an alternative is to use throws to hide your existing suite. Then add brand new scatter cushions in a luxurious fabric to increase the sense of quality in your room.
Discreet Ornaments
Accessories contribute a great deal to the atmosphere of a room, but clutter is a potential disaster. Your large collection of sentimental bric-a-brac, piles of well-thumbed magazines and even your framed family photographs need to be packed away before any viewings begin. A living room devoid of any ornaments can appear lifeless. It's one reason why a completely empty home is more difficult to sell. Instead, choose two or three large abstract prints in colours that complement your newly painted walls. It will help create an atmosphere of tasteful elegance.
Lighting
Restaurants frequently use subdued lighting to create a warm, inviting atmosphere. Replicate this tactic in your living room by switching on wall lights and elegant table lamps during a viewing.
Cosy Fireplace
Even if you are trying to sell your home during a hot summer, making your fireplace the focal point of your living room will create an atmosphere of cosiness ready for the winter months ahead.
Successful Selling
It's well-known that buyers often make up their minds about a home's potential in less than eleven seconds, so a living room with stylish appeal should instantly create a good impression. If you want to sell house fast or you can't afford the time and money to transform your home into an elegant showpiece, visit We Buy Any Home. It doesn't matter what your living room looks like. You'll receive a no obligation free quote followed by a valuation if you decide to proceed. There are no expenses or fees to worry about and the sale of your home can often be completed in just seven days.