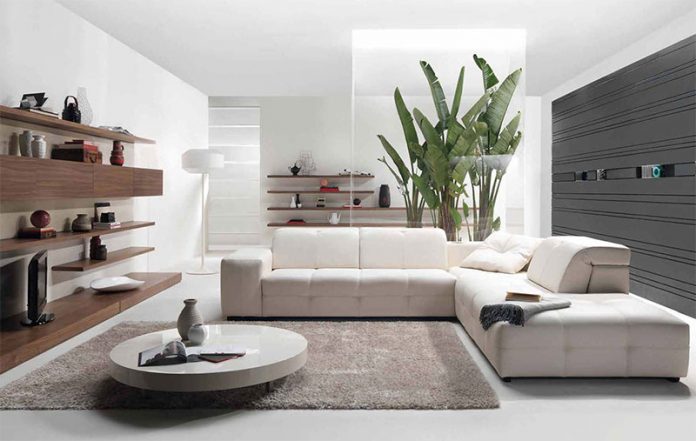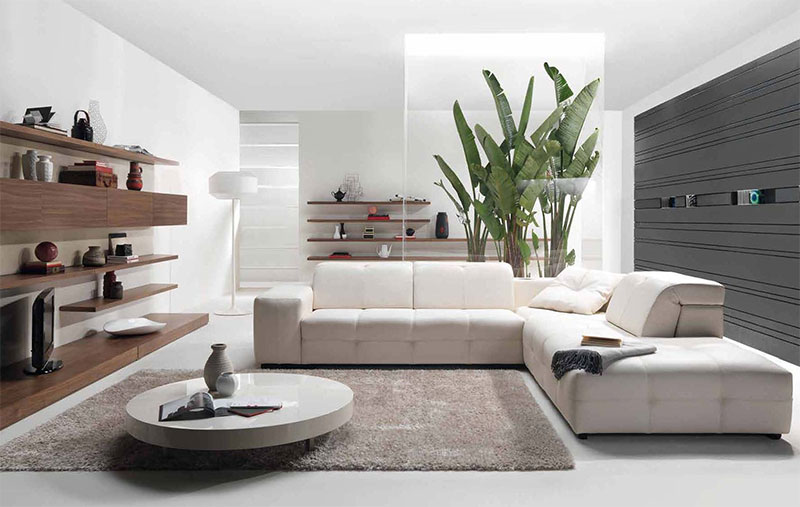 Roohome.com – Minimalist housing is one type of residence that is currently in great demand by many people. Its small appearance makes the minimalist home the right place to be left alone or for two people. Lifestyle becomes one of the factors why minimalist housing is created.
In minimalist dwellings of course the rooms are also minimalist or small. However, that does not mean this small room can not be made into a comfortable place. Some tactics such as using white as the base color of a room can make a minimalist room look and feel more spacious.
Yes, white is already a color that is often used for minimalist homes. The bright color makes the room feel more spacious and does not feel cramped. However, white is not the only color that can be applied to a minimalist home. You can also use a few colors to make your minimalist home feel comfortable.
For those of you who are interested in a simple and elegant interior concept, you can get it at once in your minimalist living room with these colors.
Black and White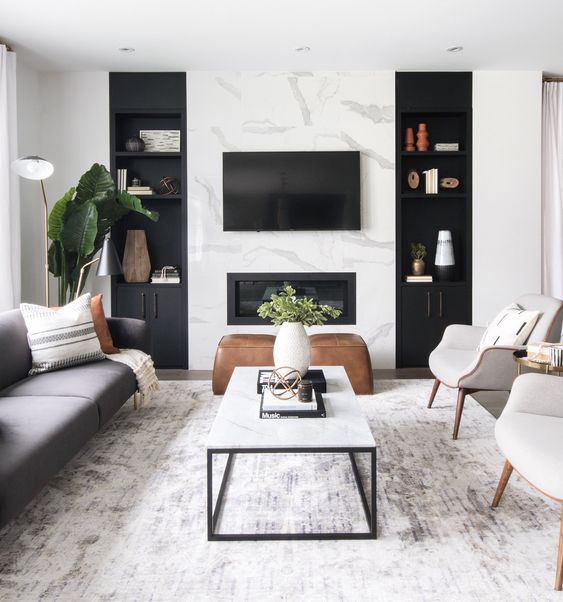 To create the look of a bright and warm room, white is indeed the right color choice. However, if you only use white, the minimalist living room will look stiff, making it uncomfortable. Of course, this is something that needs to be avoided.
Then, how?
Of course, you need to add other colors to be combined with white. If you want to create a simple but elegant interior concept, you can choose black as a sweetener for the room. The black color on several sides of the living room makes it look striking and sharp.
The combination of white and black also makes your living room into a modern style living room. The bright white color and jet black color is indeed the right combination. Additional solar lighting into the room makes the black color look sparkling and makes it look elegant.
Beige Living Room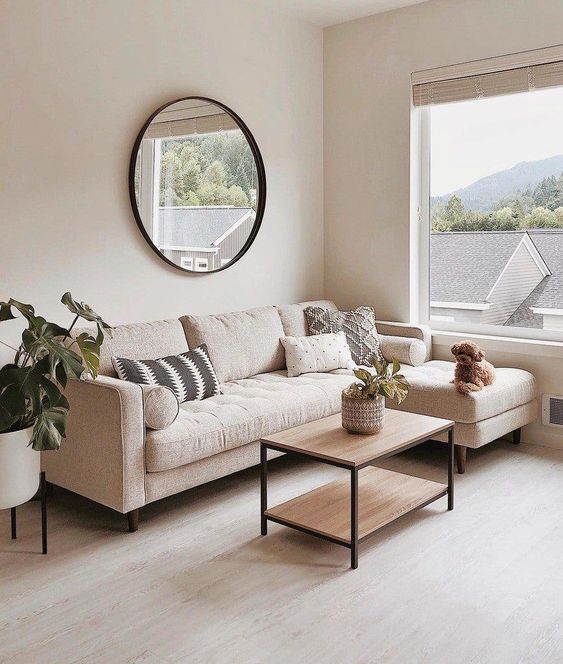 The advantage of a minimalist room is that it can feel warm and comfortable. But, of course, it takes some decoration and the right color selection. Beige is the right color to bring warm shades to the living room so that the living room becomes a comfortable place to rest.
The application of the beige color thoroughly makes the minimalist living room look simple. Plus the use of makeshift furniture makes it look elegant. The use of natural lighting makes the beige color look alive so the minimalist living room looks more attractive.
The elegant appearance of the minimalist living room can also be felt from the use of dark brown in some items in the living room, such as table legs, sofa legs, mirror frames.
Blue Pastel and Gold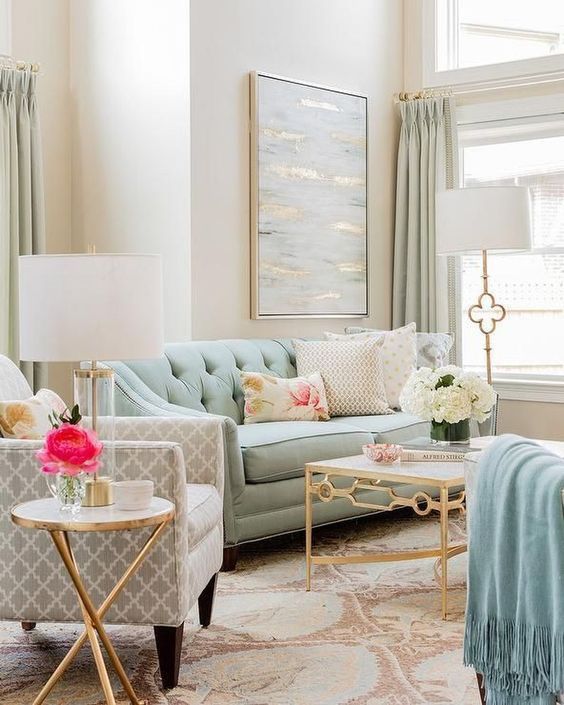 Who says a minimalist room cannot be used as a room that looks elegant? By combining some of the right colors, the minimalist living room not only looks elegant but also looks expensive, such as a combination of beige, blue pastel, and gold.
To create a bright appearance in a minimalist living room, beige can be used as a basic color. Applying beige to the walls of the room makes it look bright and shiny when exposed to light.
Sweet elegant appearance can be felt from the presence of blue pastel colors on the living room sofa. Not only elegant, but the look of the living room also looks so soft that anyone will feel comfortable when in this room.
In addition, the gold color can be applied to some room decorations. The gold color makes the room look striking and expensive. The gold color itself can help the beige color in making the minimalist living room look bright so as not to make it feel cramped.
Violet Color Scheme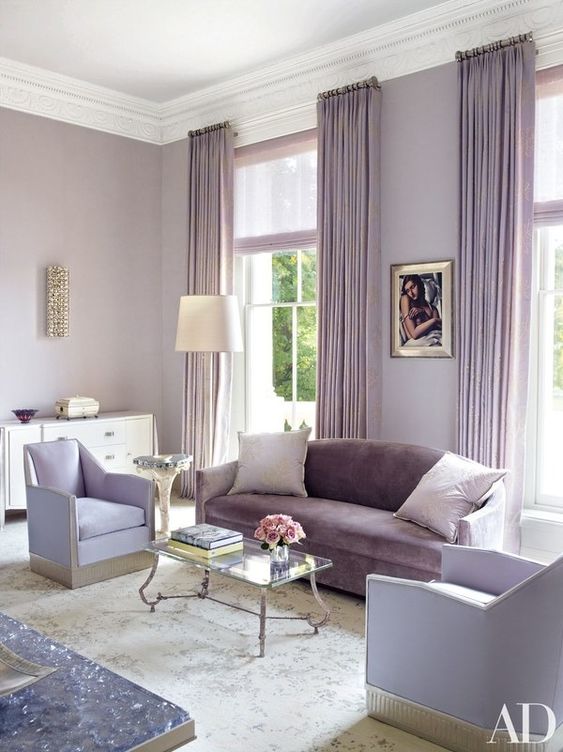 For those of you who like girly looks but still cling to elegant concepts, playing on the violet color scheme is the most appropriate choice. There are many violet colors that can be used for minimalist living rooms, ranging from soft violets to strong colors.
In making the minimalist living room still looks spacious, choose the brightest violet colors. Soft appearance can also make the living room look cute and simple.
While the strong violet color can be applied to some living room furniture, such as sofas and curtains. This strong violet color can bring a beautiful elegant look to your minimalist living room.