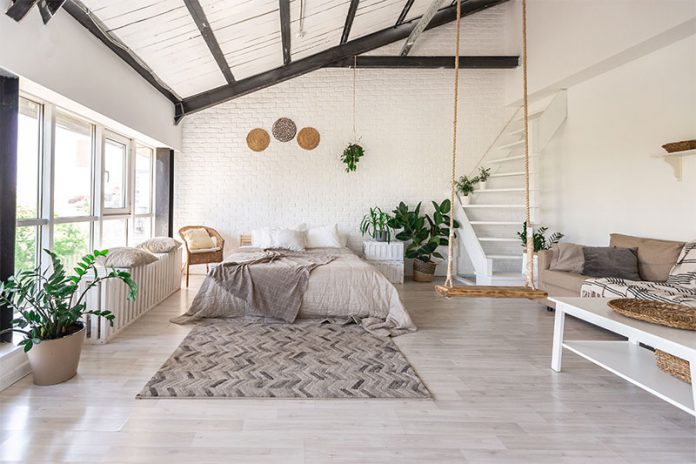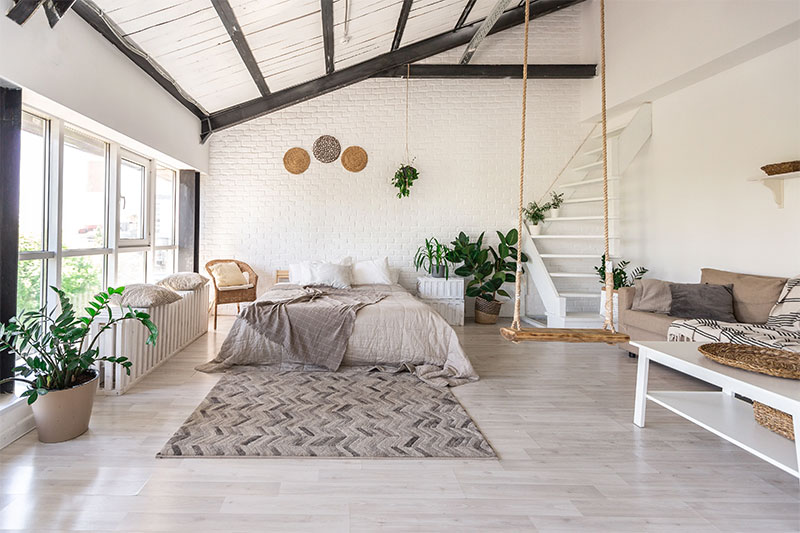 Meta Description
If you're in search of a false ceiling design for your bedroom, you are in the right place! We have a compilation of top bedroom ceiling designs to inspire you.
7 Best False Ceiling Design Ideas for Your Bedroom
The world of architecture and layout design has gone through a lot of changes in the past decade. Design aesthetics have been updated drastically and some of the old trends are coming back, making their way in this category. Designers are pushing their creativity and showing the world their power of transformation through simple layout changes and smart artistic decisions.
Even smaller spaces like laundry rooms, powder rooms, balconies are getting a taste of this new running vibe. In the same way, false ceiling texture types are also the 'Talking Trend'. Although they are fairly new to the party, designers are pushing their creativity and applying their magic – making sure that every glance at false ceilings is stunning. It is also observed that people hunting for modern home designs, highly gravitate to false ceiling design for bedrooms.
So, before diving into the ceiling texture types, let's take a look at the pros of false ceiling for bedroom –
It provides depth and an extra dimension to any space. This way, the room's vibe doesn't appear very flat, nonstructural, or cheap.
Ceiling designs make a room stand out if planned smartly and executed well.
When a house is updated with such new architectural trends, its market value seems to rise high. So if you ever plan on selling or reselling your property, you can avail a great sum if the house is designed with modern trends.
Now, without any further ado, let's get into the interesting part! Compiled below are some list of bedroom ceiling design ideas ranging from minimalistic-ally sophisticated to uber jazzy ones.
1. An Intricate Wallpaper-ed Ceiling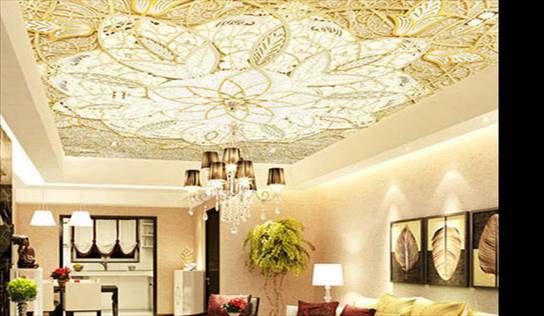 This is probably the easiest and laziest way to implement a false ceiling. Since its inception, wallpapers rock the vibe (literally any vibe) you want. You just have to choose from one of the many wallpapers available in the market. Select something that complements your wall color, theme, and texture. There is also an option to create your very own, unique wallpaper designed specifically for you. Therefore, your options on style are endless.
2. The Oh-so-Famous Tray Roofing Design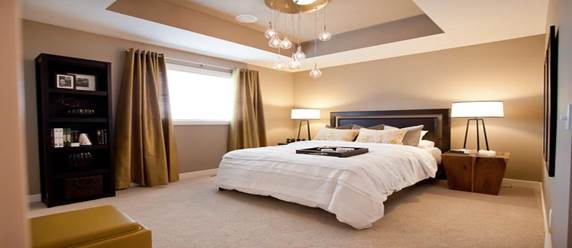 No one can go wrong with tray designs. Such a false ceiling for the bedroom is very chic yet simple. They fell very well with various styles or elements and form some amazing combos. These designs are super dynamic and give away a clean, edgy finish to your bedroom. This is because they have defined edges and borders. Many designers out there furnish them with LED Lights to enhance that dimensional effect by creating shadows.
3. A Roof-tray Design starring Chandeliers
You can also execute Roof Tray Designs with Chandeliers and other statement ceiling pieces.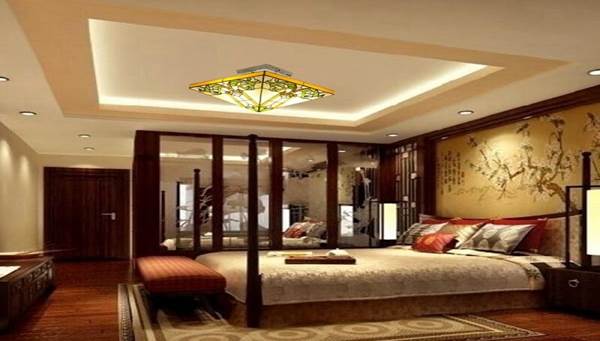 If you want to give your home a rich royal feel, installing a chandelier would be the perfect decision. It instantly amps up the whole aura of your space. For an even classic look, you can also add a ceiling fan in your bedroom.
4. Multiple Tray Design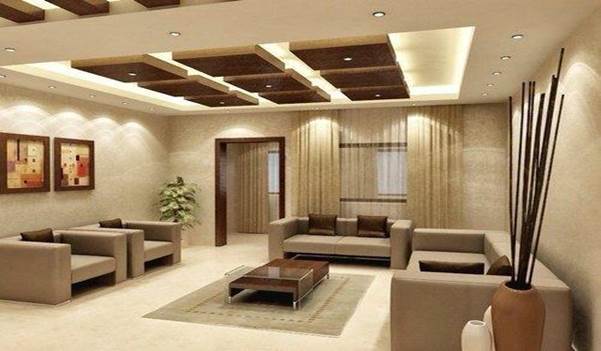 Want to aim more creatively? Then, try Multi-layered Tray designs for your ceilings. Lighting plays a prominent role in such a pattern. You can choose to keep your wall colors subtle or even white and opt for bold colored trays and vice versa. This style is not only suited for bedrooms but also for corporate office spaces or living room areas.
5. Historic / Mid-century Modern / Wooden false ceiling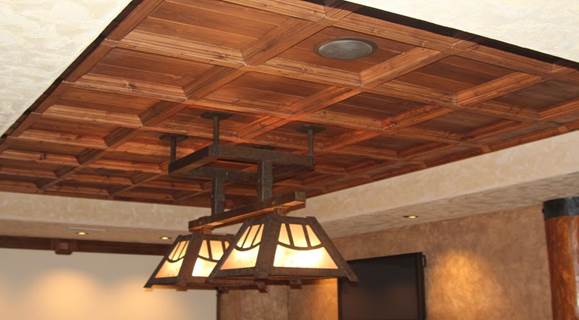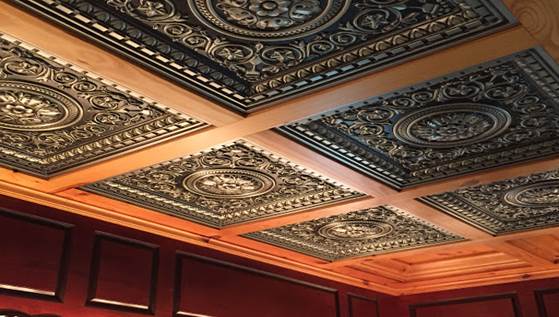 Implemented since eons, this style gives you a royal courtyard feeling. People who are looking for old school yet modern should definitely opt for this design. You can even pair your house's color theme with this long-lasting pattern. The inclusion of wood at the top roof adds grandness and sophistication. This design plan allows you to experiment with various shapes and patterns.
You can take a professional designer's help to understand which pattern will look best with your aesthetic and how you can blend that style with your interior furniture. A professional interior designer will help you throughout the process and make you showcase your style in a better way. It is important to match all your designing elements cohesively in one form otherwise the end result will not be pleasing enough.
6. Lace Ceiling Texture for a sophisticated style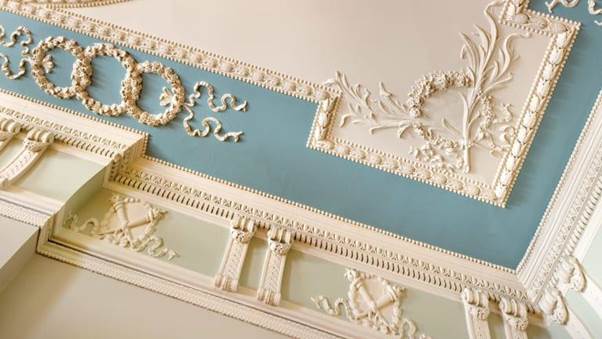 Are you hoping to implement a design with a low cost but great output? Well, this is the perfect choice for you. A Lace ceiling texture is achieved with Plaster of Paris, also known as POP. If you get in touch with a great artisan, he can create amazing POP rafters for you. What's more interesting is that POP matches well with almost every kind of surface. – whether it's wooden, wallpaper-ed, textured, etc.
Pro Tip – You can also opt to go for a Spanish lace ceiling texture which is running popular nowadays because of its uniqueness.
7. Fish Scale Ceiling Texture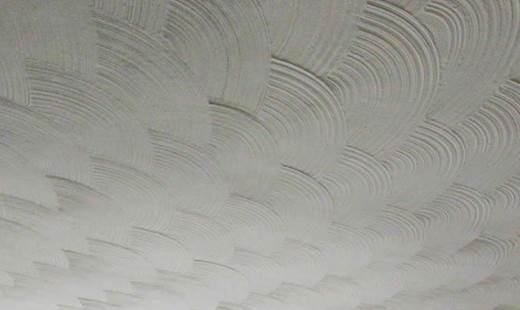 Last but not least on our list is the Fish Scale Ceiling texture. It is a very eye-catching style to showcase at your ceiling. This pattern can be achieved by applying a thin layer of POP and making a quarter circle using a scraping tool. The Fish Scale texture is also called a fan or shell texture. Although, there is one catch with this idea. It is very difficult to implement. Therefore, it is suggested that you hire a skilled professional for the job! This way, you save time and the work gets done in a neat manner.
We can't wait for you to try all these amazing ideas and have fun doing your designs. Do let us know what you want to read next! Also, do not forget to check our website for other such helpful architectural blogs.