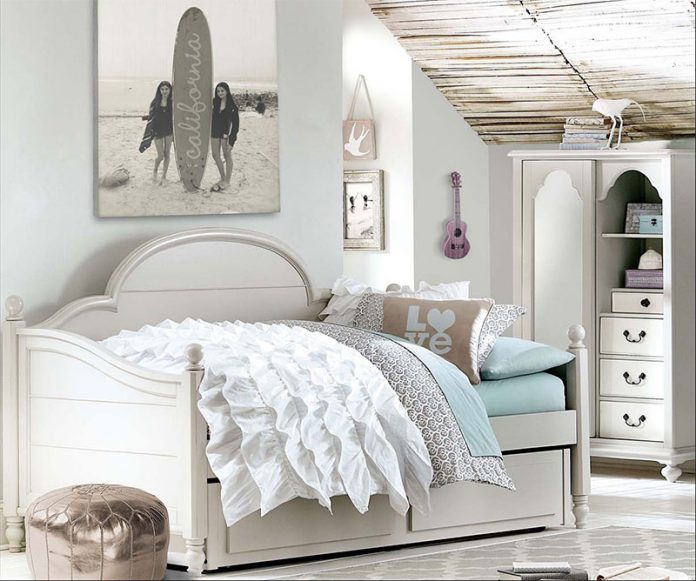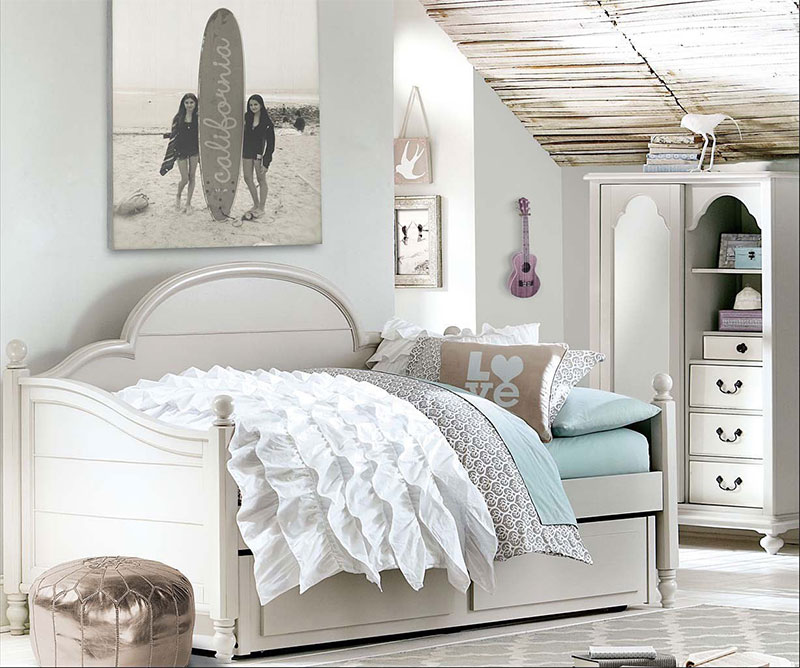 Roohome.com – As the most important room in the house, the bedroom should be decorated as attractive as possible. An attractive and beautiful bedroom will bring a comfortable impression to this room.
In making an attractive bedroom, of course, it is not easy. It takes several considerations before starting to decorate the bedroom. However, before this stage, references are needed first to make you easy when decided what are the decorations that fit your bedroom, such as searching for some ideas about an interesting bedroom.
Choosing a bed as an object that you want to use to make the bedroom look attractive is the right choice. It's because the bed is the main item that has a big effect on the appearance of the bedroom itself.
The daybed is the right item in making the bedroom look attractive. So, are you searching for some ideas about the daybed bedroom? Here we have provided some ideas of the daybed bedroom you can follow. So, let's check it out!
Daybed for Beautiful Kid's Bedroom
To make children independent, the main way is to separate the bed. Make a private bedroom for them. However, of course, the bedroom needs to be made as attractive as possible so that children feel comfortable in their bedroom.
The daybed is an item that can be used to make a kid's bedroom look attractive. The choice of daybed with wood brings a natural feel to the bedroom. Wood elements provide a warm feel to the bedroom so that children will feel comfortable when in their room.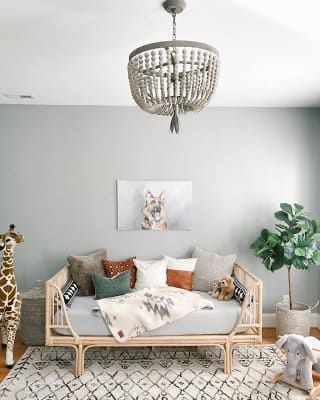 It's not enough to get here, we also need to decorate their beds to make it look attractive and also comfortable. Make sure the mattress you choose is soft. Also, the addition of several pillows makes this bed feel more comfortable. Darker colors can be used for pillowcases to make the room look colorful. Some dolls can also be added as children's toys so that children can feel comfortable in their beds.
And don't forget to give blankets on the bed so that the child feels warm. Blanket choices with beautiful colors can add value to the beauty of the bedroom itself. With this not only children who feel comfortable, but the bedroom will also look much more attractive.
Cottage Style with Daybed Idea
Want to bring a natural feel that is a soothing and beautiful vintage look into the bedroom? Of course, you can get this by choosing a cottage style as interior design for the bedroom.
The use of white as the base color of the room makes the bedroom look brighter so the bedroom will feel more spacious. The bedroom will be spared from feeling cramped so that this room becomes comfortable.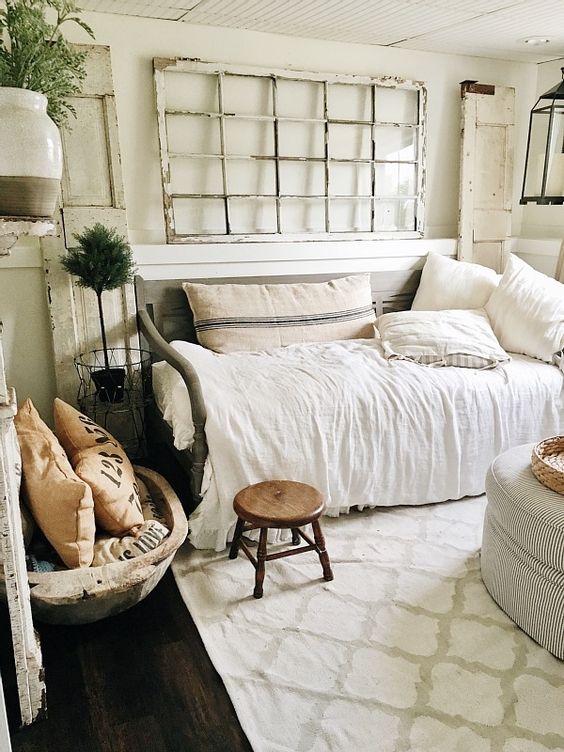 The use of a daybed for a bedroom cottage style is the right idea. A daybed with dark wood makes this item look a bit eccentric and prominent so the bed will be clearly seen as the main item in this room.
Bedding stretched up to the floor to make it covered under the daybed. This you can use to put some things under the bed. With this, you can save space in the bedroom so that the bedroom will feel more spacious.
Layered bedding on a daybed can make this one bed feel more comfortable. Some pillows with simple motifs give a simple sweet impression into the bedroom.
As A Sofa During The Day and Bed at Night
Do you like to do activities in the bedroom? If so, presenting a comfortable seat in the bedroom is very important. However, what if the bedroom feels cramped? Of course, the use of seating in the bedroom should be avoided. With this, you can choose a daybed as a solution.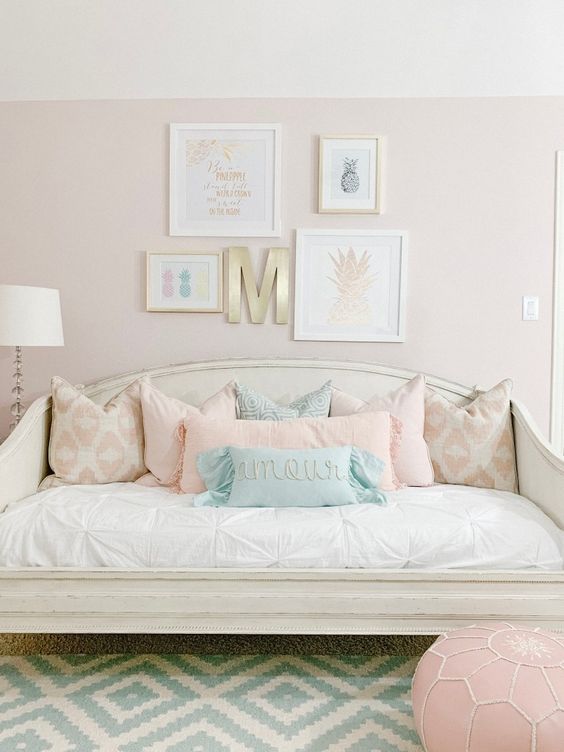 The daybed is an item with two functions that you can present into the bedroom. You can change the daybed as a soft and comfortable sofa during the day. However, when at night, the daybed can function as a bed in general.
Daybed with ivory white makes it look classic. The choice of several pillows with nude soft colors makes it look elegant and sweet. Pillowcases with simple motifs make this bed look simple. With this, the bedroom will look much more attractive. Classic, elegant, and sweet you can present at once into the bedroom.
Some beautiful and attractive wall decorations such as united with a daybed in creating a beautiful and attractive bedroom. Choose a wall decor that matches the interior color of your room.
Daybed Storage Make The Bedroom Feel Spacious
To make a minimalist bedroom feel comfortable, surely we must make this minimalist room feel spacious. That way the bedroom will not feel cramped.
The selection of large items that are only needed can be an alternative so that a minimalist bedroom can feel spacious. With this, you certainly need items with dual functions.
Daybed storage is the most appropriate item to use so that the bedroom does not feel cramped. You can reduce the use of large closets which will take up a lot of space in a minimalist bedroom. In addition, you can also store small items that will make your room look messy in this daybed storage.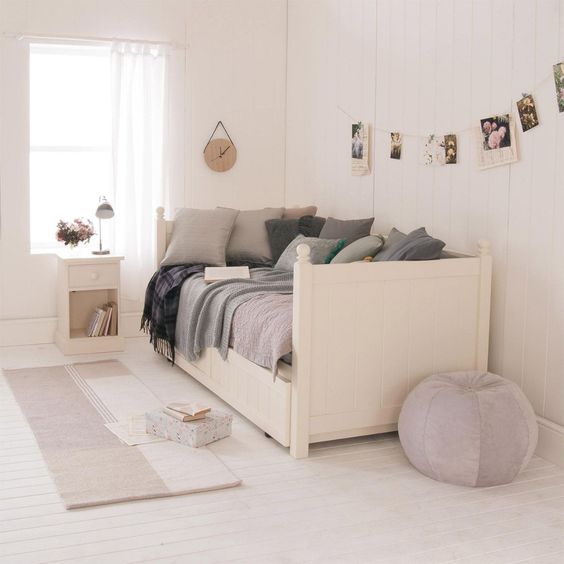 All go white is one alternative to make a minimalist room look more spacious. Walls and daybeds with similar colors give a broad illusion to the room. However, applying all go white in a minimalist bedroom can make this room look stiff and even make it uncomfortable.
But, don't be a worry.
Utilizing bedding and pillowcases is the easiest way to make an all go white bedroom look attractive and not stiff. Bedding and pillowcases with soft dark colors, such as gray, army gray, and black can be an option to decorate a daybed to make it look attractive.
Some beautiful photos hanging on white walls can also help layered bedding and pillowcases on the daybed so the room looks much more attractive. Choose pictures or photo aesthetics that can add beautiful value to the bedroom.