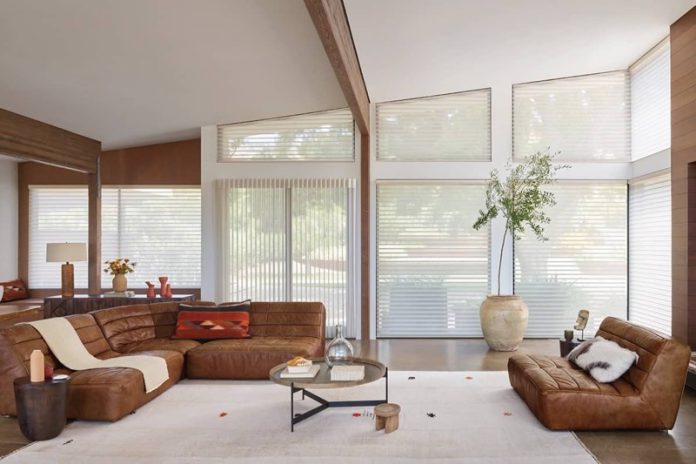 The new year brings new beginnings, new styles and trends that will rule the entire year. Whether you're looking to invest in new window coverings or looking to replace the old ones, you cannot miss the new trends in window treatments. There are certain considerations to look for while finalizing the window treatments.
Natural Materials and Colors – Natural materials were a big thing in 2022, and this trend will continue in 2023 as well! The natural materials add an earthy feel, texture, and warmth to the décor and most of all made from sustainable, eco-friendly materials – bamboo, jute, reed, rattan, etc.
Now, roller shades fabrics are coming in organic cotton and linen, which are a hit among homeowners now. The same story is with woven wood roman shades. These shades and blinds are expensive but are worth every penny! They are also made from high-quality natural materials.
Moving on to colors, white was very popular last year, but this year will see beige and ivory making their way ahead. Neutral colors with the textured palette will also be in this year.
Automated or Motorized Window Treatments – Technology is making its way into the window covering industry in the form of automated or motorized coverings. Well, they add much to safety, security, and convenience. No wonder they are the preferred choice of many homeowners in Florida.
They allow natural light to come indoors while keeping your privacy intact. They are also energy efficient. Since they are automated and controlled with a remote, you can open and close them to keep optimal temperatures inside, keeping your AC from running for long hours.
 Layered Window Coverings – when you want to create visual interest and add depth to the room, layering the window covering is a good way to achieve this. With luxury and comfort in homeowners' minds, many industry experts feel this trend will be there in 2023. They expect to see a mix of curtains, blinds, and shades layered to create an effect.
The thing to consider while incorporating this trend in your space is to achieve a minimalist look. Choose textured shades with classic neutrals drapery in a top-down, bottom-up approach to achieve style and functionality.
When choosing window blinds in Florida, it's important to consider your budget, preferences, and purpose. Seeking professional expertise can be helpful in making the right choice. If you're in Florida, schedule a free in-home expert consultation to explore the latest window treatment trends for 2023 and find the perfect fit for your home.