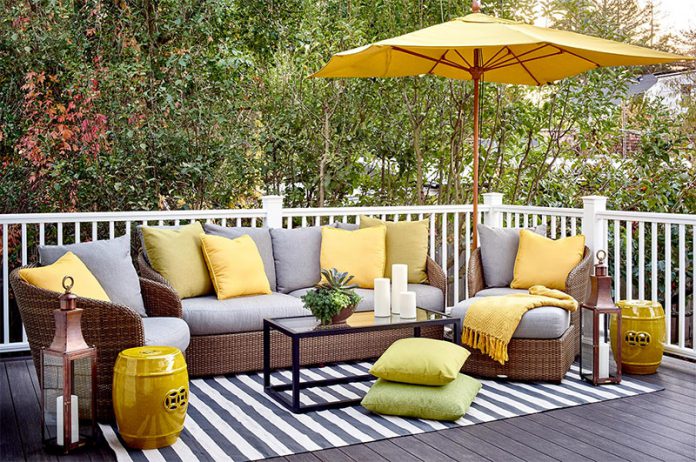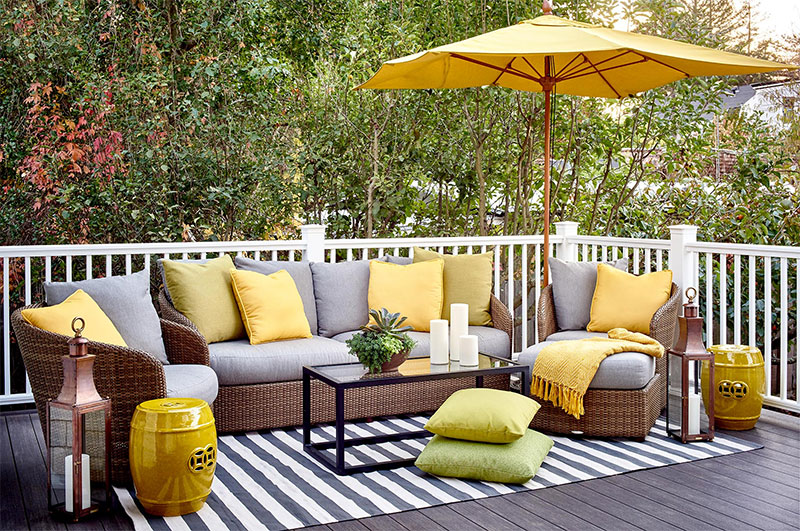 Meta Description: The patio serves an instrumental role in homes. Get information on how you can keep your patio looking pristine. 
 The list of benefits that a patio brings to your home is endless. For one having a well-furnished patio with a glass tabletop for outdoor entertainment can increase the value of your home. Patios also increase your living area, especially when you have guests as they don't have to be all crammed up inside the house. They increase comfortable outdoor entertainment where you can be protected from the elements of weather. The other benefit is that they are actually very easy to maintain. Here are some patio maintenance tips.
Cleaning Patio cover
Patio covers play a very instrumental role. Patio covers protect the furniture from UV rays, which in the long run, causes damage. It would be safe to say that they extend the life of patio furniture. Covers also protect the occupants from heat, UV rays, and precipitation.
Patio covers come in many different materials. Some are made of glass, others are of acrylic, plastic sheets, and even canvas. Cleaning patio covers, regardless of the material, is a pretty easy job. Glass and acrylic patio covers can easily be cleaned with regular detergents and clean water.
For glass patios, you need a detergent that is not harsh and will not scratch the surface, a squeegee, and water. After washing, you can rinse off the water using a hose. You also need to avoid using alcohol-based products when cleaning patio covers.
To thoroughly clean canvas patio covers, you have to take them down. If they have mildew stains, expose them to sunlight as it is the best treatment for mildew. Mix a liquid detergent with warm water, then using a scrub brush, clean the cover. Once done, rinse it thoroughly and leave it to dry completely before reinstalling or storage.
 Washing the patio floor marbles/tiles
Patio maintenance does not stop at cleaning the cover. The floors, too, play a critical role in the aesthetics of the patio area. To get started with patio marble or tiled floors, you have to get rid of the debris first using a broom and use a leaf blower to get rid of the leaves. This will make the rest of the cleaning easy.
Cleaning the floors requires a mild detergent or hot water and a mop. Alternatively, you can use a patio cleaner. Apply the cleaner on the floor, scrub the floor clean, and then let the cleaner sit in for about 10 minutes. Rinse off the cleaner using clean water and a mop.
You are advised to ensure that the floor is clear of the cleaners to prevent possible damage to the tiles. Also, patio marble and tiles floors must not be cleaned with bleach.
Using grass cutter for a plain garden in the patio area
Grass and plants add life to patio areas, and just like the floors and patio covers, they need maintenance. You can get affordable grass cutters on Amazon to help you keep the grass at the appropriate length and help you get rid of the weed.
Grass cutters are made for the job, but you also need to find one that is suitable for your patio. A good grass cutter will help keep your patio lawn healthy and even improve your patio's beauty and aesthetics.
Cleaning Patio Table, Chairs and Sofas
Patio furniture mainly includes tables, chairs, and sofas. Patio furniture comes in many styles, which allows you to express your personal taste. They come in different materials; you can get a clear round glass table top, wooden and plastic chairs, tables, etc. You also have the option of getting seats that come with cushions or choose versatile ones where you can buy cushions separately or use them without. The options are endless.
Patio furniture contributes immensely to your furniture design and makes your stay at the patio comfortable. Cleaning and maintaining patio furniture is required to keep the furniture in perfect shape and increase its lifespan.
The glass tabletop, which is a favorite option for patio, is easy to clean. All you need is a microfiber cloth and a glass cleaner to keep it clean and pristine. When cleaning the other surfaces of the table, avoid scrubbing to prevent scratching. Instead, use warm water and a mild detergent to wipe the surfaces.
Clean the patio chairs, depending on the material. For instance, if the chairs have cushions, you can remove the covers and clean them separately. If the surfaces of the chairs are made of fabric, mix warm water with a mild detergent. Wet and scrub the fabric, then once you are done, wipe over it using a clean and wet cloth.
Plastic and wood surfaces should also be cleaned using a soft cloth and detergent water. To prevent the furniture from getting permanent stains, clean it regularly. This will also make subsequent cleaning easy too.
Add some colors at dull-looking part of the patio
You can improve the appearance of your patio by adding colors. This is an area where you will be entertaining guests and spending time relaxing. It, therefore, does not need to be dull and boring. Simple things like painting wooden furniture can add life to your patio area. Also, if your chairs have cushions and pillows, you can use colorful cases and covers to brighten up the space.
Add some fresh flowers and plants
There are a million and one ways that you can decorate your patio with flowers. You flower vase centerpiece. You can choose to plant them on the ground around the patio or plant them in decorative pots. You can also have a flower vase centerpiece for your patio table. You can also have flower boxes holding different types of decorative flowers at different points in your patio.
Final Verdict

The patio is one of the essential areas in a home. We all want to go to a home where we can relax and feel comfortable. Setting up a patio and maintaining it will create a sense of fulfillment. The tips above will go a long way in making your patio look amazing.