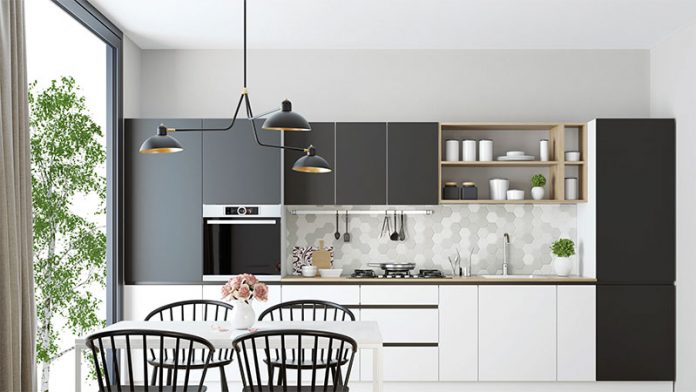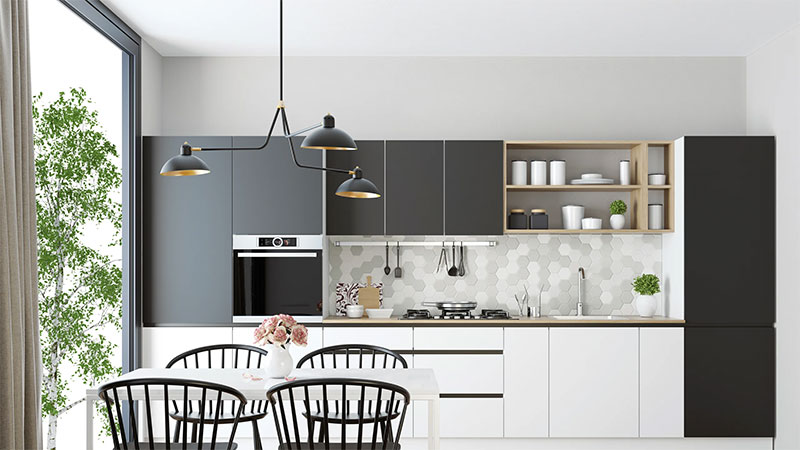 If you haven't got a large space to work with, yet want to update and transform your kitchen, the whole process can seem frustrating. However, when you look at the positives, a small kitchen can be much cosier and bring a lot of charm.
In fact, believe it or not there are tonnes of tricks you can use to maximise the storage and efficiency of your small kitchen.
The key is to work with the space you have and it's layout. No matter whether your kitchen is a single wall, u-shaped or a gallery.
To help you transform your small kitchen space, we have gathered some of our top tips below. No matter whether you're renovating or starting completely afresh, you'll want to read on and give them a try!
Add a Prep Area
If you don't have the space to expand or add a full sized island to your home, think about adding a table that can double as both a prep area and dining spot. Even if this is a narrow console table, you can set down tools and ingredients here whilst you cook, so they don't get in the way.
Add a Touch of Greenery
Plants can be a great way to liven up any space, including your kitchen!
Install a Floating Table
If you have an L-shaped kitchen that faces a blank wall, why not make use of all the space you have? Install floating shelves or a table to act as extra counter or dining space.
If you have a narrow space, you could even install a table that folds down so it can be flush with the wall whenever it isn't needed.
Add a Kitchen Island
Even if your kitchen is narrow, you could even install a slim kitchen island or a rolling island that can be pushed out of the way once dinner is ready.
Use Light Colour To Visually Expand Your Small Kitchen
As a rule of thumb, think 'the lighter the kitchen, the larger it can feel'. Keep working with a light colour palette on your countertops, backsplashes, walls and other such features to help make your small kitchen space feel a lot more open and spacious. Having white tiles can also help bounce light around and add to that spacious feel.
Distract the Eye with Bold Flooring
If you are working with a smaller kitchen space, going all-out with bold tiling can make a huge difference. A strong pattern will distract the eye from the actual size of the room and make it seem bigger.
Hide Your Appliances in a Breakfast Cupboard
Having lots of appliances such as your toaster, kettle and coffee machine out on your kitchen surfaces can make a space appear cluttered. So, why not add a breakfast cupboard and tuck them all away in there. Then, all you need to do in the morning is open the cupboard and your appliance is ready to use.
Turn Awkward Corners into Clever Storage
When working with a small kitchen, you are required to make use of every single nook and cranny for storage space. However, if you have a boxy kitchen, cramming all your pots and pans into a deep cupboard can become a nightmare very quickly when you need one from the back and find yourself clambering around. This is where you could consider swapping out this cupboard for a drawer, to maximise space further and make finding each pot and pan easy.
Choose Compact Appliances
Don't be misinformed that small appliances mean cheaper quality. Many high-quality small appliances are available. You can also purchase combination appliances, such as microwave ovens that save lots of space.
Top Tip: Looking for high-quality compact kitchen appliances Stoke? Make sure to always buy them from a reputable stockist, such as Howards Appliances.
Of course, smaller kitchens can be a challenge to transform, but all it takes is some careful planning. Then, you'll be able to maximise each piece of space you have to work with, without compromising on the key parts of your dream kitchen. With the above tips, see what you can create!