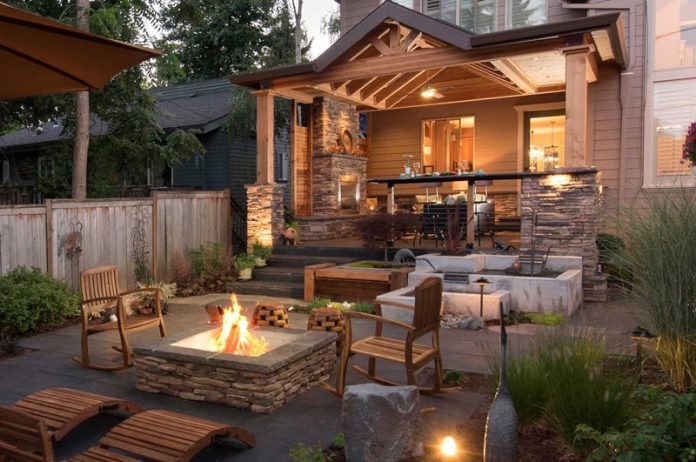 Imagine this: you're in your backyard late in the evening, with a glass of wine and a blanket over your shoulders, enjoying the soft, warm glow cast by your fire pit. The atmosphere is tranquil, and you're nice and toasty. Sounds great, doesn't it? Well, it's exactly why you need a cylinder fire pit if you don't already have one.
You can go further and opt for a touch of elegance with a modern fire pit. It doesn't just keep you warm while you relax; it has the bonus of being stylish and elevating your outdoor space. We're sold already, but if you're still not convinced, below are five reasons to add a modern fire pit to your landscape.
1. It's multifunctional
The best thing about modern fire pits is that they have multiple uses. They're functional as well as aesthetic. They illuminate your space, are decorative, set the mood, and can be used to make treats, such as s'mores, campfire tarts, campfire cocoa, bacon on a stick, and so much more.
Their most obvious use, of course, is keeping you nice and warm, particularly during the colder seasons.
2. It makes your space feel luxurious
Nothing screams luxury like a modern fire pit, with its contemporary design and its ability to elevate the aesthetic of outdoor space. Modern fire pits made from ceramic, concrete, stainless steel, copper, and glass have a chic, expensive look. And while they may be a bit pricey, they're worth the splurge for what they add to your landscape.
Then there's the fact that they also work as artistic features, coming in different designs and bringing images of abstract sculptures to mind.
There's no reason you can't enjoy the luxury of your outdoor space. Here are some modern fire pits to make your outdoor space more chic.
3. It creates a tranquil atmosphere
Sitting by a fire pit can be a relaxing experience. There's something soothing about the warmth of the fire and the dancing of the flames. It might sound strange to think of fire as soothing, but it is, and there's a reason for it, too, according to Discover Magazine: it reduces your blood pressure.
The crackling of the flames in your fire pit can transport you beyond your backyard or patio and make you feel as if you were in nature. It's also the perfect setting for spending quality time with others. You can let go of the day's stress in front of it or enjoy a moment of bonding with a loved one as you both enjoy its warmth.
You don't have to work hard with a fire pit to create an atmosphere. All you have to do is light it up and enjoy the ambiance it creates.
4. It can function as furniture
Some modern fire pits are mounted atop a table, and chairs can be placed around them, giving them the appearance of furniture. The size of the tables varies, with some sized like coffee tables and others sized like full-sized tables.
5. You can cook in style
Besides making s'mores, you can prepare proper meals with your fire pit. Not only that, you get to feel fancy while doing it. It's like regular meal preparation, except with a sophisticated flair.
While you can use some fire pits to prepare meals without requiring additional equipment, others might require that you use a grill grate. You can find out more about how to use your fire pit as a grill here.
A fire pit with a modern aesthetic would be a great addition to your outdoor space for grilling meals for yourself or your guests or simply enjoying a simple fuss-free snack like s'mores.
Types of Fire Pits
Besides getting a modern fire pit, consider the fuel needed for it to burn. Many fire pits use wood as fuel, but such fire pits can have restrictions, depending on where you live. Your area might have guidelines for their use, which you should find out about before deciding to get a wood-burning fire pit. You also have to think about chopping up the wood, which can be tedious.
Wood might be a popular fuel choice, but there are other options when it comes to firing up your fire pit, which we'll discuss below.
Propane fire pits: These spare you the hassle of chopping wood or starting a fire. They're environmentally friendly, being both smokeless and non-ash-producing. You won't have to worry about dealing with neighbors' complaints due to the smoke or the smell. They have the added advantage of being safer than wood-burning pits. All you have to do is turn your fire pit on and enjoy its warmth.
Gel fire pits: Like propane fire pits, gel fire pits do not produce smoke, ash, or an odor. They use a clean burning gel as fuel. They are safe and suitable for smaller outdoor and indoor spaces. Their disadvantages are that they don't produce as much heat as other fire pits and can require multiple refuels in a single use.
Natural gas fire pits: These are fuelled by natural gas, clean burning gases that don't produce an odor. They are built over a gas line, making them immovable. You don't have to worry about refilling the fuel with natural gas fire pits since the gas is always available. They're also low maintenance. To light them up, all you need to do is press a button.
Weigh the pros and cons of each fire pit to decide which works best for you. If there are no regulations for using wood-burning fire pits in your area, perhaps they might appeal to you. Or you might prefer clean-burning alternatives like propane, gel, and natural gas.
Improve Your Landscape With a Fire Pit
Spruce up the appearance of your backyard or patio with a modern fire pit. There are many reasons to get one. It's a luxurious addition to your outdoor space and a mood setter. Warm up by your fire pit on cold autumn or winter evenings, and toast a s'more or two while you're at it. Enjoy a relaxing time alone by the fire pit, or use it to create an atmosphere for you and your guests. Illuminate your outdoor space and grill meals; when you're not using your fire pit, it can function as furniture.
Fire pits come in different shapes, sizes, and styles, with different fuel options. Interested in adding one to your outdoor space? Check out some modern fire pits that can give your landscape a sophisticated touch.