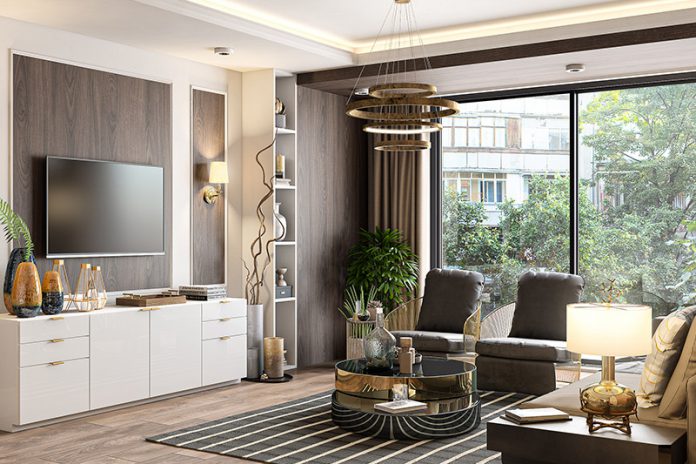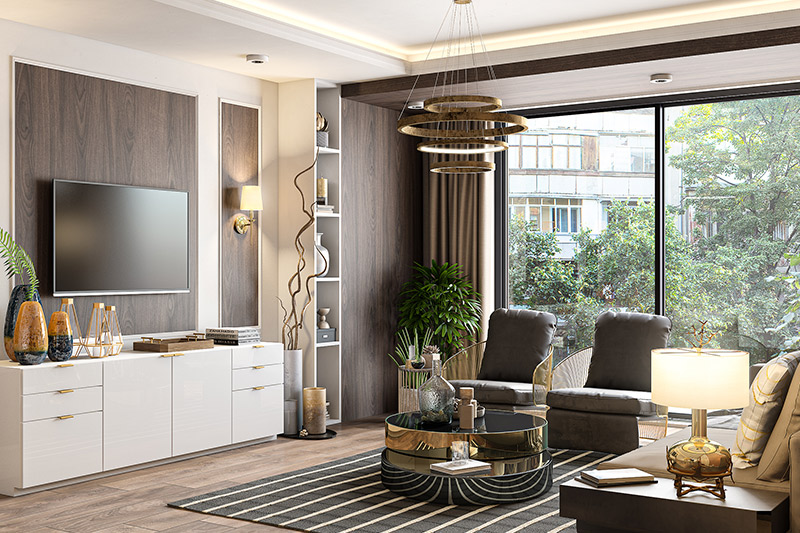 Like most metropolitan cities, Bangalore sees a regular influx of immigrants from all over India and the world. People move here for jobs, education, or to just experience the city. This constant migration is why Bangalore houses some of the most elaborate residential complexes. People can rent or lease an apartment from any of these complexes and call it home. While staying in a high-end looking complex is easy, maintaining or sprucing the interiors might cost a lot. In reality, home interiors in Bangalore don't have to rake up five-digit costs. Here are a few tips from interior designers themselves on how to spruce up your interiors without emptying your wallet.
SPRUCE UP THE COLOR – IDEA NO.1
The most efficient way to upgrade the vibe of your interiors is with paint. The paint on the walls set the theme of your home; the furniture and other accents usually complement the wall color. An accent wall is another way to bring panache to your interiors. Accent walls will generally be in the same color as the rest of the room but have patterns or designs on them. However, you can paint the accent wall in a completely different/complementary color.
SPRUCE UP THE DETAILS – IDEA NO.2
Minor additions to the interiors can have a significant effect on the whole picture. Installing crown molding, for instance, is an excellent way to bring a high-end look to your interior. Additionally, beams usually intrude on the whole look of your home; adding details to them can also elevate the interiors to the next level.
SPRUCE UP THE LIGHTING – IDEA NO.3
It goes without saying that lighting can enormously affect your interiors. This effect is on two levels,
Firstly, the quality of light itself.
Usually, going for warm tones brings a rich look to your interiors, but it may clash with the paint and other accents, so deciding on the light's tone is necessary. Additionally, lighting can also set the mood. Mood lighting fixtures don't cost a lot, for example, color changing LED strips. Contacting an agency for home interiors in Bangalore to install mood lighting isn't very expensive.
Second, the look of the fixture itself.
Fairy lights come in various designs today that look good both on and off. Some lights come with clips allowing you to make bunting of photos. Additionally, the lights come in different shapes that can look aesthetically pleasing. If you don't prefer fairy lights, there are several floors and table lamps in aesthetic designs that can elevate the interiors' vibe.
SPRUCE UP THE FABRIC – IDEA NO.4
Another budget-friendly way to decorate your interiors is with fabrics. Fabrics refer to the range of cloth in a room, starting from carpets and curtains to sofa upholstery and throw and cushion covers. Using fabrics to decorate interiors is a brilliant move. They are easy to maintain and available in a wide range of prints, patterns, designs and colors. Pick one that complements the rest of your interiors and instantly bring a cozy vibe to your living space.
SPRUCE UP THE HARDWARE – IDEA NO.5
Some constantly ignored parts of interiors are probably closet handles and doorknobs. Though small, they can instantly bring a high-end look to your interiors. It is worth it to spring a little extra to add an eclectic door knocker to the front door or wood finish knobs to the chest of drawers. Coasters, Placemats, table-ends, etc., are low-cost options that make magazine-worthy interiors.
SPRUCE UP THE FURNITURE – IDEA NO.6
Springing for new furniture might be expensive; unless necessary, try to make do with existing ones. Painting existing beds, chairs, and tables is also an option, and painting them is a fun activity to indulge oneself in. Another option is to rent furniture, several furniture renting agencies are available. People can pick budget-friendly furniture that compliments their interiors.
MAINTAIN THE SPRUCE – IDEA NO.7
Home interior decoration is more of an accumulation of trinkets and artifacts over time that contributes to the whole look. You can personalize it by painting doors, windows and furniture, or even adding posters, photo frames and decals. But the most effective way to bring the high-end look home is to maintain the interiors. All fabrics, curtains, carpets, throws, tapestries, etc., should be regularly washed and dried according to the instructions to make them look brand new. Furniture, showpieces and other decorative items should be dusted regularly and cared for. Other electronic items like lighting, speakers, etc., should be appropriately handled and maintained with utmost care.
Ask any decorator from any agency for home interiors in Bangalore, and they will reiterate the importance of maintaining interior decorative elements. Maintaining interior decorations by itself is the best and most effective way to prolong your home's high-end look and vibe.