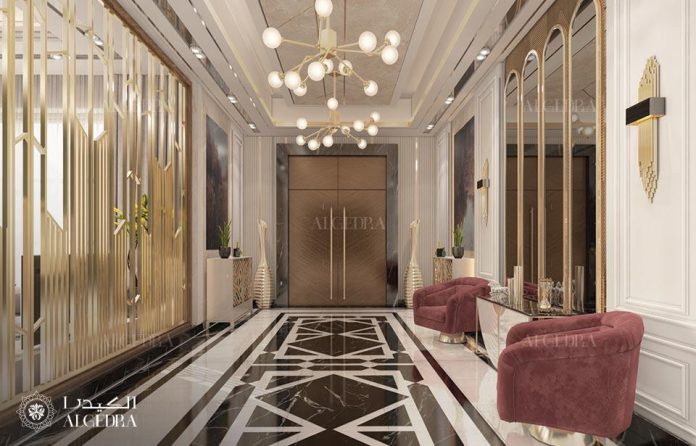 First impressions are permanent, so decorating a stylish and tidy entrance is, and it is crucial part for both you and your guests. Your entrance design also gives your guests first clues about decorating your home, likewise to describe your character.
Home entrance should reflect your interior decoration style, and interior design ingredients and furnishing easily flow from one to the other, and even the most inharmonious materials seem to coalesce while creating integrity with the other rooms of the house.
However, the hanger, cupboard or shoe rack in the entrance hall can be filled with unnecessary items over time and you may lose the order you made at the entrance. You do not have a chance to get a stylish, grandeur yet classy without order. You can create the effect you want with a well-arranged entree, but keep in mind that giving the look in which to impress someone is not an easy task.
Algedra Interior Design is the top interior design company in Dubai and operates in different countries such as the UK, Qatar, Kuwait, UAE, Turkey, Pakistan, India and all over the world. Company has branches in Istanbul, London, New York, Doha and Dubai. So the best is to learn from the professionals of the company about how to decorate and design appealing entrances in every style.
Harboring a design spirit is not every design company capable of. That is what makes Algedra different from its competitors. Company has the courage and imaginative vision to turn mundane spaces into fairy tale houses.
Nevertheless, in light of the +25 years of experience of the companies' interior designers, we will present the dazzling advice.
So how to decorate a stylish and regular entrance hall? Here are some great suggestions from Algedra Interior Designers.
Choose functional furniture
The hangers in the entrance hall and cabinet tops are usually the places where items are left as soon as they enter the door. However, with functional furniture, you can save your entrance hall from clutter. Keys, wallets, bags, shoes, jackets… You should organize all your belongings with functional products.
Create storage space
The drawer consoles are a nice solution for storing your items that can create a cluttering look. If you prefer a shoe rack, you can use those with a drawer section. Poufs standing right next to the entrance door provide both a decorative look and a new storage space. You can also use your pouffe, which has a storage space, to wear your shoes comfortably.
Use mirrors
Mirrors make your space look bigger and you get a luminous image. You can also take a last look at yourself and check your clothes before going out.
Personalize
Once the needs are met, you can add accessories that will reflect your entrance completely. A small carpet and lighting products that are compatible with your decoration create a warm atmosphere.
Your entrance hallway is also a suitable place for your paintings and artworks. You can decorate the console with your decorative objects. If your space is large and wide, you can make room for flowers.