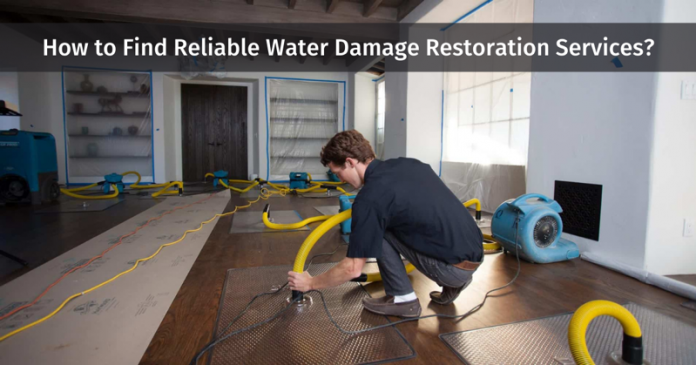 Floods, rainwater, pipe bursts, sewage overflows, dishwasher leaks, and washing machine overflows are some of the usual causes of water damage. Without professional flood restoration, water damages are not easy to deal with and take time. Water damage always comes from three categories of water known as clean water, greywater, and black water. The clean water category does not pose any serious danger to you or your property. You can deal with this water damage with DIY cleaning methods.
Grey and black water categories are harmful both for you and your property. This type of water brings viruses, germs, toxic material, bad odour, mould, and other contaminants. Grey and black water are known to cause health issues and property damage. Such water damage always requires flood emergency services. A professional flood damage restoration company like Wright Restorations can thoroughly remove all damaging elements caused by grey or black water.
When it comes to grey or black water, DIY water damage restoration is neither safe nor effective. Physical contact with such water leads to major health issues. Flood damage restoration experts are trained to deal with these water damages in a safe manner. Therefore, it's smart to rely on such experts when dealing with grey and black water damages. Professional water damage restoration services include comprehensive solutions like:
Sewage Backflow Cleaning
Water Damage Restoration
Flood Damage Restoration
Fire & Smoke Restoration
Carpet Steam Cleaning
Stormwater Cleaning
Carpet Restoration
Burst Pipes Repair
Roof Leaks Repair
Carpet Repair
Emergency Flood Restoration
Flood emergency services are essential to prevent the permanent damages caused by floodwater. Without emergency restoration, such water leads to unrecoverable structural damage and health issues. Every flood restoration company provides emergency services. These services are available for both homes and commercial establishments. Flood water often brings toxic material, viruses, and other contaminants inside your property. You have to put your trust in a company that provides emergency/same-day water damage restoration.
Undealt water damage also leads to carpet stains, wrinkles, and bad odour. This can damage the well-maintained ambience of any home or commercial property. Unpleasant odour or carpet stains can give a bad name to your commercial property and business. This may cause a major loss of both money and time. It's one of the most important reasons why you should always get flood emergency services from a well-established company.
Carpet Mould Treatment
Whether it's clean, grey or black, undealt water damage eventually leads to mould on your carpets. Mould can produce allergens and cause allergies in your home. Mould growth also causes itchy eyes, wheezing, and a stuffy nose. This can destroy the safe and comfortable condition of your carpet. Emergency flood damage restoration is advised for mould as well. You need specialised mould treatment solutions to deal with mould. With a quick response and flood restoration, you can easily prevent mould growth on your carpets.
A proper mould removal service includes antimicrobial treatment and bleach solutions. Avoid using DIY methods if mould is caused by grey or black water. Thorough mould removal requires the right expertise and equipment. Most water damage restoration services come with treatment and prevention solutions for mould.
Carpet Stain Removal
Flood emergency services are often required to prevent tough stains, usually caused by excessive water damage. Any clean, grey or black water damage can cause stains on your carpet. These stains lead to bad odour, discolouration, and disease spread if the stains are caused by grey or black water. Such stains can damage the hygienic and presentable state of any property. You need customised stain removal solutions to deal with these stains.
With emergency water damage restoration, you can safeguard your carpet from all types of stains. If not dealt with in time, discolouration caused by stains can also force you to replace the carpet. You can avoid such costly incidents with professional water damage restoration services.
Stains caused by water damage have many damaging elements and quickly become permanent. You can prevent this by using stain guards on your carpet. Stain guards prevent the absorption of stains and keep them on the surface. Such stains are then easy to remove with standard cleaning solutions.
Cheap or Expensive Flood Restoration, Which Is Better?
Do not go for cheap or trust expensive services when it comes to flood damage restoration. The cost of any water damage restoration depends on the category of water and the impact of damages. The clean water category causes minor damages to your property. You rarely need professional services to deal with clean water damages. But grey and black water damage always need flood emergency services. This is because grey and black water bring various damaging elements inside your property.
Before flood damage restoration, experts conduct a thorough inspection of your property. This inspection helps identify all the water damage and its overall impact on your property. With a proper inspection, experts can tell you the cost of water damage/flood restoration required at your property. Professional water damage restoration services always come with a fair price range for all water damages.
What to Expect from Professional Water Damage Restoration?
A proper water damage restoration service comes with restoration solutions for all types of residential and commercial properties like hotels, restaurants, bars, shopping centres, cinema theatres, and so on. Every property and water damage has different requirements when it comes to restoration. You should find a company that provides customisable flood damage restoration. This will help you save both time and money. Choose water damage carpet cleaning that are widely approved and recommended. Here are some other things you should look for in restoration services:
Professional Flood Restoration Company
Carpet Repair & Reinstallation
Advanced Cleaning Methods
Rain And Storm Restoration
IICRC Certified Technicians
Flood Emergency Services
Eco-friendly Service
Carpet Restoration
Fair Price Range
24/7 Service