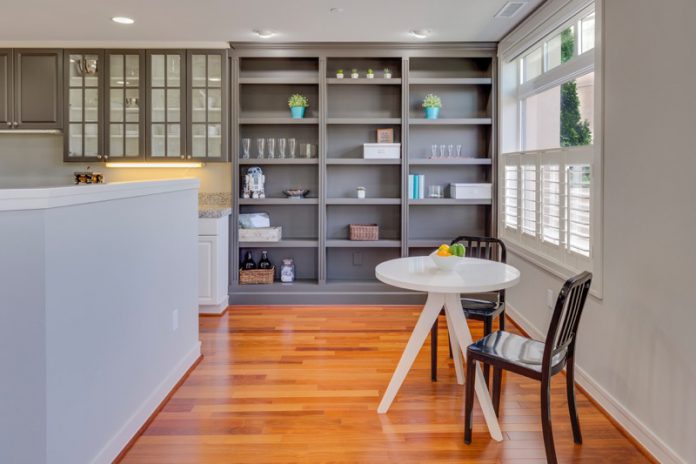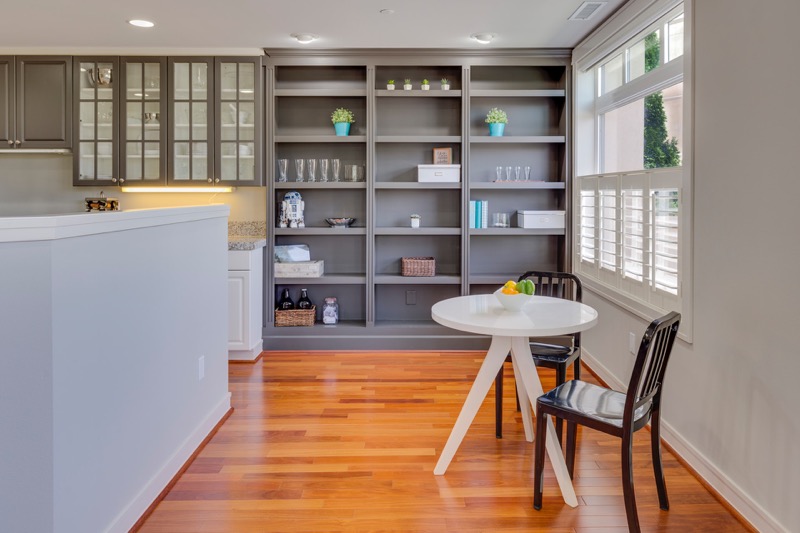 Remodeling on your mind, then you should be thinking about floors. On top of just providing a modern, sleek, or warm look to your home, swapping to hardwood floors can increase the value of your home, helping to grow your property investment. As surprising as it may sound, hardwood floors are even a top choice for protecting the environment. Because hardwood is a sustainable option and can last for generations, it can lessen your carbon footprint. So here's what we think are fifteen of the hottest trending hardwood designs this year.
1. Wide Plank Flooring
Cottage core and modern farmhouse are prevalent styles this year, and one of the things that goes great with this is wide-planked flooring. Usually, when you think hardwood, you think lots of planks and four to maybe six inches wide. Not anymore. Planks are being engineered to keep up with the trends measuring up to a foot wide. This style can work especially in small spaces, making it feel bigger than it is.
2. Contrast, Contrast, and More Contrast
One of the newest trends on the list is all about variation. For this motif, designers are using highly contrasting colored planks and planks with different widths. The contrasting style is an excellent design for anyone afraid of going too dark with their floors but wants their floor to be a focal point. This design is best suited to larger spaces.
3. Deep in the Dark
Cool tones, including greys and browns down to black, are next in line for popularity. Darker cool-toned flooring can be a fantastic combo with the sleek white cabinets in a kitchen. If you are daring enough, go with an almost black floor combined with sleek lines, grey furniture, and black appliances for a clean, elegant appearance.
4. It's all about the texture
One of the charms of hardwood is its consistency. You can now get flooring that's been hand scraped, usually with a wire brush, before finishing to add a more noticeable texture. Just like you would think, this gives the wood an older look making it seem almost antique, or like it's been there for hundreds of years. It's similar but not quite the same as our next trend, the distressed floor.
5. Distressed Hardwood Floors and Shabby Chic Décor
This one's just not going anywhere for a while. The distressed look has continued to grow in popularity and has stayed in most people's top ten for the last five or more years. Distressed and shabby chic go hand in hand. Tiktok is even influencing this décor style sticking around, giving it an 11% increase in popularity this year for interior design styles. There are numerous options; one of the most popular is the whitewashed look, which generally looks as if the hardwood is painted with a chalk-paint and sanded until the natural wood shows through again.
6. Bleaching it Out
Love the idea of the lighter floors but not so much the distressed look? Then bleached floors are the way to go. Don't go grabbing that bottle of bleach out of the bathroom; however, it's not that easy. Bleached floors go through a process to desaturate the color without destroying the fibers like cleaning with bleach would do. These desaturated neutral tones are a crucial component of the trendy Scandinavian style.
7. Get Back to Nature
Earthy tones never really go out of fashion, but they are all the rage this year. Light earthy tones are widespread, including anything categorized in the blond color range, like birch and maple. Pair these light floors with deep rich earth-toned walls, and you'll have everyone impressed with your sophisticated room.
8. Patterns and Geometry
Geometric and sleek lines are still prevalent this year, and hardwood floors offer you a way to introduce a pattern into your home. From a simple chevron that never really goes out of style to the more complicated Versailles options,you can't go wrong with a pattern if you really want to make the floors pop.
9. Sweet Like Honey
If you want to have a warm yet soft look in your room, then you will love the honey-toned floors. It brings depth to any design space; it goes well with a classic farmhouse kitchen or can turn a livingroom into a cozy, inviting space.
10. The Soft Shine of Matt Finishes
Satin finishes are an excellent option for keeping your floor looking great and having it shine without making it glare and reflect every bit of light in the room. In addition, satin finishes let more of the woods natural appeal through while offering a velvety look.
11. The Most Natural Finish Matt
Matt finishes are gaining popularity this year as well. This type of finish will still protect your floor, but it won't look like you just spent a week polishing it. It keeps the lights from reflecting harshly. It's also the way to keep the most natural look for hardwood floors. In addition, matt finishes don't require nearly as much upkeep as gloss.
12. Color Me Blue
Wood floors are incredibly versatile, and this trend proves that. Blue or even blue and white hardwood is another notable trend to consider when picking your design. If you have a beach-themed house you want to bring together or just add some color to your space, blue tones are the way to go. Blue doesn't have to be dramatic. It can be a hint in the dark gray you've chosen, or it can be light blue stained planks mixed with light or whitewashed.
13. Relaxed and Reclaimed
Another way to be environmentally friendly and still stylish is to go with reclaimed hardwood floors. They come in all sorts of colors and types of wood. These planks all have a great character from the years of use but come sealed and refinished.  Reclaimed is, of course, a favorite of any countryside-themed home.
14. Rustic Character
Like the distressed and scraped styles above, one of the definitions of rustic hardwood floors is texture and character. As a result, you can find many colors and wood types that fall under the rustic category. One thing that will remain the same with rustic floors is they will have the natural knots, swirls, and grain showing through that more standardized options don't.
15. Long Lines Long Planks
Most hardwood floors you see have a uniform width and length to them, but that's rapidly changing. By using longer planks, you can add the illusion of a bigger space to almost any room. Long staggard length planks are a hit this year and can work for virtually any style.
No matter what décor the rest of your home is, there is a fashionable and current hardwood flooring style to go with it. So make that plunge and increase your investment value by adding hardwood floors to your home.