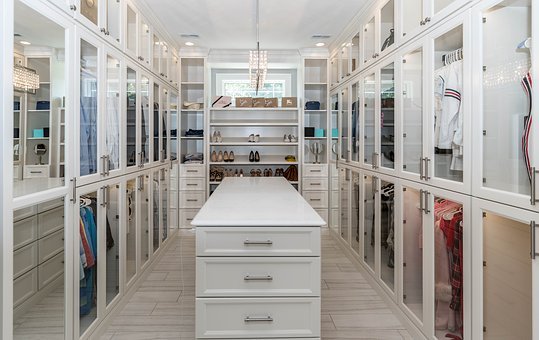 In the past 50 years, the size of our homes has tripled.  Do you know that the average American home contains over 300,000 items? Surprisingly, we don't realize, but we do have a lot of things in our homes. And, that is why, many of us rent storage space because, in the end, we need a place to put all of our stuff. But there's more to organizing than just putting things in a closet or storage room and forgetting about them.
Each item deserves its own spot where it belongs. A fixed place where you can easily find and return it. One simple way to achieve that, is to buy custom closet cabinets or customized closets. It will make you realize, what a vital role a customized closet plays, every single day in your life.
Keep reading to find out 5 reasons that will make you realize, why it is important to get a customized closet:
1. An organized custom closet is relatively more beautiful.
Customized closets that are well-designed and organized save a lot of time and stress. This is one of the major reasons to give serious consideration to a custom closet system. An organized closet and maintaining a place for each item; including clothes and accessories, can help you with the following things:
makes things easier to find,
significantly simplifies the process of putting things away,
provides organized space, you feel comfortable in,
increases closet storage space
can be tailored in any manner you want
2. A custom closet system is built to last a long time.
The materials and designs of an ordinary or assemble-it-yourself store-bought closet system cannot match the quality of a professionally designed custom closet system.
Many people buy flimsy prefabricated storage products that are not durable enough and lack style or character as well. Also, the money and time spent on something which is not even going to last more than a month or two. Why not just invest in something nicer and long-lasting, in the first go?
Although, customized closets can be pretty expensive. But a little more payment provides you with better quality. And the higher quality translates into a longer life and fewer problems.
Surely, a custom closet system is a smart investment you'll benefit from for many years and then there are chances, that you will also get to enjoy the back-end benefit it has when selling your home.
3. A custom closet system expresses you.
Most of the closet systems are designed to appeal to the highest number of consumers possible. And, that "mass appeal" product strategy severely restricts the ability to customize or adapt to a customer's specific taste, or perhaps even the unique dimensions of someone's closet space.
Whereas, on the other hand, a customized closet is a wonderful way to express your personality and can be adapted according to your needs.
From exploring your taste in decor to showcasing your wardrobe collection, a closet that's carefully customized to your requirements will become a space you look forward to entering and looking at.
Not to mention, it is a collaborative process with a client for a designer while putting a closet design together. As a customer, you will get to know everything from how the closet is laid out, what types of accessories are incorporated into the design, and which types of finishes and hardware are used. And eventually, when the project is completed, that identity should accurately reflect just who you are.
4. Better product warranty
Another reason, you should get a customized closet is the better warranty than they usually provide with store-bought closets.
Normally, they have a one or two-year limited warranty. And only if you don't mess up while installing it, because it is totally up to you, if you did something wrong with it.
Also, it takes a lot of time to replace parts that are covered under warranty for a closet organizer purchased in a store or online, and with no guarantee that the parts will be available for one of their discontinued products or not.
While companies that specialize in making customized closets, tend to be more accommodating and considerate, if follow-up service is needed. They also usually provide longer warranties. Some of them provide a 10-year warranty on certain products, which guarantees them to be free from defects in workmanship or materials.
A longer warranty and the assurance of reliable customer service, if needed, can provide a comforting peace of mind when deciding on which closet organization system to buy.
5. Custom closets come with expertise.
Like any design trade, there's a significant amount of expertise required in order to produce an effective custom closet design.
A talented and experienced closet designer will know what works, when it comes to putting together a great closet organization system.
They'll have helpful suggestions and know-how related to important features like:
closet lighting options
paint colors
finishes
Since custom cabinets are made according to your exact requirements, they will appeal to you in the aesthetic sense while accommodating your kitchen, bathroom, or bedroom storage needs. So, it's better to go for customized closet instead of DIY store-closets.