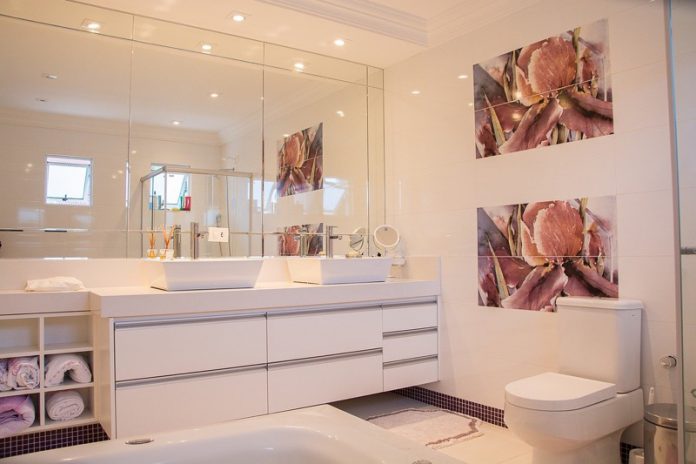 The relationship most people have with their bathrooms is intimate. For this reason, your commercial bathroom design needs careful consideration, for it will affect more than just the aesthetics; it will also affect the mood of anyone using it. People notice the ultimate result, whether you're constructing a commercial restroom for employees, clients, or guests.
Commercial bathroom design in hotels, offices, and restaurants, needs to consider function and the best use of available space. Here are some essential elements to incorporate when designing your bathroom space:
#1. Extra Storage Under Sink Counters
Most modern sink counter concepts tend to lean to more minimalistic designs. But there are significant advantages to having extra storage since it uses available space underneath the sink.
Storage is required to maintain the functionality of a commercial restroom. Rather than stowing toilet paper and cleaning products in a closed closet, adding storage space below sink counters makes them more readily available. Just remember to allow some room between the sink and floor to provide better accessibility for those in wheelchairs.
If your designer is creative, you can ask for storage space to be added right in the wall with the simple addition of a wall access panel which will add more space in your bathroom's limited area. Best Access Doors has many options for you to consider!
#2. In-Wall Toilets
Incorporating an in-wall toilet system will eliminate most of the area typically needed to fit a bulky tank. It allows the designers to have more space and flexibility for other plans. It will expand the standard room, downsize the bathroom's overall size and cost, and add additional storage space.
In-wall toilets are also better from a sanitary aspect. Because these systems have a smaller surface area than standard tanks, they are cleaner and require less maintenance. Furthermore, because the toilet is not fastened to the floor, cleaning the floor beneath it is quick and straightforward.
If your commercial building is in the United States, the Americans with Disabilities Act (ADA) explains accessibility requirements for restrooms. Your bathroom design needs to include these considerations to ensure all employees, clients, and guests have easy access to your facilities. Not only does a more accessible format improve movement inside stalls, but it also allows for more freedom in the positioning of flush plates and grab bars.
#3. Built-in Paper Towel Dispenser and Trash Bins
Paper towel holders and garbage bins protruding from the wall are prevalent in commercial bathroom designs. It's a better idea to incorporate these elements directly into sink counters. You'll have greater design freedom with the extra room, and messes will be out of sight. It will also blend well with other designs, which makes it aesthetically pleasing.
This idea frees up the bathroom space and prevents clutter. It also makes it easy to find the trash bin and the paper towel dispenser since both are in one place. It is convenient to find what you need in one area of the room, making it easier to maintain.
#4. Big Mirrors Create an Illusion of More Space
If the bathroom space you have is tight, consider adding mirrors to create an illusion of more space. It is not a new method, but it works. It is a proven technique to ensure that claustrophobics will feel at ease when using the bathroom area. Mirrors also serve a practical purpose to employees, clients, or guests visiting your building.
#5. Recessed Lighting
When choosing lighting for your commercial bathroom, you may decide to go with a softer light that is more relaxing and flattering. Also, consider the best placement of lighting with mirrors.
Recessed lighting is one of the most effective techniques to eliminate clutter in business bathroom designs. Recessed lights give illumination without infringing on the area, whereas standard light systems can weigh down ceilings and drag walls inward. They also have a sleek, contemporary look.
#6. Natural Lighting
If you want to incorporate natural lighting in your commercial bathroom, windows near the ceiling allow the sunlight to stream in. You can cover lower-level windows with a textured, translucent film for privacy.
If your commercial bathroom is on the top floor of your building, a roof hatch with a skylight not only brightens your space but also allows for convenient access to the roof for maintenance purposes. If you need to move heavy equipment to the roof, or if roof work is required, your commercial bathroom can be a perfect access point.
Conclusion
A bathroom is a place that brings the image of comfort and relief. A thoughtfully designed commercial bathroom uses the right amount of space, offers functionality, and provides the best experience for those who use it. To ensure the best design for your bathroom, consult a licensed professional for your next project!