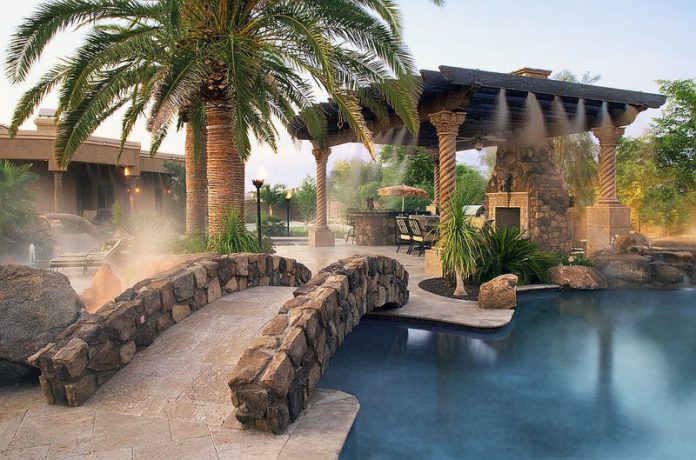 There's no better way to enjoy the warm weather than by taking a dip in your pool. But if you're not careful, your pool can become an eyesore; and a significant drain on your wallet. That's why it's crucial to plan and design your pool with function and beauty.
Various innovative and attractive materials can be used to come up with great landscape designs:
Natural stone: A wide range of natural stones can be used for pool landscaping. The most popular options include limestone, sandstone, and travertine. Each type of stone has its unique look and feel, so choosing the right one is vital for your home.
Brick: Brick is another popular option for pool landscaping. It's durable and easy to maintain and comes in various colors and styles.
Concrete: Concrete is a versatile material that can create both traditional and contemporary landscape designs. It's also easy to maintain and very affordable.
Flagstone: Flagstone is a type of sedimentary rock that is often used in landscape design. It's available in various colors and textures, and it's durable.
Here are some great landscape design ideas for your pool area that will help you make the most of your outdoor space:
Use natural materials
When it comes to poolside landscaping, one of the best things you can do is use natural materials. Stone, gravel, and sand are all excellent choices around your pool. Not only do they look great, but they're also easy to care for and won't break the bank.
Add some greenery
Adding some greenery to your poolscape is a great way to add color and life to the area. Choose plants known to be low-maintenance, such as succulents, cacti, and ferns.
Incorporate water features
Water features are a great way to add interest to your poolscape. Fountains, waterfalls, and even simple birdbaths can make a significant impact. Just be sure to choose safe materials around water, such as concrete, stone, or metal.
Use lighting to your advantage
Proper lighting can transform your poolscape from day to night. String lights, solar lights, and landscape lighting fixtures can all be used to create a unique and inviting space.
Create different areas
Your poolscape doesn't have to be one ample open space. By creating other places, you can add interest and functionality to the area. For example, you might want to create a seating area for entertaining, a play area for kids, or a garden space for relaxing.
Keep it simple
Sometimes the best landscape design is the simplest one. A few well-chosen plants, some essential lighting, and a few key accessories can go a long way.
No matter your budget or style, there are plenty of ways to create a beautiful and functional poolscape. With some planning and creativity, you can design an outdoor space that you and your family will enjoy for years. When looking for a house with magnificent landscape ideas for an outdoor pool, work with Realtors in Orlando, FL. They are experienced and have access to some of the most beautiful homes in the area. You'll find the perfect home for your family in no time.