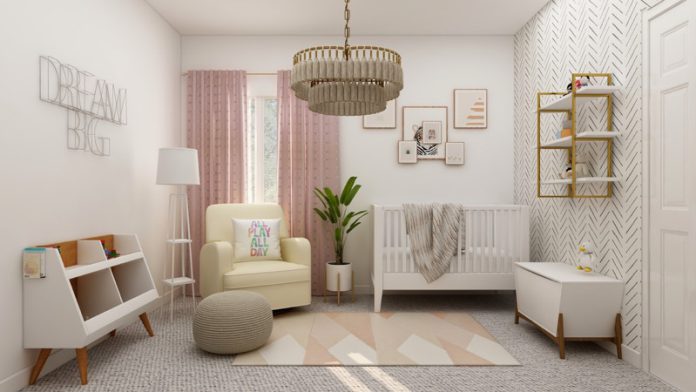 There is so much that goes into preparing for a newborn. One of them is preparing a space for where the baby will sleep. You don't have to break the bank to design a beautiful nursery for your baby. Preparing for a newborn is not cheap, and if you can save a few bucks on his nursery, then why not.
Parents love to give their children the best, but the best doesn't always mean expensive. Besides everything you buy for the nursery now, you will probably have to take it out in a few years when the baby is all grown. So with a few tips that we will discuss in this article, you can still give your baby a dreamy nursery but still keep your budget in check.
Get a convertible crib.
Buying a convertible crib is not cheap, but it is well worth the initial investment. A convertible crib will grow with the baby. As the baby grows, you can adjust the crib to fit the baby as a toddler. And as the baby continues to grow some more, you can still make more adjustments. You can transform it into a big bed which can fit an adult.
When you purchase the convertible crib, ensure you get all the accessories and hardware. Some manufacturers will include them, but you will need to buy them as additional pieces for other models. You can choose to pay for them now or later as the baby is growing.
However, we recommend doing it now. You never know just when you need them, you may find they are not available. It's safer to have them in storage somewhere in the house.
Find a changing table alternative.
Most parents buy a changing table for the nursery, which is an essential addition for making it easier for changing your baby. However, as much as it can come in handy, it's still an expense you can do without. Remember changing tables can quickly outgrow their usefulness. The changing table will be helpful for the first few weeks, but after the baby can roll over, it may be unsafe to continue using it.
But if you must have a changing table consider purchasing cheaper alternatives. Check out second-hand shops or Etsy for some cheaper alternatives. You can even buy from friends or family who have outgrown their changing table we're sure you will get it for cheap.
You can also browse vintage shops and see what you can get. Have an open mind when going into these shops. You may find something unique that you can transform into a beautiful one-of-a-kind changing table with some painting and padding on top that won't cost you a fortune. If you also have an old dresser lying around, you can transform that into your baby's changing table.
Be smart with art and paint.
Making your baby's nursery cute with art and paint is an inexpensive way to transform the room into a heavenly space. You don't have to make murals because those can be expensive. For beautiful and affordable nursery art, you can go to https://www.lewisishome.com/collections/nursery-art and get some amazing designs that you can choose within your budget.
You can also paint the walls in a color you like. Painting the walls is also another inexpensive method to style the baby's nursery. You can buy the paint and turn it into your DIY project. Have fun with the colors and patterns.
Remember to use bright colors to make the room lively and warm. You can even paint the ceilings and add some stars or any nice pictures or shapes you like so that the baby can have something beautiful to stare at when they are in their crib.
Avoid shopping for baby's bedding.
Nowadays, a baby's bedding can cost a lot. Many designs and styles have been introduced into the market, being sold as baby bedding. While they can be beautiful, some of these accessories are even dangerous for the baby, not to mention expensive. Some examples include baby bumpers, crib blankets, baby pillows, etc. these items are dangerous for the baby and increase the risk of SIDS (Sudden Infant Death Syndrome).
Pediatricians recommend leaving the baby's cribs as bare as possible to ensure the baby is safe when sleeping. You should also avoid products being marketed as safer alternatives. A simple firm mattress, fitting bed sheets, and a simple baby blanket or sleep sack are all you need for your baby's crib.
Decorate the baby's nursery with a rug
Finding accessories and decorative items that won't cost you much is a great way to style your nursery on a budget. Rugs can add color and warmth to a room.
While your baby is still an infant, the carpet can add different colors and textures to the space, and when they grow up, they can be useful, especially if you have cold hard floors. As the baby grows and learns to walk and crawl, the rugs can help act as a cushion for falling or crawling.
When looking for a rug, ensure you find one covering the whole room to ensure the baby has a safe space to play and crawl. Also, remember to find a rug that's heavy and warm and is also easy to clean.
Keep it simple
Baby's grow up so fast, and as they start going to school, they'll want to change and decide how their room looks. Ensure you keep it simple with the nursery so that in the future, as you get rid of some things, you are still on budget.
Accessories and fancy items are beautiful and fun, but those small things can quickly add up and stretch your budget. You can create simple accessories that you won't feel the pinch storing them away when the baby outgrows them.
In addition, when you keep the room minimal, it will be easy to transform the space into a home office or guest room later when the baby is all grown and off to university.