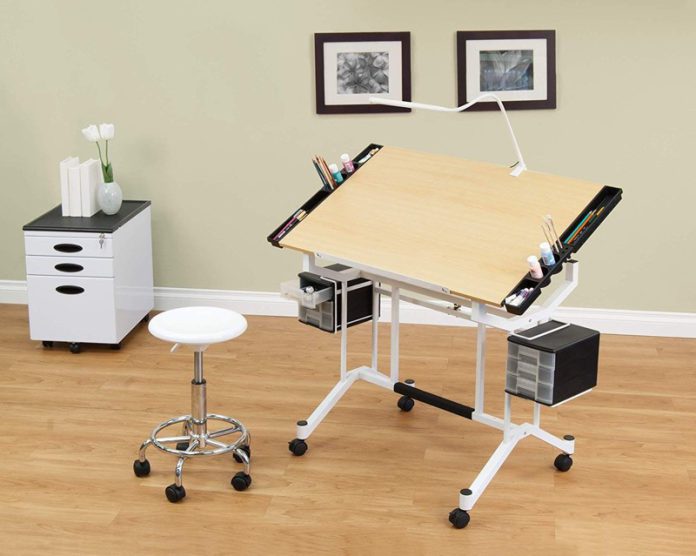 Do you love arts and crafts? It's one of the best hobbies ever! It doesn't just relax our minds because we do what interests us. Moreover, it also digs our creativeness. The benefits of doing crafts are proved to be therapeutic as it diverts one's mind from a negative event to a fruitful day. Besides, it portrays what we are as an individual.
However, we can not avoid having cluttered materials upon doing our craft or artworks. It may be a hassle, especially if we have small spaces. To help us with the mess, it would be a great help if we have craft tables that have multiple storages to keep our tools. We listed down below some of the craft desks with storage you might like to store your craft materials.
1. Craft table with storage supply on the wheels
Here comes the trending pull-out storage that most designers use nowadays for their craft desk with storage ideas. It isn't just an innovative design. Moreover, it is simply amazing for its functionality. Just pull it out upon using and push to lock it up after using. Functional, indeed.
Another advantage is the drawers. You can easily reach them through this desk as you don't need to strain in getting your things. The multiple drawers are a bit shallow, very convenient to store your most-used tools and materials. Not only that, you can organize your stuff, ensuring privacy as well, for the most important ones down to less-used craft tools.
2. Adjustable glass drawing desk with storage
Having a glass tabletop is very advantageous to sketch artists. It helps in tracing the paper as it is transparent enough to see the lines and figures below. You will love this desk because it comes with compartments or storage to keep your pencils, ink bottles, and markers.
It's a highly adaptable piece of furniture for its sleek design and storage options at the sides. Apart from its use, it's a pretty piece of furniture with glass material showcasing the prestige of this desk. Add a detachable lamp to the table, and it will look classy in your area.
3. Woodcraft table with shelves on the side
Wood is a very good accent inside our home as it balances the overall design of the area. For this table with shelves at the side, you will enjoy your time using it, whether as an art table or a computer table. It's multi-functional and carries shelves for your extra tools.
However, it doesn't have small compartments for your pens or small art materials. No worries, you can use small box organizers to put them and set them above the shelves. All you need to do is to become a little creative in organizing, and everything is set!
4. Folding wooden art desk with multiple storages
One way to maximize your space at home is to use collapsible furniture, especially when you don't use it often. Collapsible furniture is easy to assemble and has many uses for your artwork. This particular desk has hooks on its backdoor and compartments to store small things.
Upon using, you just need to unfold another half of the table and pull it upwards to extend the table. The door acts as the support below. After using, just do the reverse process to put it back the way it used to. It is a simple yet good way to organize your stuff!
5. Rolling craft desk with tool organizers
This type of storage is lightweight, making it easy to move from one place to another. Aside from that, it has wheels for easy transport. You can bring it outside your home if you feel like doing your craft outdoors. Made of metal frames, you can expect that it's sturdy. The drawers keep your tools in order as you do your thing on the table. It's best for crafts like sewing or drawing.
6. Craft desk with metal cabinet
You are assured that this storage will never let you down as its bodybuilt is durable and heavy-duty. It has wheels to move it easily, a wooden top, and a metal body for heavy activity. The two handles at both sides are thick enough to move it around while gripping them. It won't slip your hands as you transport your craft.
Because it has cabinets, you will have bigger storage for your craft and art materials. Right behind the doors are your stuff which is why it looks more organized as privacy kept them intact. You can put bigger tools there or fix jars of your inks or sewing materials without looking messy outside.
7. Craft cabinet with fold-out table
When you look at it outside when not in use, what you see is a full-standing cabinet. The surprise reveals when you open it as it has a fold-out table that you can use. Lay it down, move the supporting frame below it, and voila! you already have a built-in craft table in no time. You can use it for your sewing materials or other artwork.
Perfect for your craft as the shelves serve as your storage for stuff that you need while putting the sewing machine on the table. A lot of people grab this 2-in-1 cabinet because of its versatility especially for those that have smaller spaces. Space-saving furniture is the real deal nowadays.
8. Foldable table with storage
This one is another space-saving craft desk. There are two folded tables on the side that you can expand when you need a bigger table. It is collapsible, so you have the option to put both down after use or just on the other side.
The best thing to that is the remaining table on the center is narrow enough to shove the table even in the smallest corner of your home. It has wheels to move it around, steel frames that can support the table below and can accommodate two or more people working on it. Just perfect for group work that needs a bigger table.
Conclusion
Everyone has a hobby, and one of those interesting hobbies is the love for creating crafts or artwork. With that being said, we all need an accompanying storage desk to go through it to keep our tools organized and intact.
Should you decide to purchase a craft desk with storage, visit Storables to catch the latest trends in furniture today. We offer a variety of desks to suit your place.