Roohome.com – Working in cozy space would encourage us to produce a satisfactory result. When we work not only space which is needed, but also a catchy furniture can be a reason. As a furniture designer also interior spaces, Endri Hoxha presents the new high table style to create your workspace more enticing.
He uses kind of wood which is called 'hardwood' as the main material for making the table. Afterward, he divides two spaces in one box that is part of the table. To make it more elegant and luxury, Endri Hoxha upholds this table by using a pair of metal hair pin style legs on the right and left aside. Another his unique idea is cutting off the size of the table becomes slender without needing a wide size and taking place.
If you have the room which has a long corridor or a huge window inside your house, Do not worry because high table style can be placed in there reasonably. Like the picture above, high table style suits for you who prefer reading some books to hanging out with friends. The table gives you a space to keep your favorite books without put the book down in the bookcase. While working, you may enjoy the view outside your apartment.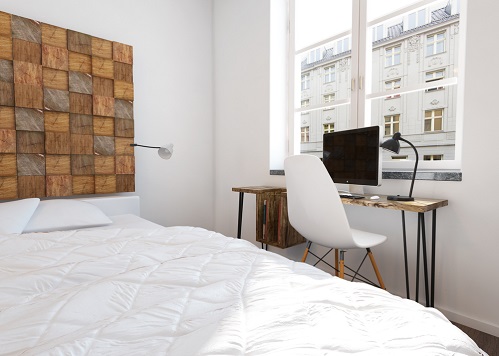 Placing the table inside your bedroom also might be a good choice. High table style would not worsen the appearance of your bedroom even though the table is made of wood. As the picture above, the room looks pretty elegant and tidy which is only put a laptop on the table and a painting to unify the table becomes a luxury bedroom.
The design of Endri Hoxha matches for you who need a new concept in making a cozy work space at an apartment. Are you interesting by seeing his masterpiece? better changing your workspace becomes attracting now on!