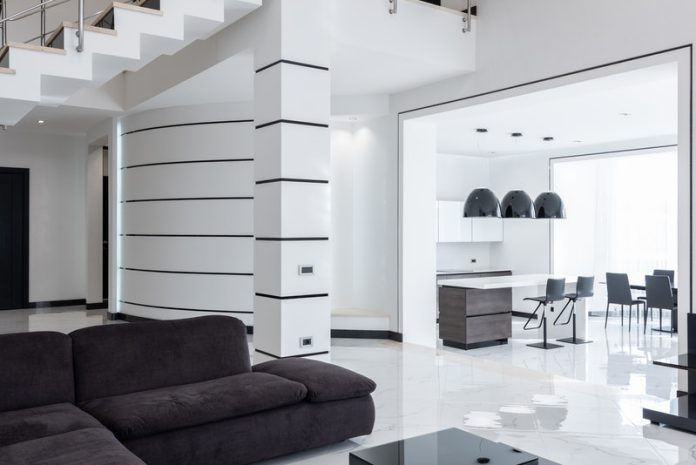 Building multiple rooms for different tasks is a thing of the past. People are increasingly choosing for mixed or multi-purpose areas in their homes rather than building distinct portions. Aside from being a terrific way to save money while building your home, it's also a simple way to make it look more modern.
Single panel partition
A huge partition is not a suitable choice for tiny compact houses. Instead, choose single panel fittings that are comparable in appearance and will help define the different zones without making the space feel claustrophobic.
Long room layout
If you have a long rectangle-shaped room like this, a similar layout is a great option. The designer has been employed to remove wall between kitchen and the living room before and after. In addition, he has transformed the island into a dining area.
Half wall partition
This half-wall divider is an attractive option if you don't want a completely open kitchen and living room. You can obtain the privacy you desire while also avoiding permanent barriers within the space by constructing a partition using glass and masonry.
Connected dining table
Connecting the dining table to the main kitchen island is another fantastic method to bring the two rooms together. You may make the area multifunctional by doing so. You will serve meals more quickly since you will not have to move from one room to the next.
Enclosed kitchen
When you're looking to mix several regions in one room, this enclosed kitchen layout might be a terrific option. The kitchen features a service window that allows you to pass food to your visitors while also catering to them.
Narrow kitchen
If you want to give your kitchen and living room more space than the kitchen, this narrow plan is the way to go. You may keep the remainder of the room free for other purposes by installing cupboards and appliances on a single wall.
Spacious layout
Setting furniture in different areas is the most straightforward technique to make a room appear larger. This home's designer created a living room in one corner while including a dining table in the opposite corner.
Wooden partition
Installing this wooden divider between your living and eating spaces is highly advised if you have a huge room that needs to be altered. This style of wooden barrier will add a lovely and stylish touch to your property.
Open layout
This open space concept is the most excellent alternative if you have a tiny room to be utilised. The designer developed a kitchen island that serves as a dining table and a meal preparation area. Aside from that, the L-shaped couch may provide you with a larger seating area.
Compact layout
The designer of this home chose an open kitchen with all of the counters arranged in a U-shape to provide ample space in the middle. In addition, the dining table is directly in front of the kitchen, making it easy to move around.
The Advantages of Open Kitchen and living in Indian Households
It makes your space seem more significant.
In India, flats with large kitchens are uncommon. Either the designs don't provide enough floor space, or we'll have to make do with the small kitchen offered by the builder. Even if it's a small open kitchen design, an open kitchen floor plan makes the space appear larger than it is. In comparison to closed kitchens, open kitchens are naturally brighter and have better air.
Connects you with the rest of your home.
Another prevalent occurrence in Indian homes, particularly during social occasions, is that the person cooking or preparing the food is always segregated from the rest of the group and misses out on talks. Open kitchens not only allow for easier interaction, but they also allow your visitors to join you in the kitchen without missing out on other social activities.
It helps you multitask.
We all lead hectic lives these days, juggling numerous tasks at once. For example, you may need to prepare dinner while also keeping an eye on your children's studies. Open kitchens allow you to keep an eye on your kids while you work in the kitchen. In reality, you could see movies or TV episodes that were playing in the adjacent room.