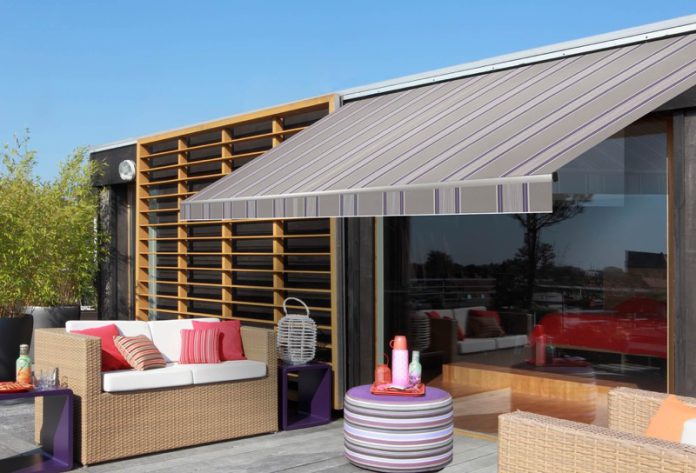 You want to make the most of this outdoor area, generally a patio or deck. However, you got wet when unlocking your door? Or have you ever sunbathed on your balcony while relaxing? Consider putting awnings instead.
Awnings are ideal for anyone who wishes to spend more time outside. They give shade and shelter from the weather, allowing you to enjoy the outdoors all year and making your exposed patio or deck more livable and feasible for you and your family. You will no longer have to be concerned about the weather spoiling your evening outside or your patio furniture. An awning will protect you and your valuables while increasing their usefulness.
Awnings come in a variety of sizes, forms, and materials. Keeping this in mind, one of the factors to consider is selecting the ideal material and best awning for your home.
Different Types of Awnings
Before purchasing an awning, consider the place of installation. This decision will influence the sort of awning you require.
Patio Awning and Deck Awning
Because of their enormous coverage area, patio and deck awnings are frequently the first options for most homes. They effortlessly offer shade throughout the width of your patio, creating a comfortable and excellent spot to enjoy your morning coffee or Sunday brunch without worrying about damaging UV rays. Patio awnings are an investment that increases the overall value and comfort of your home's façade while extending your living area to incorporate the fresh air of your outside patio.
A door awning is put above an entryway's outer entrance. This sort of awning will protect your entry from rain and other harsh external elements while also improving the aesthetic of your home. Awnings for doors can be retractable or stationary, and they come in various patterns, materials, and forms to create a basic and attractive look.
A window awning is attached to the outside wall of the window. It is the finest awning for protecting your interior from direct sunlight while allowing natural light to get through. A window awning also protects the tops of your windows from the elements, keeping people from seeing into your home. It can be retractable or fixed.
This wall-like awning, also known as a garden-side awning, stretches over your balcony, patio, or garden to create an immediate outdoor wall barrier. A big screen on the side of an awning is an elegant and practical approach to dealing with persistent wind and a low-lying sun while offering seclusion from neighbors and pedestrians. A side awning has a frame that must be attached to either a solid 10-centimeter-thick wall or a stout pole. It is the simplest awning to build. It can be put up and running in a matter of minutes. Many side awnings may be retracted manually using strong retractable springs that provide high flexibility for smooth and long-lasting operation.
Awning Materials
Awnings are made from a range of materials. When deciding on a material, bear in mind the sorts of weather it will be exposed to. You should also think about how much care and maintenance you are willing to put in.
Polycarbonate, a thermoplastic material that is easily handled, molded, and thermoformed, is used to make both glass and vinyl awnings. Although transparent, this style of awning provides exceptional protection from rain, snow, and damaging UV rays while allowing light to pass through. Polycarbonate is water-resistant and has a clean-lined style that adds a new appearance to your door, window, or patio. It's inconspicuous and nearly indestructible, with 250x the impact resistance of regular glass. Polycarbonate expands and contracts with temperature fluctuations without causing lasting damage or shrinking, making it an excellent investment.
Sunbrella is a cotton canvas-like acrylic fabric. It is incredibly long-lasting, fade-resistant, and water-repellent, frequently lasting a dozen or more years. Sunbrella awnings are scratch and tear-resistant, with the ability to screen up to 98% of the sun's damaging rays. Sunbrella awnings are ideal for houses in humid climates because they are resistant to mildew and UV damage.
Most fabric awnings are constructed of polyester, a synthetic, artificial fabric created from polyester yarns. Polyester awnings are durable and mildew-resistant, and the material is light and flexible, making installation a breeze. Additionally, cotton, canvas, and mesh belong to fabric awning material.
Metal awnings, usually constructed of aluminum, have long been popular in homes worldwide. They are strong but lightweight and can withstand the most challenging environments. Metal can be used for the whole awning or only the frame. Metal awnings come in various of colors and are often coated with baked enamel paint. These awnings are generally stationary and must be painted on a regular basis to avoid corrosion.
Side Panels
While not the most crucial selection, side panels significantly improve the appearance of your awning. Side panels offer support around the awning's perimeter, providing excellent stability and customizing choices. As long as you have a non-retractable awning, they give additional protection from the weather. You may also install a screen around the perimeter to provide long-lasting shade and a barrier against pests and animals.
Awning Color
Your awning is one of the first things people can see when they come to your house. They will notice the hue and how it contrasts with the color of your home right away. As a result, you should choose a hue that reflects your personality and complements the property.
There is no correct answer to which hue will always fit which type, color, and size of your home. People's tastes vary, and some may believe that using a lighter blue to match the blue of your house is preferable to using a dark blue. Similarly, most experts will have their ideas and color suggestions for you. While there is no single correct answer, there are some important factors to consider when selecting an awning color: architectural style, awning size, and color combinations of your home.
Awning Angle
The angle of an awning is something that many people ignore, yet it is crucial to its overall effectiveness.
For areas facing east or west, the drop size should be 65-75% for best performance. The decrease for a south-facing window can be as low as 45-60% since less coverage is required owing to the angle of the sun.
The decrease for a south-facing area can be as low as 45-60% since less coverage is required owing to the angle of the sun.
Awning Style
A variety of awning types are available to complement the overall appearance of your house or business.
Traditional with closed or open sides, dome style, double bar standard, waterfall, quarter barrel, gable walkway, and semi-circular entrance are some of the most common.
Speak with an architect or a shade and blinds firm to identify the finest style for your house or business design. 
Awning Size
The size of your awning will depend on the area to be covered. A smaller awning will be used for window and door awnings. The size of the patio and deck awnings will vary. Larger homes will require larger awnings to span the whole length of the front and back yards. Awnings with larger sizes may limit your selections for particular features, designs, and materials.
Awning Function
The purpose of the awning can have a significant impact on how you utilize it. When it comes to picking your awning, you have various options.
Stationary awnings will provide more consistent protection for windows and doors because they are firmly installed into the ground and give the highest resistance and support against adverse weather conditions. However, because it is embedded in the ground, you cannot choose how much light or shadow you want.
Freestanding awnings are ideal for providing shade in regions distant from the home. These places may be used for family gatherings, tables, chairs, a barbecue, or whatever else you desire away from home. These awnings must be installed in the ground, and the top should be made of a more robust material, ideally aluminum.
Awnings that retract are ideal for decks and patios. You can adjust the amount of direct sunlight that comes into touch with the selected area, which is very useful in the winter when you don't want to be in the shade. Fabric will be the sole material available for use. Unfortunately, this means you must retract them during severe weather.
Best awning for you!
As you can see, selecting the best awning for your home is a difficult task. Material, function, position, angle, and other factors must all be considered. There are several choices to examine.
Thai Plastwood offers the best quality vinyl awning for you to make it easier for you. For more information, kindly visit www.thaiplastwood.com  or contact the telephone number: 0-2291-9595/ mobile number: 061-165-5570.
Remember that the greatest awning saves energy, protects your house or structure from solar damage, and, most importantly, protects your family. So, get to know your awning!