Clear vinyl tarps uses have a variety of adaptability, but are most commonly used as enclosement structures to provide protection and safety against weather conditions and various elements that could otherwise damage a patio, garden, or cargo!
You'll come across clear vinyl tarps with grommets on construction sites and with household, outdoor projects as they're tear-resistant and durable enough to withstand rough weather conditions without compromising visibility! With a cold-crack rating of around -32 degrees (Celsius), custom clear vinyl tarps are perfect if you want to enjoy your garden or patio in the incoming winter months without the risk of snow or bitter, winter wind disrupting you! However, there are many clear vinyl tarp benefits and advantages you may not initially consider when purchasing one! We've compiled a list of advantages and uses for clear vinyl tarps.
Advantages of Using Clear Vinyl Tarps
Heavy-duty, waterproof PVC transparent tarpaulin – it can be a mouthful, but the name itself gives away many of the advantages clear vinyl tarps have over competing tarps on the market: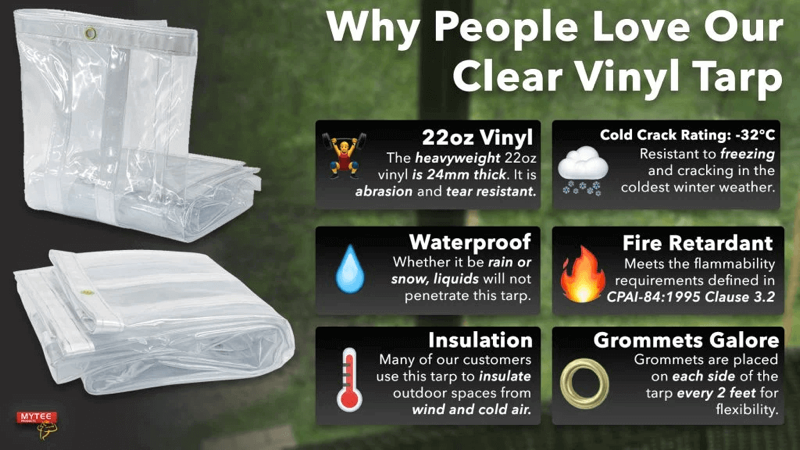 1. Flexible
Cereal vinyl tarps for patios are made of very flexible PVC material; because of this, you can easily fold, bend, or cut this tarpaulin to the exact dimensions or size necessary for your use!
2. Durable
Custom, clear vinyl tarps are known for their durability! Capable of withstanding tough and challenging conditions, you can use clear vinyl tarps for patios, gardens, construction, and more no matter the weather or season!
3. Water and Moisture Resistance
One of the many resistances these plastic, custom clear vinyl tarps have, they are extremely water resistant! Clear vinyl tarps can protect equipment from water damage, which is especially important and useful for farmers that need to store equipment during the winter and for flatbed haulers who will be traveling through wet, rainy, or snowy terrain.
4. UV Ray Resistant
Clear plastic tarps for patios are terrific during the hot, summer months! The heavy-duty PVC plastic they're made of is designed to resist harsh UV rays without clouding the tarp's transparent visibility!
5. Cold Resistance
When the temperature starts to fall during autumn and into winter, don't be so quick to take down and store your clear vinyl tarp with grommets! Just as they're designed to resist harsh, hot weather, they can withstand the cold just as easily! The plastic of these tarps will not crack even when temperatures reach -32 degrees Celsius!
6. Breathable
The thickness of these clear vinyl tarps blocks off airflow to prevent harsh or bitter wind from impacting your outdoor project or enjoyment, but that doesn't mean it's totally closed off! These clear plastic tarps for patios insulates a space from cold air, meaning even during the middle of winter the space enclosed by a clear vinyl tarp will remain warmer than the temperature outside, and the middle of summer will be cooler!
7. Grommets, Grommets, and More Grommets!
There are grommets placed every 2 feet on each side of a clear vinyl tarp. This aids not only the flexibility of the tarp, but allows for easy tie-down of the tarp up or around a patio, garden, or cargo!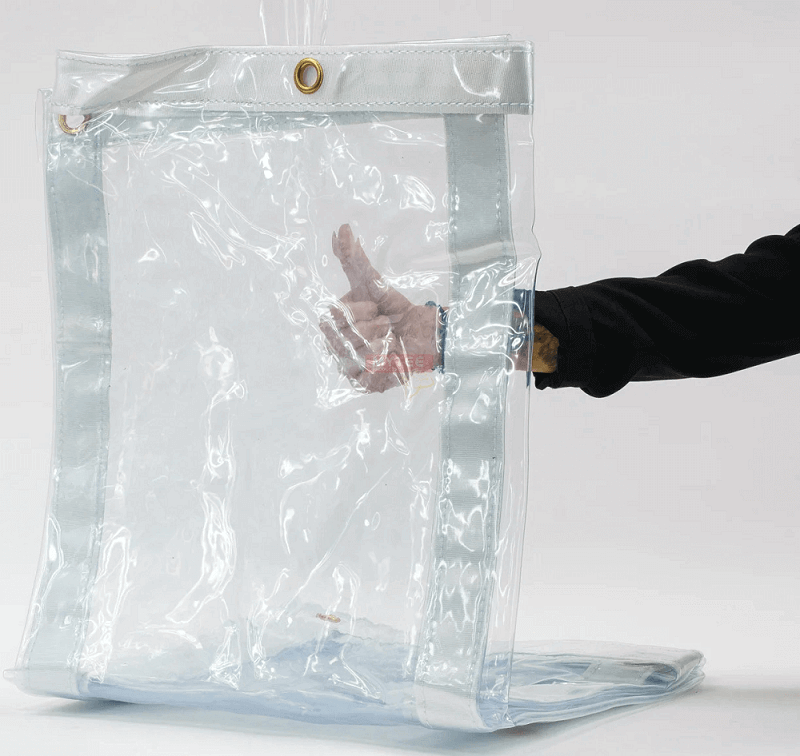 8. Easy Cleaning
Like most other tarps, clear vinyl tarps benefit from being smooth as cleaning the plastic is a breeze! A simple wipe-down or spray with a hose is all one needs to do to clean, and make sure you hang or leave it out to completely dry to avoid the risk of mildew or bacteria forming. They are extremely simple to maintain, making them a low-maintenance yet highly beneficial investment!
9. Multi-Purpose Uses
There are several applications one can use a custom clear vinyl tarp for; so many in facts, we have to make a whole new list (read below)!
Uses of Clear Vinyl Tarps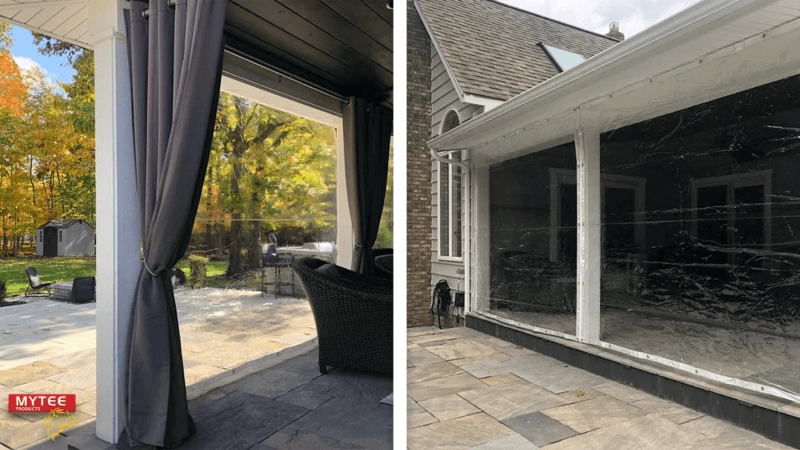 1. Protect Patio
One of the most common uses of clear vinyl tarps, they are perfect for protecting and insulating an outdoor patio! Clear vinyl tarps for patios provide the protection and comfort ability of enjoying an outdoor space without sacrificing the view!
2. Protect Outdoor Furniture and Equipment
One of the major killers of outdoor furniture and equipment is water damage. If you want to preserve and lengthen the life of your outdoor furniture or important equipment – like farming and tractors equipment – then covering them or creating a safe, dry storage space using clear vinyl tarps with grommets is your best and safest option!
3. Temporary Windows
Similar to the reasoning for patio protection, you can create temporary windows for a construction site or ongoing outdoor project with clear vinyl tarps! Insulating and transparent, you can continue to work on your construction even when the weather isn't ideal for working!
4. Greenhouse Construction
An incredibly useful option most clients don't consider when purchasing a clear vinyl tarp for patios is the creation and maintaining of a Greenhouse! As light can pass through the transparent plastic easily while keeping harmful elements that would otherwise destroy and kill the plants, your gardens and Greenhouses will continue to flourish as they'll get adequate sunlight to grow and will have a safe, insulated environment!
5. Load Transportation
Clear vinyl tarps can be used for load transportation if the visibility of one's cargo is important for delivery! Being able to check on the status of your cargo during transit can be very beneficial for certain flatbed haulers.
Clear vinyl tarps are highly recommended to truckers, construction companies, and homeowners because of their strength, durability, water resistance, and protection against specific weather conditions! Their flexibility and ability to be custom-designed for specific projects are bonuses, and their low-cost and maintenance make it the best and preferred option for many industries! While they aren't complete lists for all the wonderful uses and benefits of clear vinyl tarps, we hope these lists have helped you make a more informed decision as to whether custom clear vinyl tarps are the right choice for protecting your outdoor projects!