Roohome.com – Having a small house in the middle of urban life will make you look up an inspiring modern interior design ideas for you. Fortunately, this design has some brilliant ideas in designing an ordinary small house becomes stylish also fashionable. You will get some amazing tips from a brilliant interior designer as well. Take a look how the designer arranges the interior and furniture in a modest space of a small house. Are you ready to see an awesome design below? Let's check this out!
Modern Interior Design Ideas For A Small House by Manolo Yllera
Let us introduce you a brilliant interior designer who has designed a modern interior design below, Manolo Yllera. The designer shows you a small two-storey house which is decorated with a shade of white color. The theme of the design is such a magic of art. You can see the decoration from the wall which is filled with a unique wallpaper. The designer also arranges a modern interior ideas for living room to make it stylish. The designer paints all over the wall with white color in order to support the sunlight through many windows inside the house. Therefore, the house looks brighter even though this is a small house.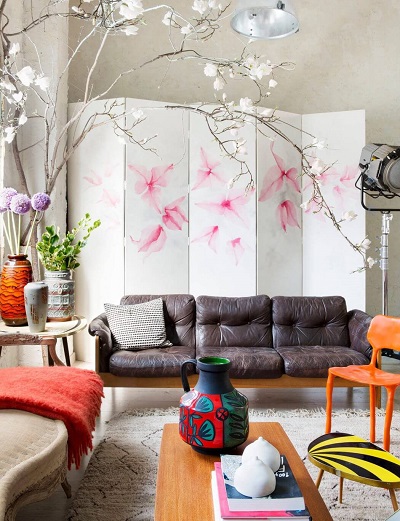 Another angle of the living room is some type of unique furniture. The designer places many kinds of armchair around the living room also two stacks of books as the ornaments. The aim of this arrangement to make your living room keep being comfortable and livable. Meanwhile, the entrance room has decorated some paints such as portrayal or a picture. You can also place a display cabinet to put any ornaments to add a beauty to your house.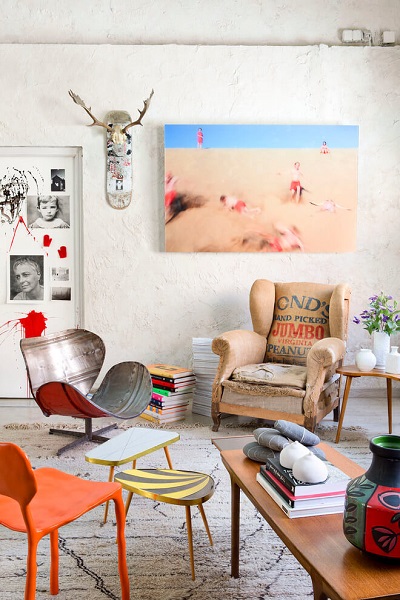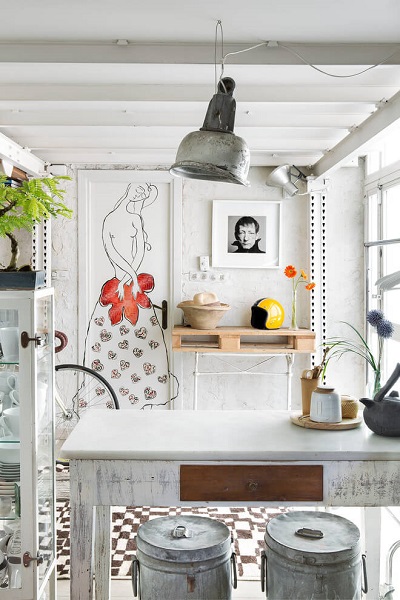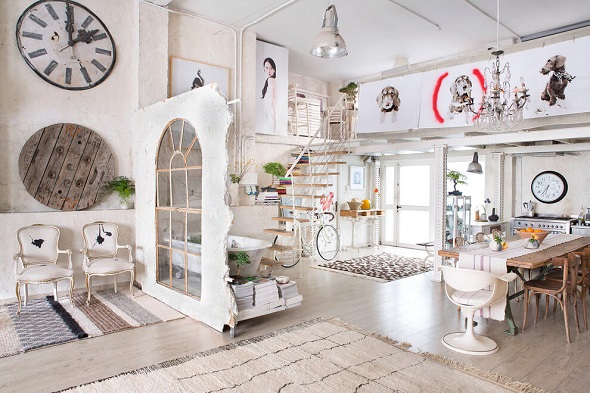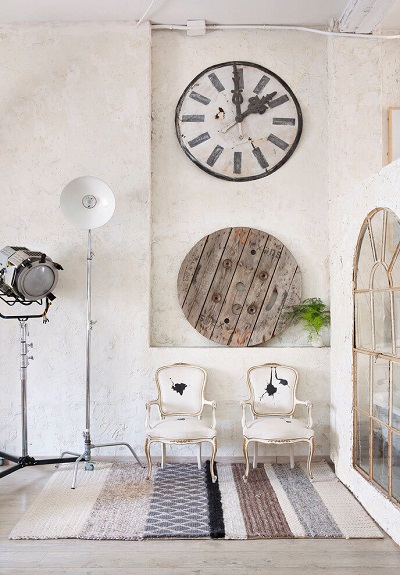 Modern Interior Design Ideas Applied in Kitchen and Dining Room
Move to the kitchen and dining room which will inspire you how to arrange it well. The designer does not place a kitchen set in order not to eat up space too much. This is because the kitchen has a modest space. Therefore, the designer only utilizes some multifunctional kitchen stuff. Afterward, you will see a large wooden dining table in the middle of a kitchen area.  The dining room looks simple but has an artistic view. You can apply the modern interior design ideas to your kitchen and dining room.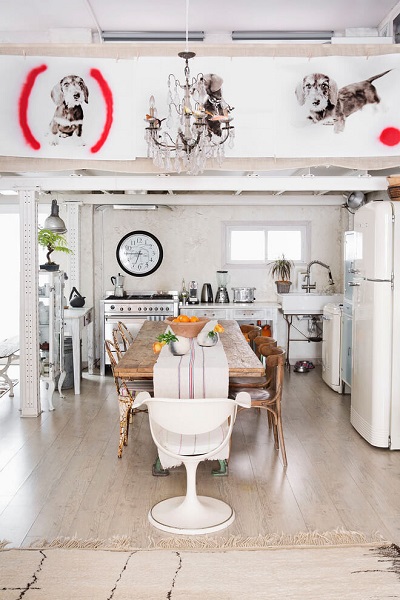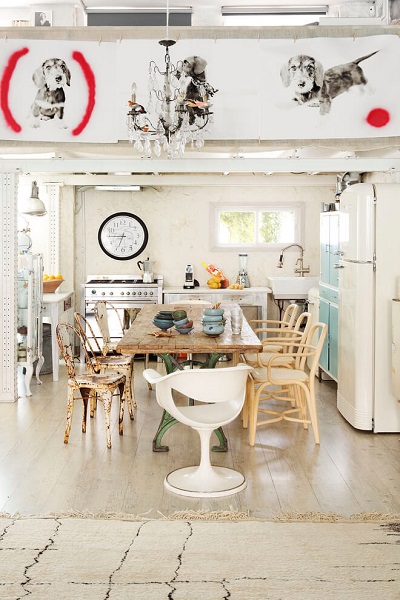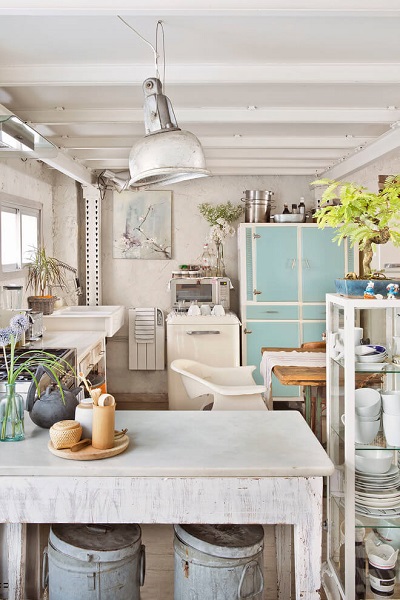 Modern Interior Design Ideas For A Small House With Amazing Tips in It
Due to a small two-storey house, it means there are stairs which must be decorated as well. Manolo Yllera pours her creative ideas in beautifying the stairs look as well. The designer places many portrayals on the wall in order to attract you when you are going up stairs. You can take the tips how to beautify your second floor like this design below. The designer beautifies the second floor for workspace. By utilizing many windows, the designer places the work desk against the window. Another space there is a simple bedstead for you with an artistic vibe inside of it. Manolo Yllera has shown you the interior ideas for small house to you. Which ideas do you prefer?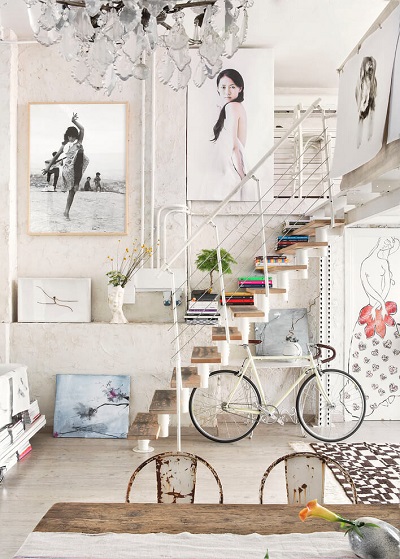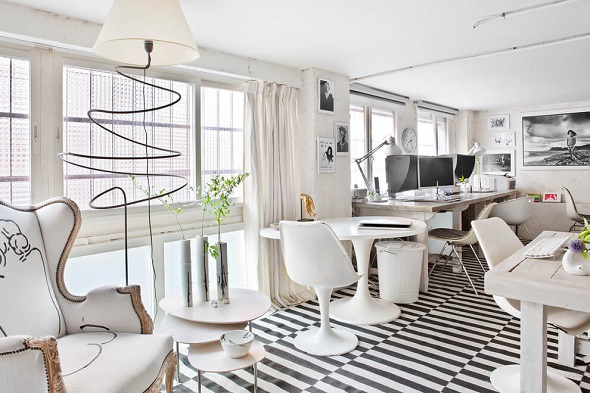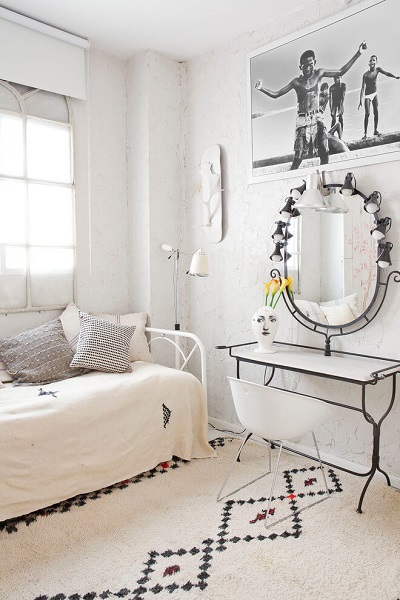 Choosing a modern interior design ideas for home interior ideas is the best choice. It is not only an ideas, but also some amazing tips from Manolo Yllera. Grab your chance to make your home sweet home come true. If you want to see other designs, just visit and check here. Have a nice day!