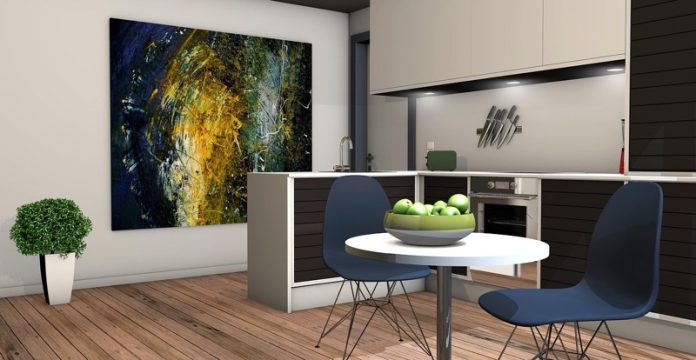 Luxury means different things to different people. For some, it's all about having a spacious bed or an over-the-top living room chandelier. Others think it's all about having a hot tub in their bathroom or an all-metal high-end kitchen.
However, what the term implies in interior design is more about the elements that signify lavish, indulgent living that are also generally expensive.
Want to know how to bring out the luxury in your apartment in Festival City, Dubai?
Luxury interiors are created using the right kinds of materials. Here are a few materials you can use for an interior designer-approved luxury apartment remodel:
1. Velvet
Although it's been around forever, not many homeowners and apartment dwellers understand the luxurious effect velvet has on their space.
You see, its indulgent quality and texture combined with a soft sheen imbue a timeless air of luxury into any space. Just remember that velvet works best when it comes in jewel hues, like amethyst purple, emerald green, ruby red, and sapphire blue.
Pro Tip: If you use rich purple velvet, make sure you include mirror surfaces or anything silver to achieve that subtle regal effect.
2. Gold
Gold looks tacky when used randomly, but don't mistake it for anything less than a symbol of luxury. After all, its metallic quality and shimmering appearance have always been the traditional choice for royalty.
Although gold-plated taps do look quite the opposite of elegant, you can still use a touch of golden sheen to make your bathroom look downright lavish. For example, a baroque-style console and drawer chest exudes just the right amount of elegance and grandeur to 'awaken' an all-white bathing and dressing space.
Besides furniture, you can also switch out any standard hardware on your built-in cabinets.
Choose something plated with gold and watch it turn your space into a million bucks without having to break the bank for it. Just remember to take a long, hard look at the entire space before making the swap.
3. Crystal
Like gold, crystal is a long-standing staple in luxurious interior design.
It doesn't matter if it's a grand French chandelier from the antique shop or a modern crystal arrangement. Having these multifaceted sidelights can give your home the extra sophistication and sparkle it needs to transform into a luxury apartment.
Just keep one thing in mind: Cheap crystal lighting may look just that – cheap. So, make sure you check the quality of the product you want and how it will look in your space before buying.
4. Leather
Bringing in a leather sofa in your Dubai apartment is arguably one of the easiest ways to add luxury to your home. After all, leather has always been a highly effective element for making any space look sophisticated.
Although it occasionally goes in and out of fashion, leather can be the luxury element you didn't know you needed.
Sure, it can be impractical at times, especially with the heat in Dubai, but that's something a fully air-conditioned living room can fix easily. Remember: Luxury isn't about being practical – it's more about bringing your fantasies to life.
Besides furniture, you can also use leather for other items, like leather wall tiles perhaps. Adding this element into a room not only brings the material into focus but also expands its luxurious effect, especially when it is combined with silky curtains, marble flooring, golden lampshades, and abstract art.
5. Plants
Adding houseplants is one of the best ways to add colour to any space. It doesn't matter if it's real or not; having some greenery inside your apartment gives it an instant facelift.
Plants can act as instant statement pieces in your apartment. The key is in selecting the right plants and pots to ensure they stand out in the best way
The same can also be achieved with well-arranged flowers in elegant-looking vases.
There's no need to bust your budget on mega-arrangements just to make your apartment look luxurious. The key is in the vase you choose and how you arrange the flowers in it.
6. Wallpaper
Paint is not the only material you can use to upgrade your walls. Wallpapers – especially high-quality ones – can help you build a luxurious old English atmosphere in your modern apartment.
Pro Tip: When choosing a wallpaper design, try to picture the room's overall look in your head. It would be much easier if you have a theme you wish to achieve, like a hand-blocked green stripe wallpaper for an ultra-traditional upmarket appeal.
7. Light
Have you ever seen an apartment looking luxurious without lights? Though it may sound like a cliché in interior design, choosing the best lighting can make or break how your luxury apartment would look.
When you get the proper balance of light, enhancing the style and ambience of your apartment can get a lot easier. This is because lighting has one of the most significant effects on interior design, affecting how the room layout and the height of the ceiling look, among other things.
Keep in mind that light fixtures aren't the only thing you need to think about. You also need to consider the hue of the bulb (i.e., colour temperature) to make sure you get the desired luxury apartment look.
However, remember that the best way to introduce harmony across the elegant elements of your home is by letting natural light in.
Your Own Flavour of Luxury
Living in an apartment doesn't automatically mean you can't have a luxurious space to call home. With the addition of the elements listed here, you can have your own elegant apartment.