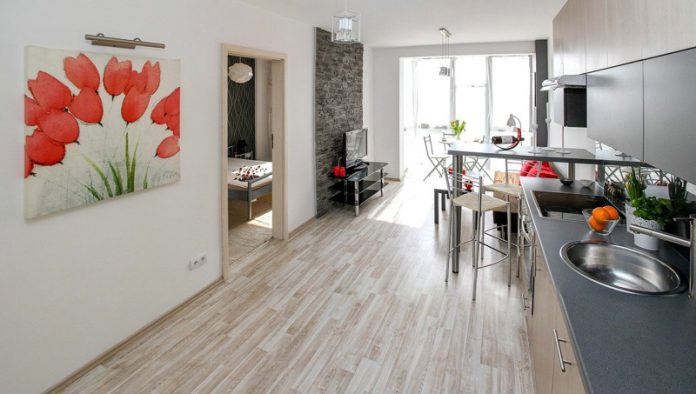 Peel and stick wallpapers are affordable and easy to install.Most people have a love-hate relationship with social media, but there is no denying it has some perks. In addition to connecting the world like nothing before, social media has become a great space for creatives.
Ranging from extraordinary cake decorators, to underrated musical artists, you probably come across brilliant artistry every day on your feed. The best part is that these creatives not only share their art, but they also provide inspiration and tutorials.
If you plan to redecorate your interiors, social media is the place to find easy and affordable ideas.
In this post, we're summarising our favourite viral decor trends – Lets dive in.
Backlighting is back
Though backlighting is nothing new, thanks to 'TikTok' teens, it has certainly made a comeback. You can add backlighting on your bedroom walls, behind the television, or even under the cabinets.
The possibilities are endless. This is a particularly useful hack and if you don't want to go through the trouble of hiring a handyperson, you can easily purchase inexpensive LED strips online and install them yourself.
Goodbye neutral kitchen
We have all obsessed over minimalist kitchens with muted colours, but now it's time to move on from minimalism and try something fun. After Dakota Johnson's LA house tour, Instagram went "ga-ga" over her green kitchen.
In a world of white and grey kitchens, green space was a breath of fresh air. If the rest of your house is neutral, it is a good idea to add interest to your kitchen by painting it a different colour.
DIY accent walls
Accent walls or feature walls are an interior wall which design differs from its surrounding ones. Accent walls help create a focal point in a room and also make an excellent backdrop for pictures. A win-win!
There are several ways to create an accent wall. You can get a contrasting colour and create abstract shapes, or go with an animal print.
Alternatively, wallpapers are also a great way to dress up plain walls. Peel and stick wallpapers are affordable and easy to install. It's also a good option if you're renting and don't want to make any permanent changes.
Embrace eclectic pieces
There was a time when symmetrical and simple shapes were all the rage. Now, interior decor enthusiasts are finding imperfect pieces a lot more interesting.
This shift can also be credited to the growing popularity of thrifting. Head over to your local thrift shop to find unique and eclectic decor pieces for your home. We suggest browsing antique China, hardwood furniture, and ornamental lamps.
Adding new lighting fixtures to your home will likely increase your electricity bills. It would be best to compare electricity providers in your area and switch to a competitively-priced plan.
Make it green
From banana bread to tie-dye, we saw countless trends pop up during the pandemic. One such trend is making your interiors a green oasis with thriving plants. Incorporating green plants into your space not only brightens it up, but also improves your mood.
Do not fret if you're not blessed with green fingers. There are several indoor plants that aren't easy to kill, such as Pothos, Aloe Vera, and Snake plants.
Put it on display
From old book editions, to a vintage leather jacket, anything can be art! Why hide these beautiful pieces in your closet? Put them on display.
A custom neon sign
Some may find neon signs a little gauche, but it could possibly be just the fun element your home needs. Neon signs can be spotted in the houses of celebrities like Kendell Jenner and Finneas O'Connell. Browse online for neon signs, or get in touch with a neon sign artist for a custom piece.