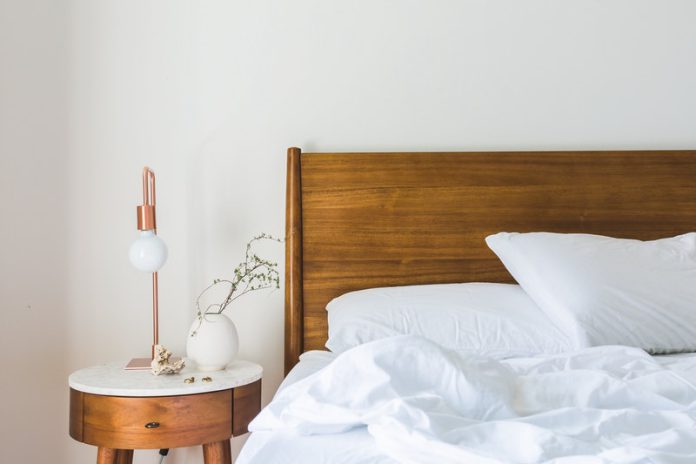 With the rise in time spent at home and the need to make those spaces areas of great comfort, DIY improvements have never been as popular as they are right now.
What's more is the need to do so on a budget, particularly at this time of year when any improvements are also being delicately balanced with Christmas shopping.
In this post, we look to provide some easy pointers for those that are looking to transform a bedroom without breaking the bank.
Changing the layout of your bedroom can go a long way
A quick newsflash: you don't need to buy an entire cast of new furniture if you want to make a big change to a bedroom.
You may be inspired to do so based on idyllic look books and Instagram posts but here's the deal – simply by rearranging what you do have already, you can significantly refresh the look and atmosphere of any room, let alone a bedroom.
If you're looking to improve a bedroom because it currently feels cramped or cluttered, we would definitely recommend focusing on creating more open space. How can you reposition your furniture to create a new dynamic? Are there pieces of furniture that are blocking natural light?
Focus on what you don't need, first
With the above in mind, our second tip urges renovators to go on a purge. Why not consider getting rid of items that have long since served their purpose?
There may be a chair that is rarely used or a record player that is gathering dust… Simply by removing clutter, you can minimalise a bedroom and bring a modern edge.
Please don't throw things away, though. Do your best to find a home for your unwanted items by donating them to a charity shop or listing them on an online platform, something we will explore in the next point.
Go on a bargain hunt
Being short on funds shouldn't mean that you can't have the bedroom of your dreams. Those expensive pieces that you've had your eye on? You're likely to find them or similar at a fraction of the price if you shop around.
Approach the market as a savvy shopper and go on the hunt at places you may have never shopped before.
It's not uncommon for people to buy furniture and quickly realise that they don't like it or it doesn't quite suit their existing decor – that's then heading straight to the charity shop. If you really put some time and effort into scouring secondhand shops, you may well just stumble across an almost-new piece of furniture at a bargain price.
If your local charity shops aren't quite hitting the mark, then it doesn't hurt to keep your eye on new listings at online auction sites such as eBay and even Facebook Marketplace. Although, we would encourage you to go and see any large pieces of furniture before handing over the cash through these sites.
Don't forget to make the most of sales, too. Whether you're looking to bag a statement item or change up the look with some new bedroom cushions and throws, don't purchase too hastily – hold on until the retailer slashes the RRP, as they usually will.
Purchase new bedding
The clue is in the name – the bed is the focus of any bedroom. It's what you use the most, see the most and likely get the most enjoyment out of, so dressing your bed up nicely is a killer way to transform your bedroom on a budget.
It may be the case that to refresh your bedroom you don't need all-singing, all-dancing decor and furniture – you just need to purchase some good quality bed linen.
Don't be afraid to use bed linen to inject some colour, pattern and texture into the room. Mix and match with different fabrics and colour combinations that complement your furniture, and consider adding inexpensive throws and cushions to pull everything together.
A fresh lick of paint
Finally, let's talk about paint. We know that there has been a DIY surge in recent years with many people opting to spend spare money on home improvement. While we wouldn't class paint as cheap, it is an affordable and accessible option when it comes to overhauling a bedroom.
Repainting a bedroom can be transformative in changing the mood and atmosphere of a bedroom. Whether you are looking for calmness (blues), energy (yellows), freshness (greens) or luxury (purples) – you can breathe fresh air into a bedroom by opting for the change.
If you are truly looking to stick to a modest budget then it is likely that you won't be looking to add new furnishings to the bedroom, so choose carefully when opting for a new colour scheme