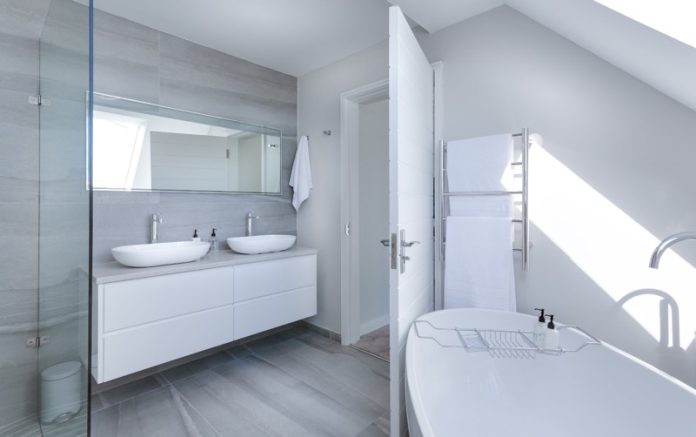 Without a doubt, remodeling your home's bathroom is probably among the most expensive home improvement ideas.  In fact, according to a survey conducted by Home Advisor, a typical bathroom remodeling project can exceed $10,000.
Furthermore, if you have a large or master bathroom, it will run you around $26,000 or more. This includes new bathtubs, sinks, tiling, countertop, and much more. But, if these numbers are too much for you, don't worry.
Given the high costs of a bathroom remodel, think outside the box and look for more budget-friendly and more imaginative alternatives. Then, after a budget-friendly bathroom remodeling regime, not only will you have more money left in your bank, but you'll also have a functional, clean, and bright bathroom.
So, with that in mind, let us look at a few inexpensive bathroom remodeling ideas for homeowners on a tight budget.
Hire a professional bathroom remodeler.
Iowa sees an influx of residents and businesses because of its cultural significance and old buildings, so there are problems with bathroom fixtures.
Living here is somewhat expensive, but that doesn't mean you can't find a workaround for getting good remodeling deals.
The solution is finding an affordable service for remodeling your bathroom in a way it looks brand new. If you're in Iowa, search for the term Des Moines bathroom remodel on Google for an excellent yet affordable solution.
Since remodeling isn't a DIY thing, you'll need the pros to fix any plumbing problem and ensure all the work is done efficiently and within budget constraints.
With pros at work, you have more time to enjoy yourself with your friends and family, manage social and job calendars, and focus on other life commitments instead of operating finicky remodeling machinery and equipment.
Imagine you forgot to connect your newly installed shower head to the water heating system or didn't put the proper support for your new sink; mistakes like these will lead to a ton of rework, which will run you down more money than you planned.
In the end, the most significant benefit of hiring a professional is that it will allow you to save a ton of cash.
Don't forget to plan.
When performing any home remodel, one thing that will cost you the most is changing plans halfway through the process, which results in delays, especially when you have to return previously purchased materials and buy new ones. Not to mention, you'll also end up paying your contractors more to perform significant rework.
While some changes can't be avoided, consider thinking things through carefully before you decide to change your sink or bathtub. After all, it will prove cheaper to create a plan in advance to know whether you want to replace the sink first or your toilet.
Furthermore, take some time to consider your needs and wants. Sometimes, it pays to weigh in all your options when purchasing bathroom elements such as light fixtures, tiles, plumbing fixtures, and much more.
Go for a bathroom renovation rather than a remodel.
Sometimes, the best way to save money on a bathroom remodel is to avoid performing one. Homeowners often use the terms bathroom renovation and bathroom remodeling interchangeably. But, it will be worthwhile to know the differences between both.
A bathroom remodeling project generally includes making massive changes to your bathroom's structure, shape, and size.
On the other hand, a bathroom renovation involves giving your existing bathroom a re-fresher or updating its flooring, wall color, tile color, and lighting while keeping its layout the same. In fact, you can even make your small-looking bathroom appear larger by adding a clear glass shower, a lighter paint, or a strategically placed lighting fixture. Choosing the best glass shower designs can greatly enhance the look of your bathroom.
So, if you don't want to add that extra square footage, consider going for a bathroom renovation project instead of a remodel and keeping its footprint the same.
Use cheaper materials.
While applying a fresh coat of paint to your bathroom, there are limits on what you can achieve with paint alone. However, that doesn't mean you avoid purchasing that jacuzzi you always wanted. Instead, splurge some cash on a couple of high-cost items and go for cheaper alternatives for everything else.
However, there are numerous other methods to replace pricier materials with cheaper ones and achieve the same look and feel for less money.
For instance, bathroom tiles will cost you more than paneling or painting. So, to keep your bathroom remodel under budget, avoid tile usage as much as you can. Instead of placing them everywhere, install them in high moisture locations such as around the shower enclosure or tub.
For other areas, go for painted drywall. As far as cabinetry is concerned, go for open shelving. Typically, wall-mounted bathroom shelves made of wooden planks are cheaper than premade ones.
Search for bargains.
Visiting a second-hand bathroom essential store will allow you to save tons of cash. For instance, you can easily purchase a cast-iron tub for $350 instead of $1,000 by going to various second-hand stores.
What's more, the holiday season is the perfect time to perform a bathroom remodel as you can find many deals on materials and other elements during this time. However, sales aren't the only way to discover materials for a lower price.
Comparison-shopping tools and websites are perfect for finding cheap items when shopping on the internet.
Go green with your remodel.
Installing water-saving bathroom fixtures and elements is a surefire way to save in your bathroom remodeling budget. For instance, purchasing low-flow sinks, showers, and toilets will ultimately reduce your monthly water bills while also decreasing your water footprint in the process.
According to Matt Voorhees of Niagra Conservation, an average family of four people can easily save around forty thousand gallons of water every year using water-conserving bathroom fixtures. This statistic alone, it worth spending a few bucks more on green bathroom elements.
Conclusion.
A bathroom remodeling project should never cost you an arm and a leg. Sure, bathroom upgrades such as expanding square footage or adding a fully-tiled walk-in shower will run you thousands of dollars. Still, with a bit of creativity and some preplanning, you can enjoy a luxurious bathroom on a tighter budget.
Furthermore, remodeling your bathroom also adds more resale value to your home. So, whether you want to place your home on the marketplace or make it more comfortable to live in, don't neglect your bathroom and update it sooner rather than later.