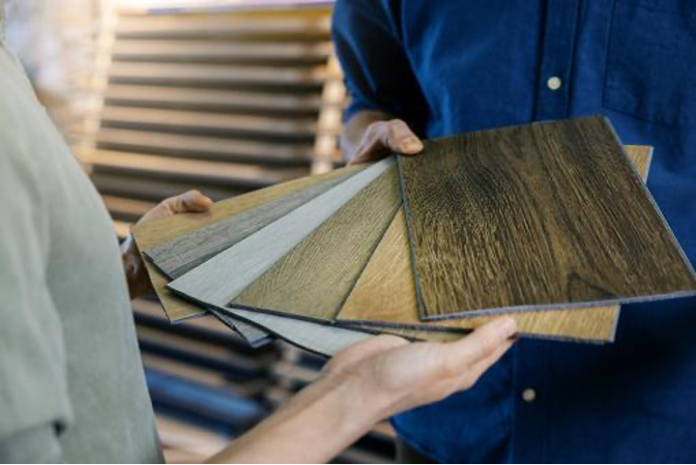 For home renovations, flooring is easily one of the biggest projects homeowners undertake. It's an essential piece of the home and needs to combine aesthetics and functionality to attract high-paying tenants without wearing out quickly.
In this article, we'll be highlighting the top 9 rental property flooring options on the market.
1. Hardwood
The first type of flooring option on our list is easily one of the most popular choices for residential property. It's versatile, ranging from solid and contemporary oak to soft and sophisticated walnut. Plus, you can choose from a broader range of brown hues and patterns.
The installation process is also pretty straightforward. Prefinished boards only need to be hammered onto the wooden subfloor, so if you're up for some DIY, you could have fun with it.
Although a significant drawback would be their malleability to elements like temperature, direct sunlight, and force, you have to refresh it every decade or so, which is still pretty durable.
2. Engineered wood
Still, on wooden flooring, engineered wood flooring is similar to hardwood but with its unique properties. It typically consists of two materials, a veneer top with an underlying plywood layer. If cost is a concern, you may consider upgrading to engineered hardwood, as it also has a more straightforward installation process. You could choose to nail it down, glue it, or interlock it if it uses a mortise joint system.
Like hardwood, it dents easily and can change shape and color when exposed to certain elements. Plus, you can usually only refresh it once, making it less durable.
3. Carpeting
Another popular option for flooring is carpeting because of its improved warmth and comfort. Carpeting is typically made from materials like wool and nylon, which are better insulators, so you don't have to worry about cold floors during winter. Plus, the extra cushioning makes it a lot more comfortable.
On the other hand, the material also means it is easy to stain and harbor dirt and allergens.
4. Bamboo
Technically speaking, bamboo is a type of grass. But its strength and resilience easily earn it a spot on this list. Most bamboo flooring come from Asia, so it also has an exotic feel. It looks and feels a lot like hardwood and comes in a variety of patterns and colors. Consequently, it's pretty easy to clean and maintain. Apart from being versatile and low-maintenance, it's generally more environmentally friendly, making it an excellent choice for people, particularly their carbon footprint. However, they're pretty vulnerable to scraps and temperature changes.
5. Tile
Tile is among one of the most versatile types of flooring. Its manufacturing process is similar to pottery, requiring a clay mix that undergoes intense firing. As a result, users can choose from various patterns, colors, and even textures—Glass-like, Faux wood, glazed, and unglazed. Whatever your preference is, there's most likely a tile you'll love.
But unlike carpeting, it's cold underfoot and a lot more slippery. And while it is more resistant than most flooring options to scratches, it's also hard to replace when one tile breaks.
6. Linoleum
Linoleum might seem like an old-fashioned choice, but it's making a comeback due to its eco-friendly and durable nature. It combines some of the best traits of carpet with its soft nature and tile through its low-maintenance features. Although in terms of comparison, it usually falls around the same cadre with vinyl flooring.
Users also have multiple colors and patterns to choose from, but it's crucial to note that linoleum isn't good at handling water. So it's a poor choice for bathrooms and kitchens.
7. Vinyl
As highlighted earlier, vinyl is very similar in terms of style and feel to linoleum flooring. However, one of the most significant differences is in their water resistance. While linoleum doesn't handle water well, most vinyl options are 100% waterproof and easy to clean. Another advantage vinyl has over linoleum is that it's cheaper and has a much friendlier installation process. However, the short end of the stick lies in its lifespan being shorter than other types of flooring, and it is not eco-friendly.
8. Cork
In terms of origin, cork is similar to hardwood, although it comes explicitly from the bark of trees. It's one of the most durable options out there as it is pretty resistant to water, humidity, and insects. Cork isn't the most versatile flooring in the market, but its natural resin look appeals to many and remains a classic style Baring severe scrapes and dents, it can last as long as 40 years. But you will have to keep refreshing it every couple of years to get anywhere near that length.
9. Laminate
Finally, we have laminate flooring. If laminate had a nickname, it would be mimic flooring. It consists of a transparent wear layer with an underlying decorative print backed by a wood and balance sheet core board. The decorative pattern can take on the form of any other type of flooring, from tile to wood and so on. And it usually comes at a lower price which you can lay on your old floors, making it one of the easiest types of floorings to install.
On the flip side, there is no room for refreshing laminate. After exhausting its lifespan of 15 – 25 years, you need to replace it.
Conclusion
That's it! Flooring is an essential part of a home's outlook, and while these are the most popular choices, they aren't the only ones on the market. If you're unsure what to choose, a management company can help decide the best flooring for your rental property, and a property manager can oversee the installation process, making your job easier.