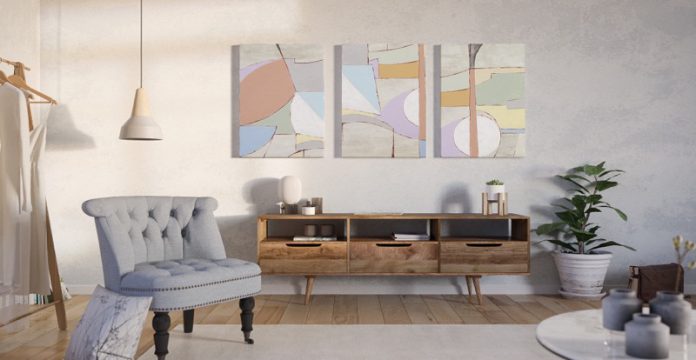 Wall arts can do wonders for your living room. It becomes the focal point by default, sets the mood of conversations and reflects the owners' signature style. It works as a cherry on the top to your living room decorations and furniture. But choosing the right wall art for you might be problematic. If you are an artist or art enthusiastic, you might try to do the art yourself but it may not be the best idea.
You can spend days on different art exhibitions but get confused and can come home with nothing at hand. A wall art is a critical decoration piece and has a story to tell. It is different for everyone. So you have to be very specific about choosing wall art. But do not worry much, we have compiled some tips and tricks to get the right painting for your living room. The things you have to keep in mind while choosing a painting for your living room is as follows-
1. Mind the Size
The size of wall art or painting for your living room can make or break the continuity of decoration of that particular room. You  need to consider both the size of the art and the living room and the particular wall it would be hung upon. A small piece of art can not go in a large living room. Try a larger art or a bunch of small arts to go with it. If you are looking for wall art behind your sofa then it should not be larger than your upholstery. I
f there is an open kitchen alongside – choose small or medium sized painting for that particular space. Keep in mind the height of the ceiling while choosing a painting.
2. Focal Points
If there is a large empty wall and pale colour palette in your living room – go for large wall art with exciting and attractive colours. Mini frames of the same art piece looks very exquisite and refined in a living room. You can also order to paint a family picture and adorn it in the wall first seen by guests when they visit.
3. Different Art Styles
You have to know the taste or the owners' taste to choose wall art. There are hundreds of art styles and you will surely find one that goes with your unique personality or the purpose of the living room. You can also match it with furniture. Contemporary and compact homes look good with aesthetically asymmetrical modern wall pieces. If you are terribly confused – go for monochrome, i.e, black and white wall art. It goes well with any kind of living room.
4. Colour Theme
If you have a themed living room, try to find something that goes well with it. If it is a food based place – doodles of sweet cravings will look good on the wall. Also, look for the wall colour and furniture colour before buying any wall art. If you have pale colours on the wall, go for attractive and primary colour filled arts. If you have dark or jewel tones on the  wall – go for lighter canvases.
Colour plays a big role in setting the mood of the room. So do not try to use excessive primary colours or a weird theme that does not go well with the room at all. It will look unnecessary, foolish or extravagant.
5. Open Mind is Needed
While you shop, keep an open mind and keep the judgements away. We have to be accepting of the new world. Try to support local and underrated artists – it will save you some bucks and help them immensely. Any piece that makes your mind question something and touches your heart or kindle a thought – should go well in your living room.
If your home does not have a theme, you can shop for anything that connects to you – your hobbies, animals, natural beauty, world map, bucket list but artistic things. A family picture is always a great piece of conversation starter if done right. But make sure to keep in mind the focus, size of the room and wall, number of furniture and empty space and the colour palette of the room to find the perfect wall art to make your room more inviting.